Found February 04, 2014 on NorthWest Sports Beat:
PLAYERS:
Raphael Diaz
,
Kevin Bieksa
,
Dale Weise
,
John Tortorella
,
Roman Josi
,
Mark Streit
,
Reto Berra
,
Josh Gorges
TEAMS:
Vancouver Canucks
,
Montreal Canadiens
,
New York Rangers
,
Philadelphia Flyers
,
Calgary Flames
,
Detroit Red Wings
,
Boston Bruins
A Coup for Gillis and Co. A slew of injuries to the Vancouver Canucks blueline and a less than desirable start to an all-important five game road trip later, and management has already seen enough. In an effort to curb the trend of demoralizing losses and mitigate the recent losses of right-handed defencemen, Kevin Bieksa and Chris Tanev, the Canucks have acquired Raphael Diaz from the Montreal Canadiens in return for Dale Weise. From the perspective of both teams, this can be looked at as a trade of problems. Weise was quickly falling out of favour with John Tortorella and his staff, which was leading to increased time in the press box; as for Diaz, he had been a healthy scratch for the better part of a fortnight. Both had become fixtures in the rumour mill of late, making this trade of the expected variety for both parties. So long Dale Weise, we hardly knew ye. With the addition of Diaz, the Canucks now feature two members of the Swiss Mens Olympic hockey team. Could the additions of Roman Josi and Mark Streit be on the horizon? And what about that Reto Berra guy, surely he's on the trade block… Yeah, probably not, so I'll just stick to breaking down this trade. So, About This Diaz Guy To quote Canucks Army's Cam Charron, Diaz's game "can best be described as 'unassuming'". In Montreal, Diaz was used primarily as a third-pairing defenceman, carrying boat-anchor and fringe depth-defenceman Douglas Murray in tow. That said, he's played more minutes this season with Josh Gorges, but I imagine that trend developed in the earlier parts of the season. Looking at Diaz's WOWYs (With or Without You) statistics, I couldn't help but notice he has somewhat of a Tanev like affect on all of his partners. On a team that is hemorrhaging possession, Diaz manages to raise the Corsi% of literally every Canadiens defenceman he is paired with – yes, even Douglas Murray. What could probably be considered the feather in Diaz's cap however, is that he is surrendering the lowest shots against/20mins of any Habs defenseman (originally pointed out by Cam Charron), while playing in less than favourable deployments. That and the fact that Diaz has four goals in 128 games should quickly dispel the myth of his being a young and budding offense defenseman, of similar irk to Mark Streit (what with the whole being Swiss and all). That's not to say he's entirely devoid of offensive ability, but much less so than we've probably been led to believe by the media. Traditionally speaking, Diaz's resume is far from sterling; he's never been a great possession player and generally speaking is on the wrong side of 50 as far goals for percentage with him on the ice. Also worth noting though, is that Diaz is having somewhat of a career year where his underlying numbers are concerned, but he's not big, so yeah, didn't really fit in with Michel Therrien and Marc Bergevin. On Weise's Departure To say Weise never really fit in with John Tortorella is a bit of an understatement. Their relationship didn't work in New York and seemingly never improved in Vancouver. As I mentioned earlier, he had been a regular fixture in the rumour mill and I can't say I'm all that surprised that he was traded. One has to wonder whether Gillis and co. had some serious dirt on Bergevin at this point… If there's anything we can take away from these earlier parts of the Tortorella era in Vancouver, it's that he has a serious appreciation for role player's. Or better yet, players that play within their roles. Whether that stint with the Tilburg Trappers is to blame or not, Weise always struggled with coming to terms with his physical limitations… of which there are many. Weise was an OK fourth liner, but it's never been a role he relished. Against second-rate talent, and in the most favourable of deployments, Weise was always a possession liability. During Weise's three years with the Canucks, he never eclipsed the 45% Corsi mark even once. That is kind of bad. What of It? All in all, the Canucks hit this one out of the park. Mike Gillis was able to get a valuable second or third-pairing defenseman, in return for a fringe fourth-liner that was acquired through waivers. Not often deals like that come to fruition. Raphael Diaz won't be making his debut tonight against the Red Wings, but will join the Canucks tomorrow for their match with the Boston Bruins. And on Thursday, he will get to faceoff against his old team the Montreal Canadiens. Funny how that worked out.
Original Story:
http://www.nwsportsbeat.com/canucks/v...
THE BACKYARD
BEST OF MAXIM
RELATED ARTICLES
Bruce Bennett/Getty Images North America The Vancouver Canucks have acquired Raphael Diaz from the Montreal Canadiens in exchange for Dale Weise, the team announced on Monday. Diaz was on the trade black since he is a unrestricted free agent at the end of this season. In 46 games this season, Diaz posted 11 assists and a minus-4 rating.  The Canucks have several holes to fill...
The Canucks brought in more reinforcements for their injury ravaged blue line on Sunday, recalling defenceman Yann Sauve from their Utica AHL affiliate. Sauve, the team's second-round pick (41st) overall in the 2008 NHL draft, will replace Yannick Weber – who was injured in Friday's 4-3 loss in Winnipeg. Weber, according to reports, was sent back to Vancouver on Sunday. There...
The Montreal Canadiens have traded defenseman Raphael Diaz to the Vancouver Canucks for forward Dale Weise. The 28-year-old Diaz had 11 assists and 12 penalty minutes in 46 games for the Canadiens this season. The native of Baar, Switzerland, has 41 points (four goals, 37 assists) and 48 penalty minutes in 128 NHL career games. He joins a Canucks' blue line that has suffered...
The Montreal Canadiens have sent defenseman Raphael Diaz to Vancouver in return for hard nosed winger Dale Weise. Diaz is in the final year of a contract that pays him $1.25-million in Vancouver. Diaz hasn't seen a lot of ice time this year, having not dressed for a single game since January 16th against Ottawa. The Swiss-born Diaz, who will where [...]
Bernard Brault The Montreal Canadiens and Vancouver Canucks were involved in a minor trade when Raphael Diaz was traded for Dale Weise. Diaz is a second pairing defenceman who is good at blocking shots, moving the puck and killing penalties. Dale Weise is a fourth line right winger who can cycle the puck. At first glance, it appears that the Vancouver Canucks won this trade. Habs GM Marc
Suck it Vancouver. Suck it long, suck it hard. - Iginla: Hey Lucic, show me your best impression of how easy it was to score on Luongo in the 2011 Finals! LOLZ - Vancouver REALLY needed a goal. When Krug and Lucic collided, Daniel Sedin grabbed the puck and went in for a break away on Rask. There was just one problem. - My name is Iggy Montoya...
Vancouver Canucks coach John Tortorella has returned from his 15-day suspension. Tortorella was behind Vancouver's bench for Monday night's game against the Detroit Red Wings. He was punished without pay for his conduct after a brawl in a game against the Calgary Flames. Tortorella went to Calgary's locker room following the first period, which began with several fights...
Before Tuesday night's game, Claude Julien reminded his team that they haven't beaten the Vancouver Canucks since Game 7 of the 2011 Stanley Cup Final. The last time these two teams met, the Boston Bruins were on the wrong end of a 6-2 shellacking that occurred back in December. But Milan Lucic isn't worrying about whatever has happened between these two squads in the past...
There wasn't anything flashy about the Bruins win over the Vancouver Canucks, and it's not a regular season game that anybody is going to remember years from now. But the Bruins did do an impressive job of clamping the vice grips down on a Canucks offense that hasn't been quite so effective under John Tortorella, and kept Vancouver's skaters far away from the net in a 3...
Despite a rare goal by the player they acquired from the Montreal Canadiens this week, the Vancouver Canucks continue to slide. They can avoid losing six straight for the first time in five years by ending their struggles against the Canadiens on Thursday night. Defenseman Raphael Diaz scored his first goal of the season and fifth of his three-year career Tuesday, one day after...
When the New York Rangers fired head coach John Tortorella this past summer, there were some who believed the often irate bench boss would never work in the NHL again because he had earned a reputation as an angry ranter.…Read more →The post Vancouver Canucks: A Tale Of Tortorella appeared first on The Hockey Daily.
Vancouver Canucks vs Detroit Red Wings Canucks 0 Red Wings 2FINAL     The Detroit Red Wings batten down the hatches, holding the Vancouver Canucks off the board in a 2-0 shutout victory. The first period was largely uneventful from either side, as each team, who've been decimated by injuries so far in the season, took the time...
NHL News

Delivered to your inbox

You'll also receive Yardbarker's daily Top 10, featuring the best sports stories from around the web. Customize your newsletter to get articles on your favorite sports and teams. And the best part? It's free!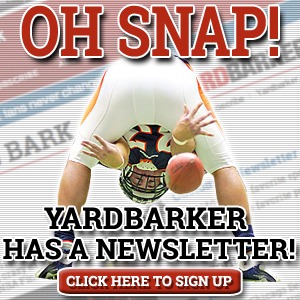 Latest Rumors
Best of Yardbarker

Today's Best Stuff

For Bloggers

Join the Yardbarker Network for more promotion, traffic, and money.

Company Info

Help

What is Yardbarker?

Yardbarker is the largest network of sports blogs and pro athlete blogs on the web. This site is the hub of the Yardbarker Network, where our editors and algorithms curate the best sports content from our network and beyond.