Found September 19, 2012 on The Nosebleeds:
It was just over a week ago when EA sports released the latest edition of their extremely popular NHL series, NHL 13, and after a week of sporadically binging on the game, I'm finally ready to put the controller down and pound out a quick review of the game. Below I'll be touching on the Gameplay, Game Modes, Graphics, Additional Features, and Commentary/Soundtrack.
Gameplay: 9/10
If you're a returning NHL gamer, you'll likely notice a drastic change in gameplay right off the bat in NHL 13. This year's installment takes a huge step away from the arcade-like gameplay that has been seen in previous games in the series.
New features, most notably True Performance Skating, give the game a level of realism that has never been seen before in a hockey simulation. Gone are the days where you can change the direction of your skater in an instant without the consequences of slowing down or falling out of position, as momentum now plays a big factor in skating around the rink.
This momentum also largely plays into the physics engine seen in NHL 13. If your defensive strategy in the past was to lay out every single player that touched the puck on the ice, you're probably going to need to reconsider that tactic before buying this year's game. With momentum playing a big factor, huge hits that send puck-carriers flying are much more rare, as you'll have to gain stride and line up your defenders more carefully this year. On offense, you'll find it easier to catch guys going in the wrong direction and to set up a solid formation in the offensive zone rather than playing completely north to south hockey.
Have no fear though, stick checking is significantly more effective in NHL 13 and will likely be a staple of your defensive presence. On the flip side, protecting the puck from incoming poke checks on offense is a much more difficult task this year.
With the new skating and physics alterations also comes a revamped player rating system in NHL 13. Last year, overall ratings reflected a player's effectiveness based on their player type (ex. Sniper, Enforcer, Grinder, etc.). NHL 13 Overall ratings are based on a player's overall skill based on their position.
For example, in NHL 12 Anaheim's George Parros was an 81 as his rating was based on his player type — enforcer, meaning that he was an above average enforcer. In NHL 13 Parros is an 69 overall based on his overall skill level as a forward. Chris Neil was an 82 (Grinder) last year, this year he's a 78. With this new overall ratings system, his rating didn't drop as significantly as Parros because he's still a skilled player who can check and score effectively.
This new ratings system is a big boost to unique identities within the game, as you'll quickly be able to separate the highly rated players from those who aren't rated so highly. Explosiveness and top-end speed are seen like never before in this series, making better rated players much more dangerous and valuable during the action…which, you know, makes total sense.
Guys like Alex Ovechkin with often be able to beat the defense with explosive strides and pure speed, especially at the front end of their shifts, making them a nightmare for opposing teams. This speed factor was something this series desperately needed, as it gives the user many more options with their offensive strategy. Not only can you use quicker guys to split/burn/embarrass defenses, but it also allows for much more effective dump & chase execution than previous years have allowed.
To counter the improved offensive aspects of the game, EA Sports has also created a much smarter defensive and goalie AI. Defensive players will be much more successful at recognizing what the offense is trying to do, which is great because now you'll probably find yourself screaming "WHAT THE HELL ARE YOU DOING YOU *******?!" at your poor television. Defensive guys (yup, even the CPU controlled ones) will defend passing lanes much more effectively, which will in turn help you fend off oncoming rushes or create a more dominant forecheck.
The goalie movements are more fluid and authentic in this year's game, but the netminder AI may be my biggest issue with the game. While it's great that one-timers are no longer pretty much the only way to score (simple snap, wrist, and slap shots are much more effective off the sticks of higher rated players this year) they're also way too hard to execute. Far too often will you get a perfect one-two setup only to see your shooter completely whiff on the scoring try or the goalie make an absolutely ludicrous save. Sure, seeing these saves are super exciting (especially if it's YOUR goalie making them) but they should be more rare.
Game Modes: 8.5/10 
NHL 13 has all the modes you saw last year (Be A Pro, Be A GM, EA Sports Hockey League, Ultimate Team, etc.) but the biggest addition is the GM Connected game mode. This allows players to play in online Be a GM leagues with up to 30 human-controlled teams. GMs can choose to play or sim their games, negotiate trades, engage in bidding wars for free agents, and draft new stars all while competing against your friends or random human opponents in your league. I'm currently in Days Of Y'Orr's 30-team league and it's causing me a lot more stress than it probably should, as we all take it extremely seriously.
The only bone I have to pick with GM Connected is that it carries excruciatingly painful load screens every time you want to enter a new screen. Other than that it's a whole lot of fun and a great addition to the series.
Also new to the game is NHL Moments Live, which allows players to re-play and re-live great moments from the 2011–12 NHL season. In addition, new moments will be uploaded as the 2012–13 NHL season progresses.
Graphics: 8.5/10
The graphics aspect of the NHL series had been kind of remained at a standstill over the past few years but this year's game has also taken a big step forward in that department. Many more players have unique facial graphics and look much more like their real-life counterparts, leaving fewer (but still some) generic looking schmucks on the ice. Player helmets and visors also have more reflective surfaces that shouldn't go unnoticed or be under appreciated. With the new skating system in place, skate spray is also more noticeable and realistic. The jersey graphics and movements still need some work if the series continues to try to move towards uber-realism.
Presentation/Soundtrack: 6.5/10
The NHL series and it's producers could learn a lot from their fellow EA Sports producers over at Madden. While Madden 13 had a massive presentation overhaul this year aimed to deliver a true broadcast style experience similar to one you would see on television every Sunday, NHL 13 has just a few minor tweaks in their in-game presentation.
While they've changed around the menus and home screens quite a bit, the presentation style of NHL 13 still neither sounds nor looks much like any game you'd see on TV. Gary Thorne and Bill Clement return to give you their recycled commentary despite the fact you probably can't remember the last time you've heard either one of them call an actual NHL game…I know I sure as hell can't. I would love to see the trio of Doc Emrick, Eddie Olcyk, and Pierre Maguire be featured in next year's game…even if it means we have to see a digitized version of the turtle-like Maguire and his head-scratching reports.
I will admit the game does a better job at showing more relevant (and new angled) highlights and player cut scenes and boasts a cool new in-net camera angle for replays, but there is still a lot of work to be done to give a true broadcast style presentation.
The soundtrack is better than last year's and features bands such as The Offspring, Gaslight Anthem, The Hives, and Shinedown. It delivers decent enough tunes that you won't have to mute your TV every time you're in between games. That's pretty much all you can ask for.
Overall: 9/10
NHL 13 is a huge stepping stone for the series and is a much more realistic hockey experience all-around. It moves away from the  arcade-style gameplay seen in years past towards a more authentic hockey simulation while still remaining extremely fun and enjoyable while playing with friends or by yourself. It's a must own for all hockey fans
NHL 13
Publisher: Electronic Arts Platform(s): PlayStation 3, Xbox 360 Price: $59.99 Rating: E for Everyone
Original Story:
http://thenosebleeds.com/game-review-...
THE BACKYARD
BEST OF MAXIM
NHL News

Delivered to your inbox

You'll also receive Yardbarker's daily Top 10, featuring the best sports stories from around the web. Customize your newsletter to get articles on your favorite sports and teams. And the best part? It's free!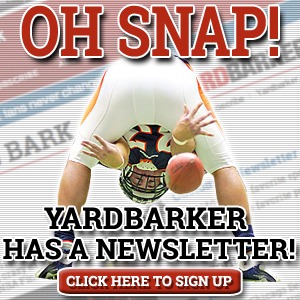 Latest Rumors
The Backyard

Today's Best Stuff

For Bloggers

Join the Yardbarker Network for more promotion, traffic, and money.

Company Info

Help

What is Yardbarker?

Yardbarker is the largest network of sports blogs and pro athlete blogs on the web. This site is the hub of the Yardbarker Network, where our editors and algorithms curate the best sports content from our network and beyond.