Found January 20, 2013 on Fox Sports Florida:
TAMPA, Fla. This ride has been a winning lottery ticket. There are few other ways to describe Tampa Bay Lightning center Vincent Lecavaliers career. Perhaps a pot of gold. A four-leaf clover. Triple sevens. A shooting star across a clear night sky. How else to explain a 13-season career, all with the Lightning, that will reach its 1,000th game when Tampa Bay plays at the New York Islanders on Monday afternoon? How else to explain an outlier? It has been a fun ride, Lecavalier said last Wednesday, three days before the Lightnings season-opening victory over the Washington Capitals at Tampa Bay Times Forum. I want to play many more years. Its something important for me. Its going to be a special game, but thats it. Ive obviously got to move on. True, but this feat is worth more than a bullet point buried at the bottom of the game notes. A verbal victory lap can be excused for the 32-year-old Ile Bizard, Quebec, native before he presses on to No. 1,001. Just look at the odds of a prolonged stay in the NHL, which are about as good as the chances of Warren Sapp catching Usain Bolt in a dead sprint. According to Quanthockey.com in data collected from all forwards, defensemen and goalies who played their last regular-season game before or during the 2008-09 season, in addition to some players who retired after that campaign: More than half of all participants appeared in fewer than 100 games.For about 5 percent of players, their first NHL game was also their last.More than 20 percent of retired players appeared in one season.The average NHL career lasted between five and six seasons.Only 4 percent of players skated for more than 1,000 games. That means Lecavalier is about to become one of every 25 players to be bruised, battered and bloodied in the NHLs unforgiving lifestyle and crack the 1K mark. That means, through will and work and perhaps a few breaks along the way, he has made his own luck in a league that exposes the meek. Some lottery ticket, indeed. Some story to tell. Its a process that you have to go through, Lecavalier told FOXSportsFlorida.com about transitioning into a veteran. I enjoyed it when I was young, and now I enjoy it the way it is now, too. When youre a rookie, everything is new. Youre playing with your idols. I was playing with Wendel Clark and Stephane Richer and all these great players. Just to play with them was unbelievable. Dave Andreychuk, winning a Cup with him (in the 2003-04 season). For me, the whole thing has been a lot of fun. The whole thing has worked well for the Lightning, too. Lecavalier has 844 points 470 assists and 374 goals through 999 games. Production-wise, his best season came in the 2006-07 campaign, when he totaled 108 points and a career-high 52 goals. Try to find room for more lines on his resume as Mr. Big Bolt. Hes a four-time All-Star. He won the Maurice Richard Trophy, awarded to the NHLs top goal-scorer, in 2007. He won the King Clancy Trophy, awarded to a player with notable humanitarian contributions, in 2008. He has become a franchise face. He has become a tie to the Lightnings early past (their inaugural season was the 1992-93 campaign). Those who share a dressing room with him call him a leader, a pros pro, a consummate coworker. He has been praised as someone who has enriched the region with his play on the ice and work with the Vinny Lecavalier Foundation, which has strived since 2003 to create hope for children and families battling pediatric cancer and blood disorders. Consistency is only part of his profile. The biggest reward is being in last place for so many years, and in the span of three years, winning the cup, Lecavalier said. I think thats what made it exciting. From thinking, Wow, this team isnt going anywhere to two years later winning it, it was fun. That was a fun time. You could see the progress and what the organization was doing. One thousand is a clean, round number to pause and study a growing legacy. Milestones are tidy markers. Theyre created to remind us that journeys are never forever, never permanent. We need checkpoints to reflect on what has been achieved, on what is yet to come. For those near Lecavalier daily, they understand his work is far from complete. A thousand games, very few guys get to that," Lightning coach Guy Boucher said. "I think he did it being at a young age right now, really when you look at it. Thats extremely impressive." Vinny is our leader, said Lightning center Steven Stamkos, Lecavaliers teammate since the 2008-09 season. For him to play 1,000 games with the same team is pretty special. . . . It will be a great experience for us all to share that moment with him. That is something that is a true testament to the professional that he is, both on and off the ice and how hard he works. Im glad to be part of it. Its quite an accomplishment, said Lightning winger Martin St. Louis, Lecavaliers teammate since the 2000-01 season. Obviously, 1,000 games, not many guys get there. Hes had a great career what he has done in Tampa on the ice and off the ice as well. . . . He has affected many peoples lives, obviously, with his foundation. He is a true representation of what it is to be a face of a franchise for a long time. The franchises face was back in his element Friday, a little more than a day before he scored a first-period goal to help the Bolts beat the Capitals. He prepared to exit the Lightnings dressing room at Tampa Bay Times Forum after a short practice, messages of unity written in blue block letters on a wall above him: OUR PUCKLIGHTNING TRANSITIONPACK MENTALITYTOTAL FOCUS. Its kind of different each year, Lecavalier said, shortly before walking away. Its always exciting. The first game, the opener, is always exciting. It never really gets old. After almost 1,000 games, neither do the memories. Always and forever, its better to have longevity than luck. You can follow Andrew Astleford on Twitter @aastleford or email him at aastleford@gmail.com.
Original Story:
http://www.foxsportsflorida.com/01/20...
THE BACKYARD
BEST OF MAXIM
RELATED ARTICLES
The NHL lockout didn't seem to slow down the Lightning Saturday night. Martin St. Louis and Eric Brewer scored two goals each to help the Bolts get past the Washington Capitals 6-3 on opening night.  Three of the Lightning's six goals came via the power play, two of those three were Martin St. Louis' goals. The power play units were an area Tampa Bay focused to improve on...
TAMPA, Fla. (AP) -- Martin St. Louis and Eric Brewer each scored two goals as the Tampa Bay Lightning beat the Washington Capitals 6-3 in the season opener for both teams Saturday night. St. Louis added an assist, while Vincent Lecavalier and Cory Conacher also scored goals for the Lightning. Joel Ward scored twice and Wojtek Wolski also had a goal for the Capitals, who lost in...
Lightning captain Vinny Lecavalier played his 1,000th game today against the New York Islanders. Unfortunately, Tampa Bay could not find a defensive answer and a late offensive surge was not enough as they fall to the Isles 4-3. The Islanders were out in front 4-0 in the third period before the Lightning can even put a legitimate offensive threat together. Martin St. Louis got the...
A lockout shortened season will be a true test for the Bolts. Listed below is the 2013 roster, offseason moves, players to keep an eye on, and how they may finish this season. Roster Forwards #     Name 89   Cory Conacher 19   B.J. Crombeen 18   Adam Hall 76   Pierre-Cedric Labrie 4     Vincent Lecavalier 12   Ryan Malone 67   Benoit Pouliot 16   Teddy Purcell 11   Tom...
The other day, I noted that there were just too many new faces on this Caps' team and not enough time for them to learn a new system.  Tonight, it seemed truer than I ever thought it was as they were doubled up by the Tampa Bay Lighting 6-3.  Let's get to the notes and breakdown. Tampa Bay Goal: Eric Brewer (1) from Carle, St. Louis This was really unfortunate for the Caps...
TAMPA, Fla. -- A prolonged winter ended with a pleasing thaw. Approach this uncommon Opening Night at Tampa Bay Times Forum however you wish: A time to heal, a chance to cling to a cold shoulder, an opportunity to move beyond an inexplicable 113-day lockout but remain wary about the NHL's direction. Whichever path is chosen, the pavement is similar. It's imperfect. It...
TAMPA -- Eric Brewer hadn't scored two goals in a game since 2004 or even reached the net once in 50 games. But the Tampa Bay Lightning defenseman's two scores not only bookended a 6-3 season-opening win over the Southeast Division rival Washington Capitals on Saturday, it had him thinking about leveraging his fortune while it lasted. First, he said he would remind teammate...
Martin St. Louis and Eric Brewer each scored two goals as the Tampa Bay Lightning beat the Washington Capitals 6-3 in the season opener for both teams Saturday night. St. Louis added an assist, while Vincent Lecavalier and Cory Conacher also scored goals for the Lightning. Joel Ward scored twice and Wojtek Wolski also had a goal for the Capitals, who lost in Adam Oates' NHL...
Right off the drop of the puck these two teams started going at it.  Not just one, but two pairs of guys squared off to get the game started.  Lightning's BJ Crombeen squared off first with the Islanders' Matt Martin and had a pretty good tilt.  These two know each other well, and they fought last year too.The other pair that got mixed it up was Tampa Bay's Pierre-Cedric...
The Tampa Bay Lightning acquired forward Jean-Francois Jacques from the Florida Panthers for future considerations, the Lightning announced Monday. Jacques, 27, scored five goals, and two assists and 37 penalty minutes in 24 games this season with the San Antonio Rampage of the American Hockey League. The left winger tied for first on the Rampage with three power play goals. ...
TAMPA BAY – The Tampa Bay Lightning have acquired forward Jean-Francois Jacques from the Florida Panthers in exchange for future considerations, vice president and general manager Steve Yzerman announced today. Jacques, 27, has played in 24 games this season with the San Antonio Rampage of the American Hockey League, collecting five goals and seven points to go along with 37...
After a lackluster performance in 2011-12, the Tampa Bay Lightning are seeking to get this season off to a better start. The Lightning will try to keep their early momentum going Monday by avoiding another road loss to the New York Islanders, who are hoping to have coach Jack Capuano back on the bench. Tampa Bay finished with 103 points in 2010-11, the second-most in franchise...
NHL News

Delivered to your inbox

You'll also receive Yardbarker's daily Top 10, featuring the best sports stories from around the web. Customize your newsletter to get articles on your favorite sports and teams. And the best part? It's free!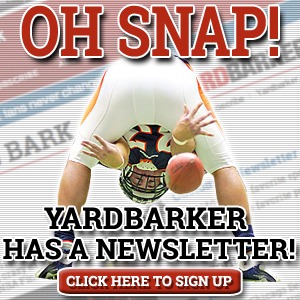 Latest Rumors
The Backyard

Today's Best Stuff

For Bloggers

Join the Yardbarker Network for more promotion, traffic, and money.

Company Info

Help

What is Yardbarker?

Yardbarker is the largest network of sports blogs and pro athlete blogs on the web. This site is the hub of the Yardbarker Network, where our editors and algorithms curate the best sports content from our network and beyond.