Posted March 13, 2013 on AP on Fox
Chris Pronger's sad descent from All-Star defenseman to bedridden days in dark rooms to ease throbbing headaches and occasional bouts of depression can be traced to one wayward stick to his right eye. Pronger lost his peripheral vision. He can't run, or even skate hard. The former Philadelphia Flyers' star who keyed the team's run to the 2010 Stanley Cup finals has been advised not to return to hockey. But given the chance to become a better-safe-than-sorry spokesman for the use of protective shields, the kind that might have saved his career and his vision, Pronger balked. If his two young sons wanted to one day play in the NHL without visors, Pronger wouldn't stand in their way. ''If he's over 18, he's more than welcome to,'' Pronger said. ''It's his life. You can advise and consent, but you can't make somebody do anything.'' Not even an injury that put his career on hold turned Pronger into a staunch advocate for visors. He was even hurt in vain -- the NHL and NHLPA have still not mandated visors, even as preventable injuries are still prevalent in the rough-and-tumble league. Pronger talked about his dark time only days after New York Rangers defenseman Marc Staal was struck in the eye by a deflected puck. Staal, who wasn't wearing a visor, writhed on the ice and screamed in agony. He held his bloody face while he was down and when he skated off the ice, assisted by a Rangers trainer, toward the dressing room. ''It's scary,'' Rangers coach John Tortorella said. As scary as it was to watch, Staal's injury and Pronger's grim road to recovery should act as reminders of the dangers of playing a high-impact sport without facial protection. Staal might be lucky. The 26-year-old is sidelined indefinitely, but doctors are optimistic he'll make a full recovery. While the league has long supported the use of visors, the NHLPA has let each player make the final call. The players' association has been proactive in educating players that wearing a visor decreases the risk of suffering an eye injury. ''While the players support visor use being a matter of individual choice, we continue to regularly educate the players on the benefits of wearing a visor so that each player can make an informed decision,'' Mathieu Schneider, special assistant to the executive director, said. ''We will further discuss visors and other important equipment-related matters at our player meetings this summer.'' Still, mandatory use of visors was not legislated into the labor agreement that ended the lockout. Education -- and perhaps, the impact of career-shortening injuries to players like Pronger, Bryan Berard and Ian Laperriere -- has sunk in to stubborn players in a macho league. The NHLPA reported approximately 73 percent of players are wearing visors this season, up from about 69 percent in 2011-12. For context, The Hockey News reported that in 2001-02, visors were worn by 28 percent of players. Rangers center Micheal Haley is one of the holdouts. He said not even witnessing Staal's gruesome injury would soften his stance against visors. ''As long as I have a choice, I'll not wear one,'' he said. Haley fills the increasingly diminished role of team enforcer and said he can't drop the gloves and throw punches at a shield. ''If you get into a fight with a visor and you're smacking visors around, it's not good for your hands,'' he said. ''Personally, I don't like wearing a visor at all.'' Staal wore a visor in junior hockey, and many players wore them in the AHL, where visors have been mandatory since 2006. Some type of cage or visor is mandatory in all levels of hockey except the NHL. If shields are eventually required in a collective bargaining agreement, players hope there is at least some sort of grandfather clause, like there once was for helmets. Penguins forward Craig Adams, the team's NHLPA rep, hated using a visor when he played in Europe during the 2004 lockout and refused to add it to his helmet when he returned to the NHL. ''I think it's normal for people to talk about it and people should talk about it. It's an issue,'' he said. ''At the same time, if we were concerned about protecting our faces we would all wear cages and we don't. So even the guys that wear half-visors don't wear full cages. What if they break their jaw or their nose or whatever? I think there's a lot of things that we could do to protect the players more, but there's a line somewhere.'' Some players complain about sweat residue, shaved ice buildup, or that they can't see the puck near their skate. Others cite general discomfort. But there are still so-called tough guys out there who thumb their nose at safety and feel playing without a shield is an integral piece of an identity that can't be easily surrendered, who let common sense take a backseat to machismo. Of course, a shield isn't foolproof, much in the same way wearing helmets can't guarantee the prevention of concussions. But it's a start, and an easy fix -- even if the NHLPA has to protect players from their own warped sense of choice. ''The problem is you go down a slippery slope of allowing the league to start implementing their own rules,'' Pronger said. ''What are they going to change next?'' Maybe just a culture that allows the next generation of Prongers to walk away on their own terms and live retirement in good health and with sound minds.
Original Story:
http://msn.foxsports.com/nhl/story/vi...
THE BACKYARD
BEST OF MAXIM
RELATED ARTICLES
Categories: BREAKING NEWS Flyers News NHLTags: Adirondack PhantomsErik GustafssonMatt FordThe Philadelphia Flyers announced this afternoon that they have made two minor moves in the organization. Defenseman Erik Gustafsson has been loaned to the Adirondack Phantoms while forward Matt Ford has been traded to the Columbus Blue Jackets for "future considerations." Now that...
Photo by Bruce Bennett/Getty Images By Charlie O'Connor (@THG_Charlie) With only twenty games remaining in the lockout-shortened season for the Philadelphia Flyers, reality is staring the team in the face: a playoff appearance becomes more and more unlikely by the day. After tonight's 5-2 drubbing at the hands of the New Jersey Devils, Philadelphia finds themselves in 11th place...
Following practice on Tuesday afternoon, Ilya Bryzgalov spoke to the media. Bryz spoke about his playing time and how crucial these two games versus the Devils really are. He was very truthful to say if the Flyers have a chance after this home and home series with the Devils.
(photo by Getty Images) The Philadelphia Flyers have missed the playoffs just once since 1994. Currently sitting in the 11th spot in the Eastern Conference with a record of 12-15-1 and a game on every other team, things aren't looking so good. After a 5-2 loss last night in New Jersey, the security of Peter [...]
from Sam Carchidi of Broad Street Bull, The Flyers hit rock bottom with a listless 5-1 defeat in New Jersey on Wednesday night, losing ground on one of the teams they are chasing in the Eastern Conference playoff hunt. It was s stunningly poor effort, considering the importance of the game. They are 11th in the East with a 12-15-1 record — the most losses in the NHL...
After a frustrating 5-2 defeat at the hands of the rival New Jersey Devils Wednesday, the struggling Flyers look to get even when they play the Devils again this Friday at the Wells Fargo Center. The Flyers (12-15-1) showed some life early when RW Jakub Voracek lit the lamp halfway through the first period to pull even with New Jersey at 1 following a goal two minutes in by Patrik...
from Frank Seravalli of the Philadelphia Daily News, But the language doesn't matter, does it? That's what Simon Gagne was wondering on Wednesday, as reporters pestered him about the nickname of his new line - with fellow Francophones Sean Couturier and Danny Briere - as the "French Connection II." It did not matter that most in the Flyers' locker room couldn't...
PREVIEW 1:30 AM EST With only 20 games remaining in the 2013 regular season, the Philadelphia Flyers (12-15-1) need a dramatic and instant turnaround if they are to climb into the Eastern Conference playoff picture. Coming off an ugly 5-2 loss to the New Jersey Devils (13-9-5) on Wednesday, the Flyers will get another crack at their nemesis tonight in the back half of the home-and-home set....
With 27 games played to date, the Philadelphia Flyers have played more games this season than any other team in the NHL. That is bad news when the team is already mired in 11th place in the Eastern Conference and is three points behind the eighth-ranked New York Rangers (who have played 24 games). When a team that entered the season expecting to be playoff contenders has already...
PREVIEW 11:45 AM EST Starting a crucial home-and-home set with a team that tormented them since last year's playoffs, the Philadelphia Flyers (12-14-1) are in Newark tonight to take on the New Jersey Devils. The game starts at 7:30 p.m. EST and will be broadcast nationally on NBCSN. This is the third meeting between the teams this season, and the third and final one at...
Match-up - Philadelphia Flyers (12-14-1) New Jersey Devils (12-9-5) Road/Home records - 4-10-0 -------------- 8-3-2 TV - NBCSN, TSN2 Puck drop - 7:00 PM ET Season series - Devils lead 2-0 Last 10: Flyers 5-5-0 / Devils 3-6-1 Projected starting goalies - Ilya Bryzgalov (PHI) vs Johan Hedberg (NJ) Battle of the stats Goals for/against per game Philadelphia - 2.78...
Photo courtesy of USA Today Images By Kristin Tullo (@K_Tullo) Four points ahead of the 11th place Philadelphia Flyers, the New Jersey Devils will look to gain more ground on their Atlantic Division rival when they host the Flyers for the third and final time this year and begin their fourth home-and-home series of the season. Winning two out of their last three games, the Devils...
NHL News

Delivered to your inbox

You'll also receive Yardbarker's daily Top 10, featuring the best sports stories from around the web. Customize your newsletter to get articles on your favorite sports and teams. And the best part? It's free!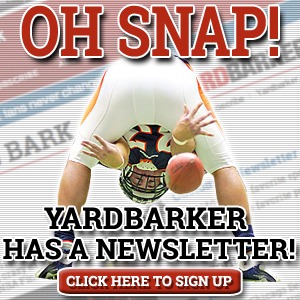 Latest Rumors
The Backyard

Today's Best Stuff

For Bloggers

Join the Yardbarker Network for more promotion, traffic, and money.

Company Info

Help

What is Yardbarker?

Yardbarker is the largest network of sports blogs and pro athlete blogs on the web. This site is the hub of the Yardbarker Network, where our editors and algorithms curate the best sports content from our network and beyond.