Found June 18, 2012 on The Prospect Park:
(Courtesy- USA Hockey)
It's a nice welcome break from all the rumors as on Monday afternoon we will find out if any New York Ranger or New York Islander prospects will be invited to take part in the annual summer evaluation camp held by USA Hockey.
The camp will be held August 4-11 at Lake Placid and is the start of the process used to determine which players might be named to the Under-20 team that will play for the World Under-20 Championships.
This year promises to be rather interesting because this year's tournament will be held in Ufa, Russia. It has been a while since this tournament has been played outside of North America.
Last year the Rangers (JT Miller and Shane McColgan) and Islanders (Scott Mayfield and Robbie Russo) were invited to take part but only JT Miller wound up making the final cut as well as eventually earning a spot on the team. This year, Miller should be a lock for an invite but it would be very disappointing to say the least if the Islander duo fail to receive invites.
Not sure if Shane McColgan will receive an invite but one never knows when it comes to USA hockey. It would be interesting to see if Steven Fogarty receives an invite because he played last year in the BCHL instead of the USHL.
With only 7 of those who made last year's camp final roster eligible to return; it would be also disappointing to see Steve Fogarty not received an invite.
Yes I know I'm a Ranger fan so I'm partial but in this case, I'm an American who was angry at the 2012 team not even making the medal round.
I see a 6'3 200+ center was coming off a 95 point season not a New York Ranger prospect. I do want to see both Islander prospects make this team as well because both have something to offer.
USA Hockey will also be announcing the will be coaching the 2013 and that selection itself should be interesting. I'm not a big fan of naming somebody who is already coaching a team (this also applies to Canada too) as I think somebody willing to do this full time does more to help improve the USA Hockey program as a whole.
I don't think that having somebody who can only coach the team from afar during the season helps the program out. You have a rushed selection camp in December and it's hard to believe you can build team chemistry over a four day weekend.
I do have a bit of friendly advice, several draft eligible players will receive invites but that will not raise their draft status with the NHL scouts. Nor will not getting an invite lower somebody's status.
And we'll all be arguing over who didn't get an invite, whether or not playing in the CHL rather than an NCAA school helps or hurts somebody's selection (or non selection).
At the very least it will be a good minor distraction for at least a day before we go right back to trade rumors and insane draft picks.
Speaking of the draft
An old friend Pat Hoffman will covers the Rangers for the folks over at Kulka's Korner did a quickie interview with me about the draft. You can find that
here
.
I also need to get a SHOUT OUT to my favorite CHL player Brendan Leipsic of the Portland Winterhawks who earned himself an invite to Canada's summer evaluation camp.
Now Gordie Clark remember when it comes to which player to select at 119; it is spelled BRENDAN LEIPSIC as you never have enough Ryan Callahan's in your lineup. Not that I'm trying to tell Gordie Clark who he should draft but it's been seven years, that's seven very long years since the Rangers drafted a Portland Winterhawk.
Again I'm not pushing Gordie Clark to pick number 28 of the Portland Winterhawks BRENDAN LEIPSIC with the 119th pick. (Or at least offer to pay some of the gas money I would have to spend)
No sir, in Gordie I trust
That was BRENDAN LEIPSIC
Original Story:
http://feedproxy.google.com/~r/ThePro...
THE BACKYARD
BEST OF MAXIM
RELATED ARTICLES
Aside from John Mitchell, the only other pending UFA that the Rangers fan base seems to be divided about is Ruslan Fedotenko. Both players are bottom six players –an area of strength for the Rangers– and both do more than their offensive stats suggest. Players like Fedotenko are evaluated beyond their offensive numbers. It's the defensive metrics that really show where Fedotenko's...
In keeping up with the offseason trend of articles here at BSB, we wanted to take some time to discuss locking up perhaps the most important free agents on the market, our own. Michael Del Zotto finished up his entry-level deal this season, which was a three year deal at just under $1.1M per season. This summer the 21 year old is a restricted free agent with no arbitration rights...
With great contracts come great expectations, and that especially applied to Brad Richards once he signed a nine-year/$60 million contract with the New York Rangers last July. As the biggest free agent target of the 2011 summer, Richards knew going in that he was going to be thrown lucrative deals left and right. However, it was the Rangers who, as compared to others, low-balled...
Before Friday's draft it's a good idea to take stock of what the Rangers already have in the system.  If New York follows suit, then the Blueshirts will pick the best player available regardless of position.  However, it's worth evaluating where the team's strengths lie, starting with a status update for the organization's forwards. Jonathan Audy-Marchessault J.A.M. burst...
Brandon Prust, along with Ryan Callahan, is the heart and soul of the New York Rangers. His relentless attitude and persistent work ethic have both been aspects of his game that have been appreciated by the Garden Faithful as well as the coaching staff since he was first acquired from the Calgary Flames in 2010, and have carried through over the course of his three-year career with...
(New York Rangers) It seemed kind of odd that only one member of the New York hockey media reported that New York Rangers had extended qualifying offers to their own restricted free agents. No way to confirm this nor was there any word regarding any of the restricted free agents playing for the CT Whale. Really there has never really been any doubt that the Rangers were going...
With the 2012 NHL Entry Draft right around the corner, I figured now would be the perfect time to get the pulse of what the New York Rangers need to do this year. To do so, I asked the best Rangers' prospect analyst around, Jess Rubenstein of The Prospect Park to give us his thoughts. PH: What do you think the Rangers' overall goal should be at this year's NHL Entry Draft...
If you were the GM of the New York Rangers who would you bank your hopes on? Give us your answer and let us know why in the comments field below.
By Alexander Monaghan "He's gonna be a good player. And we don't trade kids." – Glen Sather on Chris Kreider Following the New York Rangers' demoralizing Eastern Conference Finals loss, the team's president and general manager remained true to the cause. His team finished the season with 12 homegrown studs and an average age of 28. If he stays the course, his Rangers...
As the offseason ramps up and we get closer to the draft, trade rumors take center stage. While many writers –MSM and bloggers alike– will try to stir up the conversation by using the E.K.L.U.N.D. rumor strategy to try to convince people they are true insiders, we won't even bother with that. We are not insiders. We do not post fake rumors or even "logical" rumors. We take...
The New York Post's Larry Brooks offers takes on three very specific topics this morning, focusing on the New York Rangers' attempts to win the Rick Nash sweepstakes, the high likelhood of Alex Radulov cashing in with CSKA Moscow instead of remaining in the NHL, and the equally high likelihood that New Jersey Devils forward Ilya Kovalchuk was dealing with a significant to severe...
Rangers News

Delivered to your inbox

You'll also receive Yardbarker's daily Top 10, featuring the best sports stories from around the web. Customize your newsletter to get articles on your favorite sports and teams. And the best part? It's free!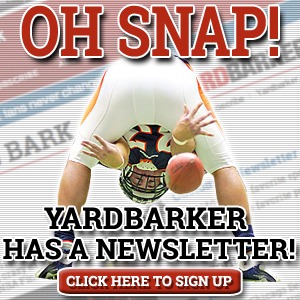 Latest Rumors
The Backyard

Today's Best Stuff

For Bloggers

Join the Yardbarker Network for more promotion, traffic, and money.

Company Info

Help

What is Yardbarker?

Yardbarker is the largest network of sports blogs and pro athlete blogs on the web. This site is the hub of the Yardbarker Network, where our editors and algorithms curate the best sports content from our network and beyond.