Found July 10, 2012 on Tonight's Healthy Scratches:
If you're an avid fan of getting your news, whether it be sports-related or otherwise, via Twitter, you've undoubtedly come across the numerous fake accounts that spew rumors at the speed of, well, sight.
These cretons, who apparently have nothing better to do with their time, continuously announce fake news citing unnamed sources that don't exist, providing rabid Twitter users with all the ammunition they need to recreate the Vancouver riots in the virtual realm.
False reports have dominated this year's free agent season in the NHL, with Ryan Suter having apparently landed in Detroit, Zach Parise in Pittsburgh, and Alex Semin, well, everywhere so far.
The fact is, anyone can throw a bunch of paint at a canvas and call it art. In fact, long-time Rangers fan and writer Greg Caggiano decided to have some fun with the all stupid people out there. Not-so-shockingly, as it turns out, there are a lot of them.
Late last night, Caggiano tweeted, like many others had before him, that not only was a deal that would bring Rick Nash to New York imminent, but that it was completed:
#CONFIRMED New York Rangers Acquire Rick Nash from #CBJ #DONEDEAL #NYRtinyurl.com/7w9c7wu

— Greg Caggiano (@GregCaggiano) July 10, 2012
You could imagine the reaction of hundreds, maybe even thousands of Rangers fans, couldn't you?
"Oh my God! This is breaking news! Quick, click the link! Who'd they trade for him? Somebody help me! I need an adult! I need an adult!"
Trouble is, the link in that article was not a news story explaining the details of a trade that would shake up the landscape of the Eastern Conference. Rather it was a link to Caggiano's personal blog, and an entry titled "A Great Social Experiment with NHL Trades on Twitter." There, Caggiano gives step-by-step instructions on how he shook the masses into a frenzy with just a few short hashtags. Embedded between his sinister laughs and retweets of people both hating him and loving him for his actions, is a lesson for all of us:
"So, why did I do this? To give fans high blood pressure? To bask in the attention? No, just to prove a point that no one on Twitter can be trusted except for the people who actually work for real sports outlets, and if something is too good to be true, like a 21-year-old blogger with no aspirations of being a sports journalist and just writing as a hobby, breaking the biggest trade of the year before TSN, it's probably not."
Perhaps the most diabolic part of his plan, was that just minutes before that tweet, with several others in his timeline hinting at a deal coming in mere moments, he dropped this little hint that he was totally full of crap, and just playing with everyone's emotions:
Yes, War of the Worlds. Great flick. Especially the Orson Welles RADIO broadcast. Classic. Had people talking for a loooooooong time.

— Greg Caggiano (@GregCaggiano) July 10, 2012
Yeah, that one fell mostly on deaf ears at the time, but it was a good one nonetheless. Perhaps those worked up into such a haze put their blinders on to anything not Nash-related until there was a resolution that would quench their thirsts for fake information.
"People may hate me for this, but that is their prerogative, as at least I was comfortable enough to release this was an experiment. Then again, what if Nash actually did get traded the next day? I would be a genius, immediately vaulted to the top of the rumor totem pole. If I was wrong, I could immediately flip just like everyone else does and say that family matters came into the equation, or something in the deal changed at the last moment and the entire thing fell through, and that there are now five obvious teams still in the running for said player. Either way, I hope this is a wake up call to all those who fancifully waste their lives following these people on Twitter. Thanks for the laugh, everyone!"
Nicely done, Greg. You've shown us just how easy it is to become someone Eklund, Incarcerated Bob or HockeyInsiderr, and also why we should avoid them like they've got the Bubonic Plague. We'll continue to stick with the Darren Dregers and Bob McKenzies of the world.
Click here to read Caggiano's full entry.
Original Story:
http://www.tonightshealthyscratches.c...
THE BACKYARD
BEST OF MAXIM
RELATED ARTICLES
Although the Boston Bruins are on the approved list of teams that Columbus Blue Jackets forward Rick Nash would accept a trade to, do not expect the 2011 Stanley Cup champions to make a push for the talented winger. Nash would love to play for the Bruins next season and beyond. He would be an instant upgrade to Boston's offense, especially on their anemic power play...
Unfortunately for you guys, I can't see you through my computer so here's some more Rick Nash nonsense from Aaron Portzline of the Columbus Dispatch..."One phone call could get the deal done, Howson has noted. Boston, Detroit, the New York Rangers, Philadelphia, Pittsburgh and San Jose are all on Nash's approved list, but the Rangers and Flyers would appear to have...
It makes perfect sense doesn't it? Most GTA born youth who grow up playing hockey dream of one day suiting up for the blue and white. Not Brampton-raised Rick Nash, who is currently looking for a way out of the lowly Columbus Blue Jackets. The power forward has revealed six teams that he would approve [...]
  So we lost out on the guy that was supposed to rejuvenate a defensive corps that lost its best player, and one of the best defenseman to ever play the game. Ryan Suter didn't happen. And what is our defense going to do? I have Brendan Smith doing everything next year, so I'm not worried, but what we still haven't fixed is that forward sniper position. And no, I...
In yet another piece on Rick Nash, Greg Wyshynski at Puck Daddy discusses how the Columbus captain still has a Junior Hockey mentality meaning he tries to do too much on his own and thinks his size and power can overcome multiple player coverage from the defense.Wyshyski adds this quote from former Ranger and TSN analyst Ray Ferraro on the impact John Tortorella would have on Nash...
Ever since Rick Nash was formally put on the block last season, we have had quite a bit of discussion on the topic here at BSB.  Interestingly, it seems our readers (and writers, for that matter) are pretty evenly divided in the pro or anti-Nash camps.  This is understandable given his large and lengthy contract, his (seemingly) declining production and his superstar status on...
from Rob Oiler of the Columbus Dispatch, Rick Nash is unhappy in Columbus, but during his nine seasons here, he always has acted professionally. Unless that changes — and it is possible; a prolonged holdout meant to force a trade would be a big shift in professional behavior — the CBJ's best player will remain as such. He will perform on par with his skill, not his employment...
from Ken Campbell of The Hockey News, NEWS: Columbus Blue Jackets GM Scott Howson says he refuses to accept anything less than "market value" for disgruntled captain Rick Nash. VIEW: That's all well and good, but that same market is basically dictating Nash is not worth the combination of what Howson is asking, plus the pillaging of roster players and prospects Howson insists...
Many have asked: One call can change all, but I get no sense that a Rick Nash trade is imminent. Holding pattern for now. #CBJ— Aaron Portzline (@Aportzline) July 10, 2012 ...sweet, can't tell you how excited I am to hear this news....with all the news being posted about Nash on this blog lately, I'm ready to change the name to The Rick Nash Blog.***In news I'm assuming...
Eric Staal got some very good news a few weeks back when his Hurricanes made a trade with the Pittsburgh Penguins to acquire one of Staal's, brothers, Jordan, to play in Carolina. It not only made the Staal brothers happier, but it also made the Hurricanes much better. But as it sounds, Eric is hoping that his Hurricanes are not quite through adding some key pieces...
As the first wave of free agent signings has passed and deals for big name players such as Rick Nash and Roberto Luongo remain conjecture, the Maple Leafs current roster configuration remains a puzzle. The lone move of GM Brian Burke, adding free-agent Jay McClement was to address the team's lack of size, as well as adding a solid checking center, but that gives Toronto...
Click on photo to read more about the NHL Offseason Surprises There have been some interesting stories in the NHL offseason thus far. I'm still waiting to see what happens with the Rick Nash situation. I have to believe the Rangers pull the trigger on the Blue Jackets big man. The Press MLB All-Star Game: R.A. Dickey should have been the National League starter [BleacherReport...
NHL News

Delivered to your inbox

You'll also receive Yardbarker's daily Top 10, featuring the best sports stories from around the web. Customize your newsletter to get articles on your favorite sports and teams. And the best part? It's free!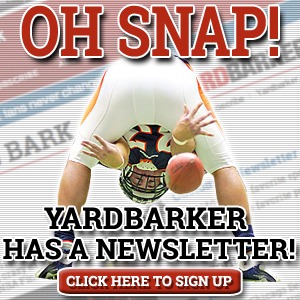 Latest Rumors
The Backyard

Today's Best Stuff

For Bloggers

Join the Yardbarker Network for more promotion, traffic, and money.

Company Info

Help

What is Yardbarker?

Yardbarker is the largest network of sports blogs and pro athlete blogs on the web. This site is the hub of the Yardbarker Network, where our editors and algorithms curate the best sports content from our network and beyond.