Found February 23, 2013 on Fox Sports North:
PLAYERS:
Zach Parise
,
Darcy Kuemper
,
Jonas Brodin
,
Mikael Granlund
,
Jason Zucker
,
Johan Larsson
,
Brett Bulmer
,
Charlie Coyle
,
Niklas Backstrom
,
Josh Harding
,
Jared Spurgeon
,
Marco Scandella
TEAMS:
Minnesota Wild
,
Detroit Red Wings
,
Phoenix Coyotes
,
Edmonton Oilers
,
San Jose Sharks
ST. PAUL, Minn. As Zach Parise scans the Minnesota Wild locker room, he only sees NHL players, teammates that are trying to push for a championship this season. Parise knows the veterans in the locker room and sees the young rookies trying to make their mark. Parise, signed long-term in Minnesota with his 13-year contract, doesn't look toward the future and doesn't see the ages. He didn't know quite how young some of his fellow teammates are, such as during last Sunday's win against the Detroit Red Wings when the Wild had five players on the ice 22-or-younger. "That's a great stat for us, it's a great sign," Parise said. "Now, it's up to us to keep getting better and not just accepting that we're a young team and we'll win or lose, but to challenge ourselves to be one of the top teams." Last Sunday's win was a reminder of what Minnesota has coming down the pipeline. Yet, Parise doesn't want to win down the road. He wants to win now. So do general manager Chuck Fletcher and coach Mike Yeo. Going 4-1-1 in six recent games, Minnesota is back in a playoff spot tied with the Phoenix Coyotes for seventh in the Western Conference. The Wild are at this point thanks, in part, to those young prospects, the ones that were named in The Hockey News' annual Future Watch feature last year, where Minnesota had five of the top 40 prospects in the game, the first time any team has done that in the publication's history. Six rookies have skated for Minnesota this season. Only Ottawa (eight) has had more rookies play this year. The Wild had those five players (goaltender Darcy Kuemper, defenseman Jonas Brodin, forwards Mikael Granlund, Jason Zucker and Johan Larsson) help beat Detroit recently. Only the Edmonton Oilers, who Minnesota beat 3-1 on Thursday night, have more players 22-and-younger on their current roster with eight. Fletcher is excited to have all of his prospects now in Minnesota or with the team's American Hockey League affiliate, the Houston Aeros. He no longer has to travel, as he puts it, "to the four corners of the globe" to see them play. Fletcher was excited when he could see them all together finally in Houston, even though the NHL was in the midst of the lockout. Now, Fletcher isn't thinking so much of their youth. "To be honest, I just want to win," Fletcher said earlier this week. "We're just trying to win. They're all good young players, good prospects It's great they're here. They'll have to earn the right to stay here. It's harder to stay here than it is to get that initial look. Clearly we think they're good young players and are going to be a big part of our future. Again, there's a lot of competition to stay here right now." Fletcher knows, and expects, some of his young players to be challenged by veterans as the team gets healthier. Other young players have come up and are now back in Houston. In all, Minnesota has had eight players 23-or-younger play this season. The Wild started the season as the sixth-youngest team in the NHL and have only gotten younger. The current roster average is 27-years-old. "I think that will be a common theme," Fletcher said. "Going into the year, I think we knew that once we ran into injuries or as circumstances dictated, we wouldn't hesitate to go to Houston and call up players. And the players that we have in Houston this year are all young guys, so that's our depth, that's our future and it's our depth right now. Again, they're going to have to earn it." The 2010 draft class has broken through. Granlund, 20, was the first-round pick in 2010 and has been with the team from the beginning. The second round netted Brett Bulmer, 20, Larsson, 20, and Zucker, 21. Charlie Coyle, 20, was a 2010 first-round pick acquired from the San Jose Sharks in a trade a year later. Coyle, Larsson and Zucker have all spent time with the Wild this year and Bulmer played nine games with the team last season. "We really wanted to upgrade the skill level of our forward group," Fletcher recalled of the 2010 draft. "We were able to draft four young forwards that, again, all of them at this point have spent some time in the NHL. The challenge for them is going to become good NHL players and have sustained success at the NHL level and there's still a ways to go for all of them. But we're hopeful that they can all have NHL careers and have good NHL careers and help our team." Brodin, 19, is currently the youngest defenseman in the NHL. He has earned the right to stay with his play as one of the team's top defensemen. Kuemper, 22, is the second-youngest goaltender in the NHL. Backing up Niklas Backstrom while Josh Harding is on injured reserve, Kuemper is 1-1 and has a better save percentage and goals-against average than either Backstrom or Harding. "When you first get called up, I'm sure those guys have the same approach, you just want to prove that you can play at this level, prove to yourself, prove to management and prove to the fans that one day you plan on being here full-time," Kuemper said. "I think all of us are working hard trying to do that." Defenseman Jared Spurgeon, with 130 NHL games under his belt, is still just 23 and defenseman Marco Scandella, 22, has also played this season for the Wild. "There's a lot of things to be excited about right now and certainly the young guys is one of them," Yeo said earlier this week. "We want these guys to come up, and if they come up, then we want them to contribute. It's nice to have nice prospects. But what our players care about and what our coaches probably care about most right now is what are you doing for me right now. To see guys come in and have an impact in the game and play key minutes and be able to perform at those key moments of the game, that's what matters most." Right now, youth is serving Minnesota well. Follow Brian Hall on Twitter.
Original Story:
http://www.foxsportsnorth.com/02/23/1...
THE BACKYARD
BEST OF MAXIM
RELATED ARTICLES
First, take a look at the video put together by SBNation of the hit Taylor Hall had on Cal Clutterbuck last night. I'm not a scholar of the NHL, despite my other gig at Barry Melrose Rocks, so you are all entitled to your own opinions, but to me, it looked like Taylor Hall had intent to hit Cal Clutterbuck. That's the problem with the hit, in my mind. What I don't believe...
This is a pretty vicous hit and then some, via We All Bleed Red on YouTube (with both feeds): From NHL.com: Minnesota forward Cal Clutterbuck had to be helped off the ice late in the third period of Thursday's 3-1 victory at Edmonton with what appeared to be an injured left leg. Edmonton's Taylor Hall received a five-minute major for kneeing and a game misconduct...
The head equipment manager of the Minnesota Wild isn't a fan of the Edmonton Oilers. In fact, he's not a fan of the city of Edmonton in general. How do we know this? Well, Styleswild on Twitter or Tony Dacosta based on the matching photo from the Wild's site, chose to bash the city and the team through a series of Tweets.  After time passed, Dacosta decided to remove...
The Hockey Night in Canada panel discuss the Minnesota Wild. Some words are kind, many are not.  
Minnesota Wild forward Cal Clutterbuck has seemingly avoided a major injury after taking a lethal knee-on-knee hit from Edmonton Oilers forward Taylor Hall Thursday night, but Hall won't be avoiding suspension. The NHL announced a two-game ban for Hall, the first of his young career, after a vicious hit on Clutterbuck in Thursday's 3-1 Minnesota win in Edmonton. Hall, who...
Follow me on Twitter for updates and discussions: @ColinDJD __________________________________________________________________ Just a few quick updates and discussions… As we come into the weekend, the Flames are making minor changes to their roster as they prepare for their next match up against the Minnesota Wild. Sven Baertschi appears to be close to game ready as...
Minnesota Wild (8-6-2)  18pts  2nd in the Northwest 2.12 Goals For per Game (29th in the NHL) 2.38 Goals Against per Game (10th in the NHL) 14.3% Power Play (23rd in the NHL) 84.3% Penalty Kill (7th in the NHL) Top 5 Scorers: 1. #11 Zach Parise ~ 7G 5A = 12pts 2. #9 Mikko Koivu ~ 3G 9A = 12pts 3. #15 Dany Heatley ~ 5G 4A = 9pts 4. #7 Matt Cullen...
Selective amnesia, its one of those things I come across on a daily basis as an educator, when a student tries to think of a creative way to tell me an assignment hasn't been completed.  "I didn't know it was due" or other forms of selective amnesia.  The stereotypical "my dog ate my homework" is more myth than anything bound in reality.  So what do...
NHL News

Delivered to your inbox

You'll also receive Yardbarker's daily Top 10, featuring the best sports stories from around the web. Customize your newsletter to get articles on your favorite sports and teams. And the best part? It's free!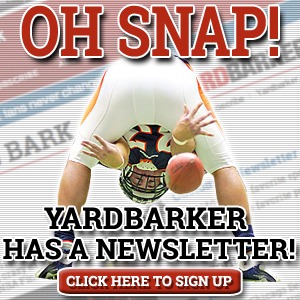 Latest Rumors
The Backyard

Today's Best Stuff

For Bloggers

Join the Yardbarker Network for more promotion, traffic, and money.

Company Info

Help

What is Yardbarker?

Yardbarker is the largest network of sports blogs and pro athlete blogs on the web. This site is the hub of the Yardbarker Network, where our editors and algorithms curate the best sports content from our network and beyond.