Found June 28, 2013 on Fox Sports North:
ST. PAUL, Minn. -- Since taking over the Minnesota Wild in May 2009, general manager Chuck Fletcher hasn't been shy in his approach to building a roster that ended a four-year postseason drought last season. Fletcher, trying to assure Minnesota made the playoffs last season after the monumental offseason signings of Zach Parise and Ryan Suter, was willing to part with a first-round draft pick in this weekend's NHL Draft to acquire winger Jason Pominville. The price was high for Pominville, a proven NHL scorer and all-around player. Fletcher surrendered top prospects, forward Johan Larsson and goaltender Matt Hackett and what ended up as the No. 16 pick in Sunday's draft for Pominville, who had four goals and five assists in 10 regular-season games for the Wild before a concussion knocked him out of the lineup. Minnesota enters the draft without a first-round pick for the first time in the team's history. But Fletcher and the Wild aren't done being aggressive. "Seemingly every year we've made moves at the draft table, whether we've traded up or traded back," Fletcher said earlier this week. "There's a way to move up in drafts and there's a way to move back and get extra picks. That will really be up to what the scouts want. But I'd be surprised if we weren't active between now and then." Fletcher often defers to assistant general manager Brent Flahr and the team's scouts when it comes to the draft. Flahr has overseen three drafts that have significantly upgraded Minnesota's core of prospects that is ranked among the best in the entire league. Fletcher has augmented the Wild's own picks with draft-day trades, such as acquiring forwards Charlie Coyle and Devin Setoguchi and the No. 28 pick -- which turned into center Zack Phillips -- for Brent Burns on Draft Day 2011. Minnesota has made five trades during the draft over the past four seasons, and the days leading up to this year's draft are expected to be hectic with several teams looking to move picks or players because of the decrease in the league's salary cap. "You probably haven't read as much about certain things or the rumor mill hasn't started quite as much as usual," Flahr said. "But once you get to the draft and a lot of teams are looking to do things, especially with the cap situation this year, create flexibility or to add players, potential buyouts. There's lots of things going on this year, which is a little unique. I think it will probably be a little more active this year than it has been in the past." The Wild and Fletcher have already been working the phones and meeting with other teams around the league. Minnesota, which has eight total picks in the seven rounds, doesn't have a pick until No. 46 overall in the second round. The Wild have two third-round picks in what Flahr described as a deep draft that could see teams jockeying to get into position to draft a player high on its board. "This year, I think you're going to see everybody's looking to trade up, and then you get to a certain point and then teams are probably going to look to move back five spots and add a pick somewhere, try to manage the draft that way," Flahr said. "It all depends on everybody's list. Certain times you have a player that's still on the board and I try to get Chuck on the phone and make some calls, and see if we can happen to give up a pick in the later (rounds) to make sure we get a player that we have rated significantly higher. So, every draft's different. In some cases, it works out, some cases it doesn't." The Wild are still pleased to have added a proven NHL player in Pominville, a six-time, 20-goal scorer who has had 30 goals or more twice in his career. Acquiring Pominville makes being without a first-round pick, for now, an easier pill to swallow. "(When) we made the trade we added a quality player too, so that obviously makes it easier," Flahr said. "But the draft, the way it works, our guys travel a lot all year and work very hard. The draft's kind of their forefront, so it's never easy trading a first-round pick. At the same time, we knew what we were doing at the time and the guys were happy. At the same time, we're going to concentrate and make sure we're adding some players." The top of the draft features four players considered top-end prospects in center Nathan McKinnon, defenseman Seth Jones, winger Jonathan Drouin and Finnish center Aleksander Barkov. Minnesota has drafted in the top 10 each of the past three years and has targeted specific positions each year. Drafting at No. 46 this time, the Wild are at the mercy of the draft board. "One thing I can say is when you're picking 10 you have the novelty of maybe going after a need," Flahr said. "I know we always say the best player at times. But the (Jonas) Brodin draft (in 2011) we knew we were targeting a defensemen just because Burns, we knew we were going to make that trade. Certainly the (Mikael) Granlund, (Jason) Zucker, Larsson year (in 2010) we really needed forwards in the organization, so we really focused on forwards. "But this year, to be honest, we drafted (Mathew) Dumba last year, we have some forwards. We have a pretty good mix, we feel. When you get to 46, it legitimately is we're taking the best player." With a deep draft, Flahr likened this year to Minnesota's draft in 2010 when it selected Larsson and Zucker later in Round 2, but had higher grades on both forwards. "We're confident we can get a good player there (at No. 46)," Flahr said. "At the same time, if we add another pick or move around, it's a good enough draft where there's some depth. You could get a player that you're really happy with falling in the draft." Let the wheeling, dealing, and sometimes drafting, begin. Follow Brian Hall on Twitter
Original Story:
http://www.foxsportsnorth.com/nhl/min...
THE BACKYARD
BEST OF MAXIM
RELATED ARTICLES
ST. PAUL, Minn. -- The Minnesota Wild started a potentially busy weekend by securing some of the organization depth it covets. Minnesota announced Friday it signed defenseman Steven Kampfer to a one-year, two-way contract. The two-way contract allows the Wild to send Kampfer up-and-down from its minor-league team in Iowa next season. Kampfer, 24, spent the 2012-13 season playing...
The Minnesota Wild face some vexing salary cap issues. Winger Dany Heatley's injury prevents the team axing him with a compliance buy-out, so other moves must occur to make the numbers work.This has triggered speculation that agitating winger Cal Clutterbuck could exit via trade. The team tendered him a contract to protect its rights in restricted free agency, but cap issues may...
Pierre-Marc Bouchard's agent Allan Walsh confirms his client will not sign a deal with the Minnesota Wild and will be a UFA on July 5. Bouchard was selected eighth overall by Minnesota in the 2002 NHL Entry Draft. On July 25, 2008, Bouchard signed a five-year, $20.4 million deal with the Wild. After suffering a hit to the head late in the 2008-09 season, Bouchard [...]
Reports out of NYC this morning that the Minnesota Wild are accepting offers for energy winger Cal Clutterbuck. The asking price: a second round pick in tomorrow's entry draft and a prospect. The Wild made a one year qualifying offer to the RFA on Thursday according to the Star Tribune. The Wild desperately need cap space and cant take a salary back from a team that they...
According to Minnesota beat writer Michael Russo, the Wild might trade tough guy Cal Clutterbuck this weekend. The Wild tendered qualifying offers to retain the rights of Clutterbuck on Tuesday this week, however it sounds as though General Manager Chuck Fletcher has been in the mood to trade the winger this week. Russo says that the Wild aren't looking for a [...]
The Minnesota Wild have signed Steve Kampfer to a one year, two way contract worth $550,000. Kampfer was selected by the Anaheim Ducks in the 4th round (93rd overall) of the 2007 NHL Entry Draft. On March 2, 2010, the Anaheim Ducks traded Kampfer to the Boston Bruins in exchange for a conditional 4th-round draft pick. The Bruins signed him to a three-year entry-level contract...
NHL News

Delivered to your inbox

You'll also receive Yardbarker's daily Top 10, featuring the best sports stories from around the web. Customize your newsletter to get articles on your favorite sports and teams. And the best part? It's free!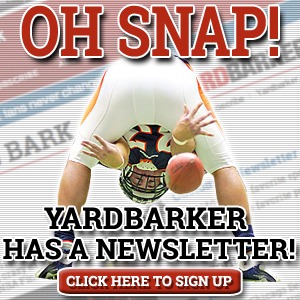 Latest Rumors
The Backyard

Today's Best Stuff

For Bloggers

Join the Yardbarker Network for more promotion, traffic, and money.

Company Info

Help

What is Yardbarker?

Yardbarker is the largest network of sports blogs and pro athlete blogs on the web. This site is the hub of the Yardbarker Network, where our editors and algorithms curate the best sports content from our network and beyond.