Found January 31, 2013 on Fox Sports North:
ST. PAUL, Minn. Ever since star forward Zach Parise signed his mega-contract last summer with the Minnesota Wild, coach Mike Yeo had dreamed of putting Parise with center Mikko Koivu and wing Dany Heatley. Yeo felt the three could complement each other well and become the top scoring line Minnesota has sought for years, while also being responsible defensively. Yeo had time to change his mind when the lockout robbed him of the chance to see his improved team on the ice. Inevitably though, he kept coming back to those first thoughts he had last summer. Now, Parise, Koivu and Heatley are demonstrating the potential Yeo dreamed about months ago. Together since the beginning of training camp, Parise, Koivu and Heatley have combined for 11 of the Wild's 18 goals to lead Minnesota to the top of the Northwest Division with a 4-2-1 record. "We're talking about the guys that shift after shift you're hoping they can go out and create some offense, but this is the line that has gotten in on the forecheck the most times," Yeo said. "This is the line that has the right structure in their forecheck so they can get those pucks back. They're the ones getting the shifts in the offensive zone. They're the ones that are creating the chances because of it, and they're the ones that are drawing the penalties because of it." Parise has somehow lived up to the enormous expectations so far after signing that 13-year, 98 million contract last July. A five-time, 30-goal scorer, Parise leads the Wild and is tied for second in the NHL with five goals. With his four assists, he has a team-leading nine points, which is tied for eighth in the league. Heatley, a four-time, 40-goal scorer, has four goals and two assists. Koivu, longunderappreciatedplaying in Minnesota, has two goals and a team-high six assists. Together, they've been one of the most productive lines in the league and perhaps the best line to ever play together for the Wild. "I'm excited about where we can get to," Parise said. "Where we're at now I think is pretty good. Where we can get to is going to be really good. If we can just keep learning more and getting better, I think we'll do OK." Parise and Koivu are renowned for their work ethic and success on the forecheck. Parise can also snipe and leads the league in shots on goal. Heatley, who has 353 career goals, has been adept this season finishing around the net, such as opening night when he scored two power-play goals on rebounds. Together, their ability to create scoring chances and finish has the trio looking like the perfect mix. "With Mikko and I, we like to work down low in the corners and below the goal line and retrieve pucks and get it deep and Heater's got that scoring touch that you just can't find in players," Parise said. "Get pucks in front of the net, deflections, he gets his stick on it. So, it's kind of a good mix." Heatley was one of only two players to play all 82 games last year and led Minnesota with 24 goals and 53 points. Yet, he often took the criticism as the Wild ended the year with just 177 goals as a team, the lowest total in the league last year and the second-fewest goals by a team since the 2004-05 lockout. Yeo saw things differently and called Heatley the team's MVP. Safe to say, Yeo also saw a rebound coming from Heatley. "We had two guys that (played 82 games) last year and especially in that second half, it was tough," Yeo said of Heatley. "There was a lot of heat on him. He played most of the year without Mikko. And so you put Mikko with him, and Heater's a great player, and he's an even better player with Mikko. And you add a guy like Zach and that just compounds." Heatley, who had knee surgery after last season, came to training camp in better shape and added bulk. The changes weren't about Heatley redefining himself after a career in which he's been known as one of the league's top snipers. With Koivu and Parise getting Heatley the puck, he'll just be getting the recognition for his work in front of the goal. "You're not going to score 50 goals from all out in the top of the slot one-timers," Yeo said. "You've got to score the majority of your goals around the blue paint. We talked about this last year and him getting to those areas. Now if you don't have players that are getting pucks to that area and getting pucks with bodies and drawing that attention, then a lot of times it goes unnoticed. That was a focus for him last year. Obviously now, we have guys that can get him the puck in those situations and can draw attention away from him when the puck is there." With the arrival of Parise and return of Koivu from injury, along with the other moves the Wild have made to add depth, Heatley doesn't need to feel the pressure of being the lone scoring threat. He came to camp focused and has been able to work in relative anonymity. But like Yeo, Heatley's been beaming since last summer. "I was smiling the day we signed these guys," Heatley said last week in reference to signing Parise and Ryan Suter. "And I'm still smiling." Parise, Koivu and Heatley have given everyone with the Wild reason to smile. Follow Brian Hall on Twitter.
Original Story:
http://www.foxsportsnorth.com/01/31/1...
THE BACKYARD
BEST OF MAXIM
RELATED ARTICLES
FRIDAY'S STORY LINE: Where is the depth? Where is the secondary scoring? In the first five games of the season, those questions were constantly fired at coach Mike Yeo. The top line of Zach Parise, Mikko Koivu and Dany Heatley has been as advertised. The three were dominant from the get-go and combined for 10 of Minnesota's 13 goals in the first five games. Still the question...
ST. PAUL, Minn. When the Minnesota Wild went on their summer shopping spree to land big-name free agents Zach Parise and Ryan Suter, fans of the team envisioned long playoff runs, Stanley Cups and parades down the streets of St. Paul. All of the hype surrounding Parise and Suter overshadowed one important fact. The first step for Minnesota is getting back into the playoffs, after...
Josh Harding's story has been pretty miraculous. The goaltender recently picked up a shutout for the Minnesota Wild in his first game back after being diagnosed with multiple sclerosis. Unfortunately, Harding's start against the Chicago Blackhawks was a bumpy one, earning Harding some time on the bench not even seven minutes into the first period.  As Niklas Backstrom...
Matt Cullen scored 90 seconds into the game and again in a shootout to lift the Minnesota Wild to a 3-2 victory over Chicago on Wednesday, handing the Blackhawks their first loss in seven games this season. Cullen's snap shot in the third round slipped between Corey Crawford's legs, and Patrick Sharp then hit the crossbar for Chicago. The Blackhawks and San Jose were the...
Despite playing a shortened season, the NHL has not been short on fantastic plays so far this year.  On a 5-on-3 powerplay in the first period, Minnesota Wild forward Pierre-Marc Bouchard was left open on the back door and Chicago Blackhawks goaltender Corey Crawford dove across to make the miraculous save.The Blackhawks are currently 6-0 and are looking to extend their unbeaten...
The WCHA was well represented tonight. Here is the video of the shootout. Shooting is former Fighting Sioux forwards Zach Parise and Jonathan Toews. Also, Mikko Koivu, Patrick. Kane, former Saint Cloud State Husky Matt Cullen and Patrick Sharp shootout attempts. Blackhawks forward Jonathan Toews has a 50 percent success rate in the shootouts. That's incredible in my opinion.
ST. PAUL, Minn. -- With the Chicago Blackhawks off to the best start in their long franchise history, it was likely to take an extra effort to beat them. On Wednesday, the Minnesota Wild logged that extra effort, throughout overtime and a shootout and handed the Blackhawks their first loss. Zach Parise and Matt Cullen scored in the shootout as the Wild won, 3-2. Cullen also scored...
After a three-game losing streak negated their quick start to the season, a pair of victories have the Minnesota Wild feeling good again. A third straight win Friday night against Anaheim would further boost their confidence, as they'll be facing a Ducks team that's coming off a shootout loss but off to a good start to 2013. The Wild (4-2-1) couldn't maintain their...
What a save by the Blackhawks goalie Corey Crawford on Minnesota Wild forward Pierre-Marc Bouchard, words really can't describe it.
Minnesota Wild (4-2-1)  9pts  2nd in the Northwest 2.57 Goals For per Game (17th in the NHL) 2.71 Goals Against per Game (15th in the NHL) 19th ranked Power Play (16.7%) 8th ranked Penalty Kill (84.6%) Top 5 Scorers: 1. #11 Zach Parise ~ 5G 4A = 9pts 2. #9 Mikko Koivu ~ 2G 6A = 8pts 3. #15 Dany Heatley ~ 4G 2A = 6pts 4. #77 Tom Gilbert ~ 2G 4A...
New Jersey Devils (3-0-3) @ Pittsburgh Penguins (4-3-0) ROOT, MSG PLUS, NHLN-US - 1:00 pm/et Consol Energy Center - Pittsburgh, PA "Today Zach Parise leads the Pittsburgh Penguins into battle against his former team, the New Jersey Devils" - Headlines according to Hockey Insiderrrrrrrrrr. In reality, Zach Boychuk will make his Penguins debut alongside...
Wild News

Delivered to your inbox

You'll also receive Yardbarker's daily Top 10, featuring the best sports stories from around the web. Customize your newsletter to get articles on your favorite sports and teams. And the best part? It's free!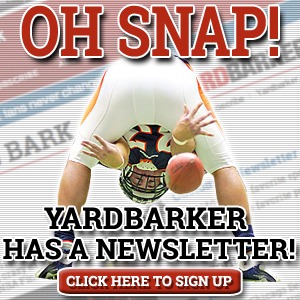 Latest Rumors
The Backyard

Today's Best Stuff

For Bloggers

Join the Yardbarker Network for more promotion, traffic, and money.

Company Info

Help

What is Yardbarker?

Yardbarker is the largest network of sports blogs and pro athlete blogs on the web. This site is the hub of the Yardbarker Network, where our editors and algorithms curate the best sports content from our network and beyond.