Found April 09, 2012 on Philly Sports World:
Danny Briere may be ready to go for Game 1 of the playoffs against the Pittsburgh Penguins. Defenseman Nicklas Grossmann also will return. The health of some key members of the Philadelphia Flyers has been in question as the team approaches the playoffs. Today, the Flyers got a little bit of clarity in regards to a couple of their more important pieces. Nicklas Grossmann, the Flyers defenseman who has played so well since being acquired from Dallas on February 16th practiced with the team today and should be ready to go on Wednesday for Game 1 of the Pittsburgh Series. Grossmann signed a 3 year contract extension on Friday, and has been valuable to the Flyers in the absence of their Captain, Chris Pronger. Grossmann had been nursing a knee injury sustained on April 1st against the Penguins. Danny Briere was also injured in that very same game on April 1st, and had been listed as out indefinitely. Briere also practiced with the team today with no restrictions, a good sign he may be ready to go on Wednesday. Briere was leveled by Pittsburgh's Joey Vitale in the final moments of a convincing Flyers win, leading to a brawl, fines and stern warning from the NHL. Briere has struggled this season, but has been a bona fide playoff performer throughout his career. In the Flyers 2009-2010 run to the Stanley Cup Finals, Briere netted 12 goals and added 18 assists in only 23 games. His return should be a boost for the Flyers who have struggled offensively a bit. Andrej Meszaros and James Van Riemsdyk will not likely be ready for the first series. GM Paul Holmgren announced on Friday that JVR was still about 2 weeks away from playing. Van Riemsdyk is recovering from a broken foot. Andrej Meszaros underwent surgery to clean out disk fragments in his back. He will probably be out for another 3 weeks or so. Similar Posts:
Flyers and D Nicklas Grossmann Agree to Extension
Flyers' Meszaros Out 6-8 Weeks; Kubina Day-to-Day
The Flyers Face Some Questions As NHL Playoffs Approach
Flyers are Down on D… Again
Flyers Winger JVR to Miss 4-6 Weeks
Original Story:
http://phillysportsworld.com/wounded-...
THE BACKYARD
BEST OF MAXIM
RELATED ARTICLES
LET THE PLAYOFFS BEGIN
Ilya Bryzgalov is known as much for the things he says during interviews as the saves he makes while in net. For that reason, we were not surprised by the response he gave on Monday when asked what the biggest threat is that the Flyers' first-round opponents can bring. But the look Bryzgalov had on his face when he told reporters that he was afraid...
With an essentially meaningless game to finish the regular season on Saturday, Philadelphia Flyers stud center Claude Giroux elected to take a breather. Although general manager Paul Holmgren said that his star was plagued by an upper-body injury - multiple reports deduced that it was actually a cold - Giroux sat out Saturday's 4-2 loss to the rival Pittsburgh Penguins. Giroux...
As we all know, the Flyers are set to play the Penguins in the first round of the playoffs. Entering the postseason as the 5th overall seed in the Eastern Conference, they will not have the luxury of having home ice advantage against Pittsburgh. The Flyers only have 1 loss all-time at the Consol Energy Center (yesterday), so we're not too concerned with their ability to play...
Philadelphia Flyers forward Scott Hartnell expects ''a lot of blood, a lot of goals'' when the Flyers face the Pittsburgh Penguins in the opening round of the NHL playoffs. The fourth-seeded Penguins will have home-ice advantage Wednesday against fifth-seeded Philadelphia, though playing at Consol Energy Center has hardly been an advantage. The Flyers have won five...
  One of the more underrated and sickening playoff defeats the Penguins have ever experienced was the 2000 series against the Flyers. If a Penguins fan is ever on the show "Intervention," they will be talking about how great their life was and then the producer will ask what was the catalyst to their downward spiral in life. The Penguin fan will take a deep breath...
We are now at the series that as being regarded as the best of the first round. I have different opinions on that, but I do think that this will be a very entertaining series as it features two of the best teams in the Eastern Conference. It's a shame that one of these teams has to go out in the first round because I think both are capable of pulling off a great run, especially...
We've been here before, you know. There is going to be an absolute cacophony of voices in our heads and in our faces over the next week-plus, yelling and screaming and whining and kicking down the borders of consciousness. NBC Sports will turn the contrast up on those oranges and blacks and whites and golds, and get rolling into a festival of rhetoric. In a way, we almost like...
Last week, when I saw the YouTube video of Scott Hartnell making his then-famous now-forgotten - nothing personal, Scottie, that's just the way things go these days - Hulk Hogan impersonation, I thought of a friend of mine who did the same thing 15 years ago. Only, he wasn't doing it in front of 15 000 people, or to a guy dressed up as Hulk Hogan. He did it in an ice cold...
NHL News

Delivered to your inbox

You'll also receive Yardbarker's daily Top 10, featuring the best sports stories from around the web. Customize your newsletter to get articles on your favorite sports and teams. And the best part? It's free!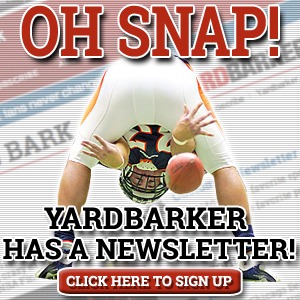 Latest Rumors
Best of Yardbarker

Today's Best Stuff

For Bloggers

Join the Yardbarker Network for more promotion, traffic, and money.

Company Info

Help

What is Yardbarker?

Yardbarker is the largest network of sports blogs and pro athlete blogs on the web. This site is the hub of the Yardbarker Network, where our editors and algorithms curate the best sports content from our network and beyond.