Found February 10, 2012 on Fox Sports Detroit:
PLAYERS:
Kris Draper
,
Steve Yzerman
,
Chris Chelios
,
Ken Holland
,
Niklas Kronwall
,
Jimmy Howard
,
Bruce Boudreau
,
Mike Babcock
,
Jan Mursak
TEAMS:
Detroit Red Wings
,
Winnipeg Jets
,
Toronto Maple Leafs
,
Washington Capitals
,
Edmonton Oilers
,
Tampa Bay Lightning
DETROIT -- Although Kris Draper couldn't wait to put his No. 33 on again and would be fit and ready for the NHL Alumni Showdown if it took place this week, there's another longtime Red Wings player who fans were hoping to see again. That player is current Tampa Bay Lightning general manager Steve Yzerman. "I'm going to get Drapes to twist his arm and Cheli (Chris Chelios) to twist his arm," Wings general manager Ken Holland said at the NHL Winter Classic press conference at Comerica Park. "Obviously, we want him to play. He's always said no in the past, but let's see how our arm-twisting does." Draper said he planned to work on Yzerman, but it looks like it won't be an easy sell. Through the Lightning, Yzerman released a statement about his intentions for the event. "It will be a fantastic event with two great organizations at a storied venue," Yzerman said. "The perfect location and matchup, this is wonderful for the NHL. "At this time, I don't plan on participating in the alumni game but hope to watch the Outdoor Classic on TV." If Draper's cajoling doesn't work, there's another former player who might want in. "I'd like to think I deserve a tryout," Holland said. "You start to think of the goalies we've had here. "Hopefully, we get most or all of the people we want. It should be a great celebration of what's gone on in the Red Wings uniform over the last 40-50 years." The current captain's decision The Red Wings are hoping captain Nick Lidstrom plays in the Winter Classic next Jan. 1, which would mean he signs for another season after this one. During the press conference at Michigan Stadium, Lidstrom wasn't making any hasty decisions about his future. "We'll have to wait and see," Lidstrom said. "It's only one game, but it's an intriguing one." Lidstrom did say that he enjoyed his first Winter Classic experience, the one at Wrigley Field in 2009. "The first time we played out, in Chicago, it was a great experience," Lidstrom said. "A chance to play outdoors when you were a kid growing up and to get the feel again and know you have a chance to play at this stadium with over 100,000 people, it's going to be a little different than playing in a baseball stadium. I'm sure it'll be exciting." As someone who remembers playing the Toronto Maple Leafs more than once a season, Lidstrom said the 2013 matchup would be a great one. "An Original Six matchup," Lidstrom said. "We only play them once or twice a year, and a chance to play them in this kind of venue will be really exciting. "With Toronto only being four hours away, I'm sure we'll see a lot of Maple Leaf fans." And if Lidstrom doesn't return to play for the Wings, he could suit up for the Alumni Showdown. "I guess I have a chance to play in either one," Lidstrom said. "We'll have to wait and see." Wings '24-7' ready? When Lidstrom was featured on NBC Sports Network's "E 36" -- a show that followed him for 36 hours -- many of his teammates were noticeably absent. But all the Wings players will get their closeups as a result of Thursday's announcement. The NHL partners with HBO for the acclaimed "247" show, which goes behind the scenes with the Winter Classic teams in the weeks leading up to the game. "I think you're right in that most of the guys tend to shy away from the camera a little bit," Niklas Kronwall said during the press conference at Michigan Stadium. "But I think that's something that just comes with it. "After a few weeks, or a few days even, you'll get used to having the cameras around and guys will open up and just enjoy the experience." Kronwall said he's actually a fan of the show. "I've seen most of them," he said. "HBO's done a great job putting them together. Just that guy's voice alone makes the show a lot better. "But I think they've done a great job capitalizing different personalities on the teams. You get to know them a lot better." Starting goaltender Jimmy Howard will no doubt be featured in the show. Howard said he wouldn't be shy. "I think it would be a lot of fun," he said. "My dad's already talking about ordering HBO to be able to watch it. It would be a lot of fun to be able to be one of the guys." So which player would end up being the breakout star that then-Washington Capitals coach Bruce Boudreau was a couple of years ago? "You might see Pavel a little differently than what he's viewed in the media," Lidstrom said. "He can be quite a funny guy, and you might get to see that up close." Injury updates Howard, who has a broken right index finger and has missed the last three games, saw a doctor Wednesday. "What he can tolerate, he can do," Holland said. "It's a 4-to-6 week injury to heal. The longer we can wait, the less risk you take. "I'm assuming by next week he'll be practicing, and we'll see where he's at." At Michigan Stadium, Howard seemed to be accelerating the timeline. "We're down to day to day pretty much," he said. "Hopefully, Friday I'll be able to take some shots. Every single day it's feeling better and better." Although he's already played in 44 games this season, Howard isn't enjoying his "break." "I like being out there with the guys," Howard said. "I can't stand watching the games. I get too nervous. "I can't wait to get back out there. I just love competing and stopping pucks for the guys." As for Danny Cleary, who missed the third period of Wednesday's 4-2 victory over the Edmonton Oilers because of a painful knee, he will miss the weekend games. "He's going to have it drained," Holland said. "I'm not sure if they're going to give him a cortisone injection or not. "He needs some time off, give him the weekend and then we'll re-evaluate on Monday." Coach Mike Babcock said Jan Mursak will take Cleary's place in the lineup.
Original Story:
http://www.foxsportsdetroit.com/02/10...
THE BACKYARD
BEST OF MAXIM
RELATED ARTICLES
19 straight wins at home after a 2-1 SO victory. I told you, you don't disrespect the number 19 in Detroit. You just don't. Recap after the jump: Post, post, post. Detroit got out shot in this game, but they did have plenty of great chances. Yes, the PP is bad, but they are getting chances. Once they start burying those chances, the PP will go from terrible to bad. I guess...
DETROIT -- The NHL Winter Classic is finally coming to the Detroit area, and it's going to be a celebration of hockey that will take place in the city and throughout the entire region. The worst-kept secret in sports became official at a pair of news conferences Thursday, one at Comerica Park in Detroit and one at Michigan Stadium in Ann Arbor. Although the game itself between...
DETROIT - It was announced today, in an official press conference hosted by the Comerica Park, that the 2013 NHL Winter Classic will have the Toronto Maple Leafs take on the Detroit Red Wings in Michigan Stadium on January 1st, 2013. Often considered the worst kept secret in the NHL since the 2012 Winter Classic ended, the 2013 Winter Classic will take on a new form. In addition...
The NHL's Winter Classic has become a bigger event with every year. But in 2013, it gets no bigger as the Detroit Red Wings will host the Toronto Maple Leafs in front of an expected 115,000 fans at the Big House at the University of Michigan. Commissioner Gary Bettman officially confirmed the news which had been rumoured for months during a press conference at Comerica Park...
For some mysterious reason which has something to do with parallel announcements at Comerica Park (which will be streamed online at NHL.com and DetroitRedWings.com) at 10:30 AM on Thursday and Michigan Stadium at 1:15 PM on Thursday, the Detroit Red Wings won't practice on Thursday, but they earned the day off to promote the 2013 Winter Clas…I mean engage in a "major announcement"...
The Red Wings have several sparkling personalities -- Jimmy Howard, Danny Cleary, Tomas Holmstrom and the inimitable Pavel Datsyuk -- but will they be too elusive for HBO to catch next autumn?
In Wednesday night hockey action, Sam Gagner beat the Detroit Red Wings 2-0. Unfortunately, the rest of the Oilers lost to the Detroit Red Wings by 0-4. Here's a bunch of random comments on the frustration that is the Edmonton Oilers. - Eberle is in the Top 10 in league scoring, and Sam Gagner is ripping up the NHL right now. Yet, five Oiler forwards had more ice-time during...
Pavel Datsyuk and Todd Bertuzzi scored shootout goals to give the Detroit Red Wings their 19th consecutive home victory, 2-1 over the Anaheim Ducks on Friday night. Detroit tied the 1970-71 Boston Bruins for the second-longest home streak in NHL history. The 1975-76 Philadelphia Flyers and the 1929-30 Bruins won 20 consecutive games at home.
Pavel Datsyuk and Todd Bertuzzi scored shootout goals to give the Detroit Red Wings their 19th consecutive home victory, 2-1 over the Anaheim Ducks on Friday night.
The Detroit Red Wings and Toronto Maple Leafs will play in the 2013 Winter Classic at Michigan Stadium in Ann Arbor.
Next year's Winter Classic could set an attendance record.
Less than a week after Adam Hall suffered a partial tear of his left biceps, general manager Steve Yzerman said he was expected to miss eight weeks. It turned out to be much less.
NHL News

Delivered to your inbox

You'll also receive Yardbarker's daily Top 10, featuring the best sports stories from around the web. Customize your newsletter to get articles on your favorite sports and teams. And the best part? It's free!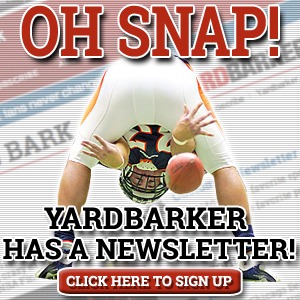 Latest Rumors
The Backyard

Today's Best Stuff

For Bloggers

Join the Yardbarker Network for more promotion, traffic, and money.

Company Info

Help

What is Yardbarker?

Yardbarker is the largest network of sports blogs and pro athlete blogs on the web. This site is the hub of the Yardbarker Network, where our editors and algorithms curate the best sports content from our network and beyond.