Found April 18, 2012 on NorthWest Sports Beat:
Vigneault enhances the Canucks' future
No matter how this series turns out, and no matter what the coaching situation may end up becoming after the playoffs have evolved, you have to hand it to coach Alain Vigneault.
He has prepared for these playoffs as professionally as ever, paying little heed to all the speculation surrounding his future.
Adjustments aside, the play of Jonathan Quick and the no-show by several Canucks players, most notably Alex Edler, is mostly out of his control. However, even while the pressure mounts, he still works with an eye to development for the team's future.
Kassian was never supposed to be an instant offensive force like Hodgson
Zack Kassian was traded for not as a salve for this year alone, but as an ongoing project, both short and long term.
For those in some corners still howling for Cody Hodgson's loss, you need to realize he would not have been a difference maker in these playoffs against such a physical team as the LA Kings.
Coho was a +8 when he left the Canucks and ended up posting a season ending +1 mark, registering a -7 score with the Buffalo Sabres even as they made a late, strong push for the playoffs.
Kassian has been no better or worse than the other fourth liners such as Byron Bitz (suspended) or Dale Weise.
He is playing under 5 minutes a game, but the advantages he is gaining from this exposure to the intensity of the playoffs, and the exposure to the spotlight that it brings, will help pay off in the long term for his maturation as a future impact player.
It has been a wise move on AV's part to provide this type of education.
The burly forward will benefit from it as will the team years from now.
Experience is everything in the NHL, and provided the promise that GM Mike Gillis sees in Kassian is real, it will aid him in developing a growing role with the Canucks.
CLICK HERE CHECK OUT THE VANCOUVER CANUCKS CLUBHOUSE TODAY ON NWSB!
© C-Mac for North West Sports Beat, 2012. | Permalink | No comment |
Follow NWSB on Twitter or join US on Facebook for real-time updates OR... | Share This on Twitter | Share NWSportsBeat.com on Facebook
Post tags:
2012
,
2012 NHL playoffs
,
Alain Vigneault
,
Alex Edler
,
Buffalo Sabres
,
Byron Bitz
,
Canucks
,
Canucks Blog
,
Canucks news
,
Cody Hodgson
,
Dale Weise
,
Jon Quick
,
LA Kings
,
Mike Gillis
,
NHL Playoffs
,
vancouver
,
Vancouver Canucks
,
Vancouver Canucks Headlines
,
Zack Kassian
Original Story:
http://www.nwsportsbeat.com/canucks/z...
THE BACKYARD
BEST OF MAXIM
RELATED ARTICLES
Rejuvenated Ballard boosts blue line One year ago in the playoffs Keith Ballard appeared to be Alain Vigneault's favourite whipping boy, as he was frequently dropped from the post season lineup and fell victim to several less than flattering appraisals by his coach. To his credit, the expensive free agent defenceman, acquired from the Florida Panthers (Vancouver's favoured players...
We may have seen the last of Roberto Luongo with the Vancouver Canucks. it wasn't long ago, Luongo was considered the cornerstone of the franchise with Canada's best chance of winning the Stanley Cup. it was Luongo who once donned team captaincy, and he still carries a contract with franchise player cash attached. However, Roberto Luongo posted his lowest games played mark...
Part 2: Somebody That I Used to Luuuu I started the day by hashing out the pros and cons (You really need to read my first article. Go on! Do it now!) of starting either Vancouver Canucks goaltender in Game 4 tonight especially in light of the prevailing sentiment and some choice comments from Alain Vigneault that hinted whoever got the nod tonight might be getting the nod in future...
Did you see the great game last night? Canucks won 3-1 to beat the LA Kings and force a game 5 back in Vancouver. Henrik Sedin got some revenge on Dustin Brown for his "legal" hit in Game 4 on Henrik. A drive by Backhand Slap - Swedish style. Enjoy.
Can they still beat the LA Kings? The numbers are daunting. Only three teams in history, out of 167 opportunities, have recovered from a three games to none deficit in the Stanley Cup finals. That is a pathetic winning comeback rate of just 1.8%. So, then it must certainly be time to write the eulogy for this Vancouver Canucks team, should it not? Not so fast. Quite clearly the...
from Chris Johnston of the CP at the Winnipeg Free Press, This was not the type of history the Vancouver Canucks had in mind when the playoffs started. Down to their final life on Wednesday, the back-to-back Presidents' Trophy winners are in danger of becoming the first NHL team in more than seven decades to get swept out of the first round after leading the regular season in...
from Tony Gallagher of the Vancouver Province, Because of his long tenure enjoyed as head coach of the Vancouver Canucks, it might be a useful exercise to mount something of a defence for Alain Vigneault after another season whereby it looks all but certain his team is going to come to another crashing, miserable end in the NHL playoffs. Those who worship the ground the man spits...
Be the Difference… How does one sum up the keys to winning the first game of a potential four game comeback? There truly is no set of special keys that unlock this magical door we hope the Vancouver Canucks can open. They simply must be the best in every way, shape and form. Is it possible? Yes. Is it probable? It's always been. Is it certain? Not by a longshot. This is truly...
Eh!? These are dark days. The Vancouver Canucks are on the brink of getting swept in the first round less than two weeks after winning the Presidents' Trophy and they're doing it under the spotlight of the nation. As hinted by the 'controversial' tweet sent out after Game 1, there isn't a lot of love for the Vancouver Canucks outside of British Columbia. It exists because...
Cory Schneider gets the nod. What does that mean for Roberto's future?
Kevin Bieksa scored the game winner midway in the 2nd period and the Canucks would add an insurance goal to defeat the LA Kings 3-1. Here is Bieksa's goal.
Learned just a short time ago from the Canucks twitter account. Quote: Daniel Sedin will join #Canucks for full team practice in LA on Tuesday. Coach Vigneault to comment shortly. Head Coach Alain Vigneault addressed the media this afternoon in Los Angeles and advised that Daniel has been following protocol and has been cleared to resume practice...
NHL News

Delivered to your inbox

You'll also receive Yardbarker's daily Top 10, featuring the best sports stories from around the web. Customize your newsletter to get articles on your favorite sports and teams. And the best part? It's free!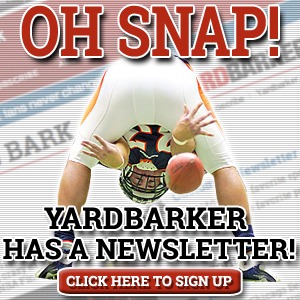 Latest Rumors
Best of Yardbarker

Today's Best Stuff

For Bloggers

Join the Yardbarker Network for more promotion, traffic, and money.

Company Info

Help

What is Yardbarker?

Yardbarker is the largest network of sports blogs and pro athlete blogs on the web. This site is the hub of the Yardbarker Network, where our editors and algorithms curate the best sports content from our network and beyond.