Found March 30, 2012 on Fox Sports North:
ST. PAUL, Minn. Highly-regarded prospect Jason Zucker received his initiation into the NHL on Thursday, courtesy of his new Minnesota Wild teammates. Zucker, the 20-year old coming straight to the NHL from Denver University, was told to lead the team out on the ice for the pregame skate. He knew something was amiss, but he wasn't going to undermine the veteran leaders on the roster. So, with many fans in attendance wearing his No. 16 jersey, Zucker jumped onto the ice to start warm-ups. His new teammates had a little fun at the rookie's expense, waiting in the tunnel and letting him have a solo lap. "I knew right away," Zucker said of the prank. "They said, 'You're leading us on the ice.' And I knew that wasn't right. I had to go with it. I wasn't going to tell (Dany) Heatley no. All of them, they said, 'Hey, you're leading us on, first game.' Ok. I'll go." Zucker could only offer up a big smile as he finished the second of his laps. "They waited a little longer than I thought," Zucker said. Zucker is the first of Minnesota's heralded prospects to arrive, but his teammates made sure he understands he's still a rookie. Later, his teammates made his debut a memorable one as the Wild rallied from a late, 2-1 deficit to beat the Florida Panthers, 3-2, in overtime. Erik Christensen came on as an extra attacker after Minnesota coach Mike Yeo called goaltender Niklas Backstrom to the bench with 43 seconds remaining. Christensen put in a rebound for his fifth goal in nine games and Mikko Koivu scored his second career overtime goal just 15 seconds into the extra session to give the Wild the win. Koivu scored for the second-straight game. Kyle Brodziak added his 21st goal of the season, which is tied for the team lead. Niklas Backstrom made 25 saves for Minnesota. On a night the Wild honored the history of the NHL by having a tribute with several former Minnesota North Stars players on the ice in a pregame ceremony, the future was on everyone's minds as well. All eyes were on Zucker early. Zucker, one of three second-round draft picks by the Wild in 2010, made his NHL debut less than a week after finishing his college career at Denver after the Pioneers lost in the first round of the NCAA tournament. He had 22 goals and 24 assists in 38 games as a sophomore for Denver this past season. His 22 goals ranked second in the WCHA and 13th in the NCAA. He had 23 goals and 22 assists in 40 games during his WCHA Freshman of the Year season with the Pioneers. He also has scored big goals in his new home building. His NHL debut came just 14 days after scoring the game-winning, overtime goal against Michigan Tech in the WCHA Final Five quarterfinals at the Xcel Energy Center. "It's obviously a different scenario," Zucker said of playing in the St. Paul arena. But I'm kind of familiar with this building. Trying to figure out the bounces off the boards or things like that, it definitely helps a little bit." He skated on the third line with Christensen and Nick Johnson Thursday, taking 12 shifts for 10:55 in ice time and had three shots and two hits. He showed his speed with a breakaway chance in the second period, but shot the puck wide of the net. "I thought he did a good job," Yeo said. "And that's something, as he gets more comfortable being here, understanding our game and even just the idea like, 'I can play in the NHL.' Then I think he'll continue to grow and be more confident and show what he can do." He became the 45th player to play for Minnesota this season, a team record. He's the eighth player to make his debut with the Wild this season, one of 14 rookies that have played for the team. Zucker joined Minnesota this season to accelerate his development and put him in position to make the team out of training camp next year. He was pleased with his first time out, jumping from college to the pros in less than a week. "I thought overall my speed was good out there," Zucker said. "I didn't feel completely out of place and that's a positive for me. It's still a learning experience and I should get better and better every game." And if he does, his teammates might not give him such a hard time. Follow Brian Hall on Twitter.
Original Story:
http://www.foxsportsnorth.com/03/30/1...
THE BACKYARD
BEST OF MAXIM
RELATED ARTICLES
"It wasn't the prettiest game," noted Wild defenseman Tom Gilbert. It wasn't pretty, but the Wild won against the Panthers on Thursday night. Trailing 2-1 with 30 seconds left in the game, Erik Christensen tied the game. Then just 15 seconds into overtime, captain Mikko Koivu scored the game-winner to complete the comeback. The Wild are out of the playoffs, but...
ST. PAUL, Minn. A day after Jason Zucker made his NHL debut with the Minnesota Wild, the team brought back two more of its prospects from their junior teams and assigned them to the Houston Aeros of the American Hockey League. Forward Brett Bulmer and defenseman Josh Caron will be joining the Aeros and will be eligible to play in the Calder Cup playoffs this season because they...
ST. PAUL, Minn. Like many players in the NHL these days, Minnesota Wild defenseman Tom Gilbert wears a shield on his helmet to protect his eyes. Imagine his surprise when Gilbert found a stick pressed up against his face during Thursday's night's game. In the third period, Florida Panthers forward Kris Versteeg swiped at a loose puck and his stick caught Gilbert, who was...
ST. PAUL, Minn. The Minnesota Wild's playoff hopes are dead, but the injuries that ruined the team's season are starting to heal. A week after captain Mikko Koivu returned from an extended absence, No. 1 goalie Niklas Backstom, who suffered a lower-body injury March 1 against Montreal, will make his first start since the injury Thursday night against the Florida Panthers...
ST. PAUL, Minn. J.P. Parise had long been retired from the NHL when his former team, the Minnesota North Stars, were packed up and moved down to Dallas. Parise settled in Minnesota after his playing career ended, but the shock of the North Stars leaving didn't hit him right away in 1993 when owner Norm Green took the team to Texas. It wasn't until a year later when the...
MILLION-TO-ONE SHOT, DOC
Well, that's certainly odd. Midway through the third period of game between the Minnesota Wild and the Florida Panthers, Wild defenseman Tom Gilbert was the victim of a high stick courtesy of Panthers winger Kris Versteeg. What transpired after the initial act of committing the penalty is something I have never seen: somehow, Versteeg's stick [...]
Mikko Koivu, Niklas Backstrom, Erik Christensen and Mike Yeo talk about the 3-2 overtime win on Thursday.
During Thursday night's NHL game between the Florida Panthers and Minnesota Wild, Wild defenseman Tom Gilbert was very lucky not to be injured after a high stick by Panthers forward Kris Versteeg became stuck in Gilbert's earhole. It happened in the third period just after a faceoff on the Wild end of the ice, and play was stopped as Gilbert went down on the ice to protect...
Record Pts Div. Rank G/G GA/G PP% PK% Minnesota Wild (32-35-10) 74 4th Northwest 2.03 (30) 2.65 (15) 15.4% (23) 81.6% (18) Los Angeles Kings (39-27-12) 90 1st Pacific 2.26 (29) 2.04 (2) 15.4% (24) 87.7%(4)   Minnesota Wild Top 5 Scorers: G A Pts 1. #15 Dany Heatley 21 27 48 2. #21 Kyle Brodziak...
NHL News

Delivered to your inbox

You'll also receive Yardbarker's daily Top 10, featuring the best sports stories from around the web. Customize your newsletter to get articles on your favorite sports and teams. And the best part? It's free!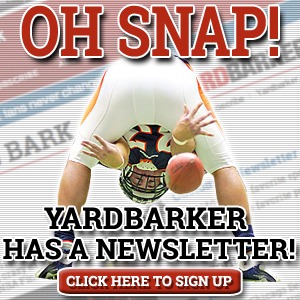 Latest Rumors
The Backyard

Today's Best Stuff

For Bloggers

Join the Yardbarker Network for more promotion, traffic, and money.

Company Info

Help

What is Yardbarker?

Yardbarker is the largest network of sports blogs and pro athlete blogs on the web. This site is the hub of the Yardbarker Network, where our editors and algorithms curate the best sports content from our network and beyond.