Derek Stepan hits the dressing room to talk to his fellow Coyotes about favorite Olympic sports to watch, favorite sports to play and to try to figure out how many ounces are in a pound.
Forward Derek Stepan talks about carrying over the momentum from a big comeback win over Minnesota into Saturday's home matchup against the Flyers.
Forward Derek Stepan talks about being fortunate to return to his home state of Minnesota as an NHL player as the Coyotes hit the XCel Energy Center for Thursday's morning skate.
Despite a lackluster 1st period, forward Derek Stepan said he likes the way the Coyotes rebounded in a 4-3 loss to Winnipeg but admitted starts need to be better.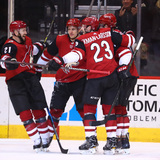 With Arizona sitting dead last in the standings league-wide, it would be reasonable to think that GM John Chayka may be looking to shake things up.  However, he told Craig Morgan of Arizona Sports that this isn't likely to be the case: "I've had numerous discussions on a lot of different players. If there's a chance to make our team better I'll do it, but in the past there was a...
– Larry Brooks' piece last week was extremely depressing for the most part, but his suggestion that Minnesota is very interested in trading for Derek Stepan caught my eye. I would be loath to part with the team's best two-way centerman, but the Wild has a very intriguing collection of young talent. If Matt Dumba (and more) […] The post Musings: the idea of trading Stepan and the...
With Derek Stepan's new contract it's a fair assumption that the Rangers have locked up their top two center positions for the foreseeable future. Stepan and Brassard will cost the Rangers a total of $11.5m, but with finances, age, contract situations and production all considered, are the Rangers in a good spot with their top […]
Derek Stepan's arbitration date is tomorrow, and he will be the talk of Rangerland until the day he signs. So here are some things to expect to hear over the next two days. 1. Everyone will flip out over Stepan's asking price. Stepan is asking for $7.25 million in arbitration. Insert rage here. In reality, […]
Four questions for this week's mailbag. As always, use the mailbag feature on the right to send us questions throughout the week. Q: What do you think Derek Stepan is worth? What will he actually get? I had to trim this question down a bit, since the email had about five paragraphs. I think Stepan […]
MORE STORIES >>
Rangers News

Delivered to your inbox

You'll also receive Yardbarker's daily Top 10, featuring the best sports stories from around the web. Customize your newsletter to get articles on your favorite sports and teams. And the best part? It's free!