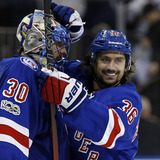 In Game 6 against the Montreal Canadiens, Mats Zuccarello scored the game winning goal to advance New York to the Eastern Conference semifinals. With the Blueshirts down two games in their series against the Ottawa Senators, Zuccarello came out with yet another clutch performance.Game 3 against the Senators was a must win for New York. Earlier in the week, the Rangers lost in a heartbreaking...
By Cameron Fine The New York Rangers received excellent news heading into Game One of the second round against the Washington Capitals, in that they will finally get Kevin Klein back in the lineup after missing the last seven weeks with a broken arm sustained after blocking a shot against, coincidentally, Alex Ovechkin. This means that Matt Hunwick, who played very solid defensively...
As expected, Mats Zuccarello-Aasen was returned to the Connecticut Whale after yesterday's shootout loss to the Lightning. MZA played a little less than 18 minutes at even strength and on the powerplay, finishing with two shots and a shootout goal. With the holiday break coming up, and the Rangers likely expecting Marian Gaborik back to the lineup in time for Monday's game against...
Thanks to Joe Fortunato for breaking this one, via the AHL transaction log. Mats Zuccarello-Aasen has been called up by the Rangers for tomorrow's game against the Tampa Bay Lightning. MZA has been on fire lately in Connecticut, which makes up for his very slow start. His line this year, which can be found on the right, is 30 GP, 13G, 10A, +4, and 90 SOG. That's almost a point...
Following up on Dave's post about MZA impressing during the pre-camp skates lets take a look at what MZA could mean to the organization. The signing of the diminutive Norwegian forward this summer has given the Rangers organization a genuine x-factor in their ranks. When a franchise can add a piece to their puzzle (with such apparent upside) without giving up anything but dollars...
Informal skates are underway, and it looks like newly signed Mats Zuccarello-Aasen is impressing with his teammates. In an earlier interview with Jesse Spector, goalie Henrik Lundqvist had some praise for the youngster: "He's got really quick hands – and a long stick," Lundqvist said. "He's a smart player. You can tell when he passes the puck, he sees the game really well. It's...
MORE STORIES >>
Rangers News

Delivered to your inbox

You'll also receive Yardbarker's daily Top 10, featuring the best sports stories from around the web. Customize your newsletter to get articles on your favorite sports and teams. And the best part? It's free!