CHICAGOOOOO!!!! I think its fitting to begin this tribute to Chicago Blackhawks forward Patrick Kane the same way he began his speech at all three Stanley Cup rallies. Today, 29 years ago (he's HOW old?), the greatest U.S. born hockey...
After putting up points in Wednesday's comeback win, the Blackhawks' second line of Artem Anisimov, Patrick Kane and Nick Schmaltz are looking to keep it going and kickstart the team as a whole.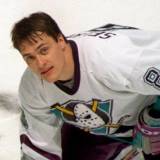 The Hockey Hall of Fame inducted its 2017 class on Monday night and among the honorees was the dynamic duo of Teemu Selanne and Paul Kariya, the first two true superstars to play for the Mighty Ducks of Anaheim. The Ducks selected Kariya fourth overall in the 1993 draft, and he made his debut a little over a year later during the 94-95 season, notching 39 points in 47 games played...
In the latest Blackhawks Talk Podcast, Jamal Mayers and Brian Campbell join Pat Boyle to discuss the past weekends action. Both were impressed with Alex DeBrincat
With names like Brandon Saad, Jonathan Toews, and Patrick Kane on their roster, the Chicago Blackhawks should have no trouble putting up points. They picked up young talent this year with members like Alex DeBrincat and have started to shape other members of the team, like John Hayden. The Hawks opened the season with a combined 15 goals in two games, so fans expected to see a constant...
After starting the season scoring 15 goals in the first two games of the season, the Chicago Blackhawks have cooled down by averaging just two goals a game in their last eight games The Chicago Blackhawks had a tough challenge to start...
Coyotes rookie Clayton Keller, who has always looked up to Blackhawks All Star Patrick Kane, talks about facing his idol for the first time on Saturday.
Patrick Kane may very well be the most exciting player in the game. Check out the very best plays of the year from the man who could stick handle his way out of a phone booth. ---------------------------------------------- Subscribe to Sportsnet on YouTube - http://sprtsnt.ca/2paAT2L Visit Sportsnet.ca for more sports news and highlights - http://www.sportsnet.ca Follow Sportsnet...
Today latest NHL rumor is that Patrick Kane is being shopped by the Chicago Blackhawks The Chicago Blackhawks rumor mill is at it again, and this time it's a real doozy. This is the tweet that has started ample conversations on social...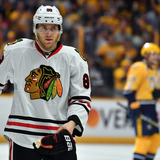 Chicago Blackhawks star Patrick Kane is earning well-deserved praise this week after news surfaced that he gave up his first-class seat on a recent flight to a member of the U.S. military.Kane evidently noticed the serviceman seated in coach. According to American Airlines flight attendant Teri Truss, Kane offered up his cushier seat up front."[Kane] said 'There's a soldier on this...
MORE STORIES >>
Blackhawks News

Delivered to your inbox

You'll also receive Yardbarker's daily Top 10, featuring the best sports stories from around the web. Customize your newsletter to get articles on your favorite sports and teams. And the best part? It's free!