Things That Caught My Eye Sidney Crosby has a cold I mean, maybe? Who knows. But something's off with him lately. Crosby's having a bit of a dry spell when it comes to scoring and assisting others in scoring. Before scoring a goal on Tuesday against Buffalo, he hadn't had a goal in 11 games, the worst 11-game stretch of his career according to a metric looking at scoring stats...
Watch as Sidney Crosby puts the puck into the net while the Pittsburgh Penguins are on the power play to tie the game at 3-3.
PITTSBURGH – Right now, superstar Sidney Crosby and the Penguins, the two-time defending Stanley Cup Champions, look nothing like their normal selves. Crosby, 30, has scored zero goals in the last 11 games. If the slick center doesn't score tonight against the Buffalo Sabres, a team he has dominated over the years, it would equal a career-long goal drought. Incredibly, the most prolific...
Check out some of the best plays from around the NHL, including a great duel between Sidney Crosby's Penguins and Connor McDavid's Edmonton Oilers. 00:00 Murphy wallops Leier. 00:32 Nugent-Hopkins bangs in rebound to get Oilers on the board. 01:21 Hagg whiffs on shot, Toews takes advantage for breakaway goal. 02:10 McDavid dekes through legs, makes back pass, Draisaitl taps it...
Watch as Sidney Crosby picks up a ten minute misconduct after serving a penalty for cross checking. Nikita Kucherov gave the Tampa Bay Lightning a one goal lead over the Pittsburgh Penguins on the power play.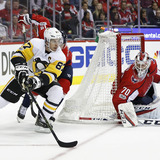 Penguins captain Sidney Crosby may be the face of the NHL right now, but that doesn't mean he's necessarily the "Golden Boy."Crosby has been criticized over the years for sneaking in some cheap shots, like this one on P.K. Subban in the Stanley Cup Final last season.He delivered another one during Wednesday night's game against the Capitals, which has drawn a lot of discussion, being...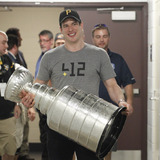 Sidney Crosby threw out the first pitch before Tuesday's Pirates-Rockies game, and he proved that he has some talent in baseball too.The Penguins captain decided to make his ceremonial first pitch from the rubber and threw a strike: Crosby apparently proved his Penguins teammates wrong with his pitch: They must have missed the time a handful of years back when Crosby took batting...
The Stanley Cup celebrating is now officially underway, judging by a clip that's gone viral on social media.It shows what the scene at Sidney Crosby's house looked like on Monday night, with multiple Penguins players and their wives hanging out celebrating.Penguins owner Mario Lemieux was there as well, and at one point, he decided to take a dip in the pool — with all his clothes...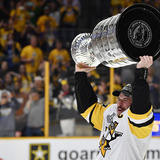 Sidney Crosby remained humble after capturing the third Stanley Cup of his career.The Pittsburgh Penguins captain is only 29 yet he has proven himself as a winner in every setting of his career. The Penguins beat the Predators 2-0 in Game 6 of the Stanley Cup Final on Sunday, giving Crosby his third Cup. He also won the Conn Smythe Trophy for the second year in a row.Asked about...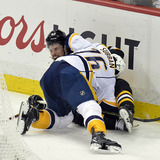 The Nashville Predators might have to deal with something other than a big-time battle for the Stanley Cup after marketing manager Sandy Weaver hit the send button from her Twitter account too hastily after Thursday night's shutout loss.The Predators were absolutely abused by the Pittsburgh Penguins Thursday night in Game 5. In the process, P.K. Subban was smashed by Sidney Crosby...
MORE STORIES >>
Penguins News

Delivered to your inbox

You'll also receive Yardbarker's daily Top 10, featuring the best sports stories from around the web. Customize your newsletter to get articles on your favorite sports and teams. And the best part? It's free!