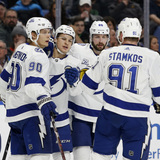 With the trade deadline fast approaching, we will be taking a closer look at the situation for each team. Where do they stand, what do they need to do, and what assets do they have to fill those needs? Next up is a look at the Tampa Bay Lightning.The Tampa Bay Lightning have been one of the league's best teams right from the start of the season. Many predicted this would happen if...
Nikita Kucherov and Steven Stamkos both scored as the Tampa Bay Lightning beat the Vancouver Canucks 5-2. ---------------------------------------------- Subscribe to Sportsnet on YouTube - http://sprtsnt.ca/2paAT2L Visit Sportsnet.ca for more sports news and highlights - http://www.sportsnet.ca Follow Sportsnet on Facebook - http://sprtsnt.ca/YTFB Follow Sportsnet on Twitter...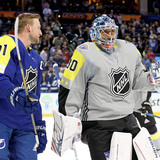 With Seattle's expansion application almost ready to turn in to the NHL and the general belief that Seattle will have a team in place in the next few years, the Hockey News's Sam McCaig recently ran a story with suggestions for potential nicknames for the possible expansion team. With an expansion fee of $650MM, Seattle better make sure they make the right decision when it comes...
Tampa Bay Lightning coach Jon Cooper joined Tim and Sid to talk about the team's reaction to Victor Hedman's injury, Steven Stamkos overcoming tough injury past and Nikita Kucherov's impressive work ethic.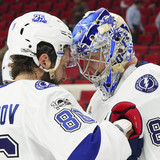 It was just barely over a year ago that the Tampa Bay Lightning were projected to take the 2016-17 season by storm. Sure, making Cup predictions in October is usually bogus anyways. But nevertheless, the Bolts seemed primed to own the Eastern Conference last season – until it was very clear that none of that was going to happen.Now hop forward one year, past a disappointing campaign...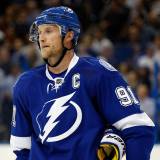 The Tampa Bay Lightning just keep hanging around. For a team that was mostly written out of the playoff race a month ago, this team is still keeping the pace. They are now threatening the Boston Bruins for the final wild card spot in the Eastern Conference.With news coming out that Lightning head coach Jon Cooper now considers Steven Stamkos as "day-to-day," the Bruins and any Eastern...
The Tampa Bay Lightning have been missing one big piece of their team almost the entire season. Fortunately for them, that piece is forward Steven Stamkos and he seems to be progressing well from the injury he suffered on November 15. Recently he was able to resume skating drills and stickhandling practices and remains steadily on the timetable he was given for his injury. Unfortunately...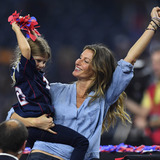 Want more news first thing in the day? Sign up for the Yardbarker Morning Bark newsletter here.Happy birthday to Kristin Otto, Peter Bondra, Juwan Howard, Steve Nash, Matt Stafford, Steven Stamkos and Isaiah Thomas. On this date in 1998, the Winter Olympics kicked off in Nagano, Japan. It was the first Games that saw women's hockey and snowboarding as medal sports, and curling returned...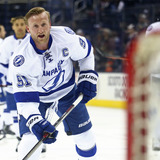 The Tampa Bay Lightning won the Eastern Conference Final and reached the Stanley Cup Final in the 2014-15 NHL season. It reached almost the same mountaintop again in 2015-16, losing in seven games in the East Final to the eventual champions, the Pittsburgh Penguins. This latter playoff run was made almost exclusively without the services of Tampa Bay's best offensive player: center...
Steven Stamkos is set to re-sign with the Tampa Bay Lightning in a move that, while slightly surprising, makes total sense for him. TSN's Bob McKenzie first reported that Stamkos would be staying with the team that drafted him No. 1 overall in 2008. Stamkos's deal with TB is expected to come in at eight years, with an AAV of $8.5M. — Bob McKenzie (@TSNBobMcKenzie) June 29, 2016...
MORE STORIES >>
Lightning News

Delivered to your inbox

You'll also receive Yardbarker's daily Top 10, featuring the best sports stories from around the web. Customize your newsletter to get articles on your favorite sports and teams. And the best part? It's free!