Forward Lawson Crouse talks about his second camp with the Coyotes, new head coach Rick Tocchet's style and prepping for a preseason matchup in Calgary.
Coyotes forwards Christian Fischer and Clayton Keller reflect on their three-point performances in a preseason-opening win over Anaheim on Sept. 20.
Forwards Brendan Perlini and Clayton Keller and Head Coach Rick Tocchet speak about preparing for the first preseason game of 2017-18 and rolling out a new brand of Coyotes hockey.
The Arizona Coyotes are parting ways with captain Shane Doan, as TSN's Pierre LeBrun reports the 40-year-old won't be re-signed by the club. The Coyotes confirmed the report. LeBrun adds Doan isn't sure whether or not he'll continue playing – but that teams are interested. Furthermore, he reports Doan will likely land in the Coyotes front office after his career is officially...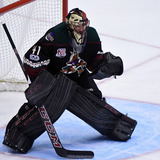 Summer is a time for trade rumors in the NHL. That's been especially true heading into the 2017 NHL Expansion Draft scheduled for June 21st as teams are forced to leave valuable players unprotected and risk losing them without any kind of return.The Arizona Coyotes have apparently heard all of the trade rumors swirling around goaltender Mike Smith and decided to respond. In a recent...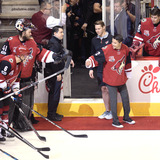 Craig Cunningham is returning to hockey.Back in November, Cunningham, then the captain of the Tuscon Roadrunners, had a heart attack on the ice, nearly dying. After undergoing a tough recovery process (included a partial leg amputation) Cunningham is back where he belongs: in the world of professional hockey.On Wednesday, the Arizona Coyotes announced Cunningham will join the team...
MORE STORIES >>
Coyotes News

Delivered to your inbox

You'll also receive Yardbarker's daily Top 10, featuring the best sports stories from around the web. Customize your newsletter to get articles on your favorite sports and teams. And the best part? It's free!