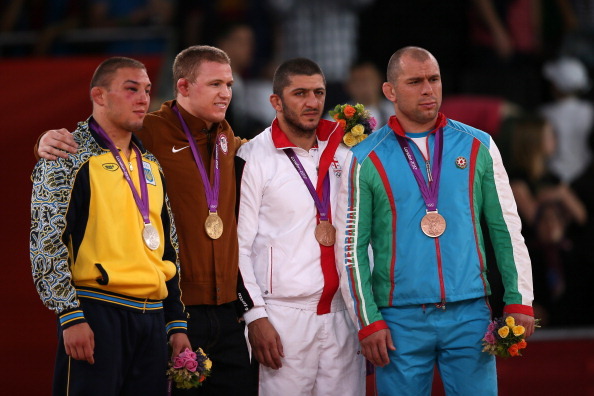 Earlier this year the International Olympic Committee announced that it would be dropping wrestling from the 2020 Summer Olympics program. Yesterday the IOC revealed that the one of the candidates to replace wrestling in the Games of the XXXII Olympiad is, well, wrestling. American wrestler Jordan Burroughs celebrates after winning gold at the 2012 Games in London. (Photo by Orestis Panagiotou / EPA) The IOC selected wrestling, baseball and softball, and squash as candidates to fill the final slot in the 2020 program. Wrestling was part of the first modern Olympics in 1896 and has been a part of every games since 1904, but its Olympic history dates back to the eighth century, B.C. Baseball made intermittent Olympic appearances between 1904 and 1964. It was an exhibition sport in 1984 and 1988 and became a part of the official program in 1992. Softball joined on in 1996. In 2005 the IOC voted to remove baseball and softball after the 2008 Olympics, making room for golf and rugby sevens, both of which will debut in 2016. Squash has never been an Olympic sport. FILA, wrestling's governing body (that stands for "Fédération Internationale des Luttes Associées"), made changes to the sport's rules and scoring system to make it more appealing to the IOC. It replaced its best-two-out-of-three format (which used two-minute periods) with cumulative scoring across two three-minute periods. FILA also added additional women's weight classes and penalties for wrestlers who try to protect a lead by avoiding contact. Baseball and softball, which have separate international governing bodies, decided to join forces and make an Olympic bid as a single sport. Wrestling, baseball and softball, and squash beat out sport climbing, karate, wushu, wakeboarding, and roller sports. Wushu is a martial art, but competitive wushu involves athletes performing individual routines instead of engaging opponents. The IOC will decide which of the three sports to add to the 2020 games during its meeting this September in Argentina. The IOC will also announce the 2020 host city—either Istanbul, Madrid, or Tokyo—at the September meeting as well. The post IOC puts wrestling, baseball/softball, and squash on shortlist for 2020 games appeared first on Midwest Sports Fans.
Read the rest of this story...
MORE FROM YARDBARKER
Olympic Wrestling News

Delivered to your inbox

You'll also receive Yardbarker's daily Top 10, featuring the best sports stories from around the web. Customize your newsletter to get articles on your favorite sports and teams. And the best part? It's free!
Best of Yardbarker
NFL News
MLB News

Today's Best Stuff

For Bloggers

Join the Yardbarker Network for more promotion, traffic, and money.

Company Info

Help

What is Yardbarker?

Yardbarker is the largest network of sports blogs and pro athlete blogs on the web. This site is the hub of the Yardbarker Network, where our editors and algorithms curate the best sports content from our network and beyond.