Found May 13, 2012 on As the World Turns (Left):
The image Friday night was just too ironic to ignore.
Brad Daugherty, African American NASCAR commentator and car owner, working for ESPN prior to Nationwide action at Darlington — with a Confederate flag flying from an RV in the infield behind him.
A Confederate flag may fly from the South Carolina State House, but this isn't a Palmetto State thing. I've consistently seen rebel flags at Pocono and Dover, and I'll be shocked if I don't see at least some at Watkins Glen and New Hampshire when I make my way to those tracks later in the year.
For Daugherty, a 7-footer with a press credential, there's a combination of insulation/intimidation factor that likely keeps him from feeling too uncomfortable in what ostensibly would seem to be an unfriendly atmosphere.
But what about the average person of color who wants to enjoy America's No. 1 spectator sport and feel safe and secure? For all of the talk of NASCAR's prominence exploding in the past 30 years, you can't help but wonder how much bigger the sport could have gotten by now if it had created a more inclusive environment at its tracks.
This is a pivotal time for the growth of minority fans. Next Sunday at Iowa Speedway, Darrell Wallace Jr. will make his debut for Joe Gibbs Racing in the Nationwide Series. Wallace, 18, is a product of NASCAR's Drive for Diversity program, and his wins in the K&N Pro Series make it clear that he could be a major player in NASCAR's highest ranks for years to come.
For too long, NASCAR wasn't as proactive as it needed to be in creating opportunities for minority drivers. The governing body figured that the marketplace would take care of the problem itself. NASCAR was wrong.
Noting this history, it's time for NASCAR to take the lead in educating its fans about symbols that may keep other people from wanting to come to races. NASCAR took a proper first step by keeping PGA golfer Bubba Watson's "General Lee" from taking to the track at Phoenix.
Now it's time to do more. Don't try to guilt people into leaving their flags at home. Simply explain that creating a more comfortable atmosphere for everyone will bring more fans — subsequently, more revenue for tracks, higher prize money for drivers, additional sponsorship opportunities. Don't make it about a social agenda. Make it about taking the sport to the next level, and you'll appeal to all but the most fervent Confederate flag supporters.
There should not be any kind of Confederate flag ban at tracks. This isn't the University of Mississippi, a state-funded institution, which had every right to jettison rebel flags from its home football games. Instead, NASCAR's brass needs to be talking to its top owners and drivers, seeking volunteers to appear in at-track video PSAs and signage asking people to reconsider what they fly at the track for the good of the sport.
It's a tricky balance, trying to nudge people in the right direction without making them feel like you're telling them what to do. When I moved to New York from North Carolina, I was a smoker. When I would pull out a cigarette on the elevator to go down to Madison Avenue, I couldn't believe how many people were emboldened enough to say, "Those'll kill you!" It made me want to go to Duane Reade, buy an extra pack and put five of them in my mouth at the same time.
NASCAR went from backwoods to billionaire by generally displaying a deft marketing touch. I have a feeling they would get this one right, and benefit in the process.
Follow Josh Stewart on Twitter @JoshNASCARWWE
Original Story:
http://www.astheworldturnsleft.com/na...
THE BACKYARD
BEST OF MAXIM
Poker News

Delivered to your inbox

You'll also receive Yardbarker's daily Top 10, featuring the best sports stories from around the web. Customize your newsletter to get articles on your favorite sports and teams. And the best part? It's free!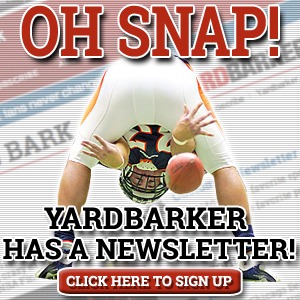 Latest Rumors
The Backyard

Today's Best Stuff

For Bloggers

Join the Yardbarker Network for more promotion, traffic, and money.

Company Info

Help

What is Yardbarker?

Yardbarker is the largest network of sports blogs and pro athlete blogs on the web. This site is the hub of the Yardbarker Network, where our editors and algorithms curate the best sports content from our network and beyond.