Found October 14, 2013 on Fox Sports:
In a world built around measurements, athletic accomplishments are always judged more by subjective opinion more than actual facts. It's easy to look at an NFL game and say that a team is 10 yards from a touchdown or inches away from a first down. It's much harder, however, to compare one team's season versus another and declare which was more successful. In the sport of mixed martial arts, the easiest measurement to judge a fighter by is their professional record as well as the level of competition they've faced during that particular run. Drilling down a fighter's record can be as easy as looking at the list of opponents they've fought while studying their accomplishments in the sport as well. There is also the method of looking at how victory was attained and the nature of lopsided wins or losses. In the case of UFC 166 heavyweight, Daniel Cormier there's not a lot of argument against him being rated as one of the best fighters competing in MMA right now. Currently sporting a perfect 12-0 record, Cormier knows perfection in fighting is difficult to ascertain, maybe somewhere just north of impossible, but that doesn't mean he's not going to do his best to achieve it. For Cormier it goes beyond just wins and losses as well. Defeating an opponent and getting a victory is what matters most, but the former Oklahoma State wrestler wants to dismantle and dismember the fighters he faces, leaving no doubt who stood alone as the victor. "As long as I continue to win every second of every round. I don't want to lose this fight at all, I don't want to lose in any situation," Cormier told FOX Sports. "I was made aware by my coach in my 12 fights, I've basically not lost a round in any fight I've fought. The only round I've lost was some judge gave Josh Barnett one round, I don't know where, but he gave him one round. That's the only round I've ever even lost in a fight. I would like to continue to win fights and be in control of fights all the time." Cormier's coach was spot on with his assessment of the former two-time Olympian. Through 12 fights, Cormier has been untouchable and virtually flawless in every performance. He has eight finishes by knockout or submission, and his four decision wins were as lopsided as a fight could possibly be in MMA. The measurement of success for Cormier now goes further than just winning a fight because he wants to find perfection in everything he does in the Octagon. Some competitors don't care whether a win comes from a knockout or a razor close split decision win. DC nails Josh Barnett during the heavyweight tournament final bout of the Strikeforce World Grand Prix in May, 2012. Cormier certainly isn't built that way. "That's the goal now. Winning fights, and whether I'm finishing them or winning decisions, just continuing to be dominant in every chance that I can," Cormier said. "I'm fighting the best guys in the world now. Nobody goes through this thing without losing, but I'm going to try not to." Goal setting is part of what makes Cormier such a unique beast in the fight world. He's done this kind of strategizing his entire life. Whether it was hitting the mark in the collegiate world of wrestling or making it all the way to the Olympics, Cormier charges after what he wants like a bull going after a fluttering cape. With his fight against Roy Nelson at UFC 166 now just days away, Cormier has already set marks for what he wants to accomplish with this bout and then what comes next in his career. What some might call looking too far ahead or counting your chickens before they hatch, Cormier just prefers to think of it as having a plan. First up on the agenda is smashing Nelson at UFC 166, then comes his drop to light heavyweight, and then it's probably easy to guess where Cormier is headed next. "I want to be the guy to try and finish Roy Nelson. I mean all the guys are trying, but it's been darn near impossible to do. You set goals and that's one of my goals to try and finish this fight. My goal is to one day be a UFC champion so if this fight is going to get me closer to that goal, then yes it adds [pressure] to it. There are so many things that come after this fight if I can win. So you have to keep an eye on it. I set a short term goal and a long term goal," Cormier explained. Cormier looking relaxed at the Strikeforce Heavyweight Grand Prix Semifinal weigh-in vs. Bigfoot Silva in September 2011. "My long term goal is to be the champion, and my short term goal is to get through camp healthy and fight good. My intermediate goal is what happens after this fight. I try to keep an eye at all levels what's happening." Surveying the road ahead is just part of what Cormier does before every fight he's ever faced, and this one is no different. If he's victorious at UFC 166, the bar gets set even higher and the measurement of success becomes even more difficult to achieve, but Cormier has no problem striving for perfection. As it turns out, perfection is one measurement that everyone understands, and it can't be quantified or debated, and those are the kinds of accomplishments Cormier likes the best.
Original Story:
http://msn.foxsports.com/ufc/story/da...
THE BACKYARD
BEST OF MAXIM
RELATED ARTICLES
At one time it seemed that Daniel Cormier would head straight from Roy Nelson to a light-heavyweight title shot as long as he could emerge with a win at UFC 166 . That's no longer the case, with things complicated by all of the recent developments at 205. Interestingly, that may also affect Nelson as well. After years of hearing calls to move down to light-heavyweight, now he...
It's UFC 166 fight week and we've got a stacked show to get ready for the event with co-main eventers Daniel Cormier and Roy Nelson joining us as well as flyweight contender John Dodson stopping by as well. Cormier and Nelson certainly don't have any love lost for each other, and during our interviews with them we will explore that mutual disdain. Nelson will react to...
You gotta love a grudge match. While UFC 166's heavyweight championship headliner between Cain Velasquez and Junior dos Santos is about mutual respect, the co-main event of Roy Nelson vs. Daniel Cormier began with heated words and will end with stone-cold fists. The latter is a former 2x US Olympic freestyle wrestler turned undefeated MMA juggernaut whose career highlight is...
 At UFC 166 next week on October 19th Daniel Cormier (12-0, pictured) will take on Roy Nelson (19-8) in the co-main event of the evening. You can check out pre-fight interviews from both men ahead of the bout in the video below. 
Big Country's facial hair has been a real topic for this fight.  Nelson's opponent on Saturday, Daniel Cormier, has vocalized his intent to make Nelson trim the beard.  DC admitted that this was done mainly to get inside the heavyweights head.  Not sure exactly what is going to happen with this issue but we will be sure be following it and without a doubt Ariel Helwani will...
"The Greatest" is a much overused term in sports today. It's often said in passing with absolutely no basis or justification. It may look like I'm doing that exact thing right here but in such a young sport, like MMA, it's somewhat simpler to use the term with more certainty. Undoubtedly we are in the midst of the greatest stretch of MMA events ever. The next...
Roy Nelson gets in front of a camera to talk about his upcoming bout with former Olympian Daniel Cormier.  This is a big fight for both guys and with a win Nelson really could make people forget about his poor performance against Stipe last time out. Big Country is still rockin his beard five days before UFC 166 Daniel Cormier gets ready for Roy Nelson
Soccer News

Delivered to your inbox

You'll also receive Yardbarker's daily Top 10, featuring the best sports stories from around the web. Customize your newsletter to get articles on your favorite sports and teams. And the best part? It's free!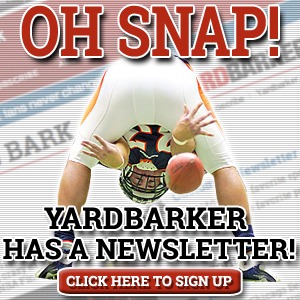 Latest Rumors
The Backyard

Today's Best Stuff

For Bloggers

Join the Yardbarker Network for more promotion, traffic, and money.

Company Info

Help

What is Yardbarker?

Yardbarker is the largest network of sports blogs and pro athlete blogs on the web. This site is the hub of the Yardbarker Network, where our editors and algorithms curate the best sports content from our network and beyond.