Found August 19, 2013 on Bay Sports Report:
Thanks to the precise head of Chris Wondolowski, the San Jose Earthquakes notched another home win and defeated the Eastern conference's top team, Sporting Kansas City by a score of 1-0. Throughout the 90 minutes, the match was a relentless physical battle with both teams playing unwavering soccer.     "It's just two teams going hard, nothing dirty. Were not backing down from any challenges and I know they're not either, just one of those games seeing who would budge first and I don't think either team really flinched," Wondolowski said after the game.   As discussed prior to the this encounter, the game was going to be largely hinged on the aerial battle and the performance of both sides center back pairings. While the pair of Matt Besler and Aurélien Collin is a cemented and much heralded duo in the MLS, it was San Jose's newfound retort of Victor Bernardez and Clarence Goodson, who excelled.   Having only played a couple of games together prior to this encounter, Bernardez and Goodson needed to be sharp as they were lined up against a trident Sporting attack featuring Jacob Peterson, Soony Saad, and the relentless Claudio Bieler. Goodson reflected on the challenges posed by Kansas City after the hardfought victory, "They're a very athletic team, they're a team that is physical at times certainly and they like to push numbers in the box. That was something that we really wanted to be aware of, we gave up a few too many corners especially late, more than we wanted to, made it a little difficult."   And from the early goings it was a bit difficult for San Jose to settle and find their way into the game. Several long balls and little guidance going forward seemed to stifle the Quakes for a while, but despite these typical early jitters, head coach Mark Watson was thrilled to have a reliable unit to keep things even, " I thought we started a little bit slow, I didn't think we moved the ball as well as we can the first 20 minutes, but I thought defensively we were very good."   From the booth, the game overall had a good feel to it. It was physical yes, but the play never really quelled. Sporting would surely be kicking themselves after their competent midfield led by American international, Benny Feilhaber, did little to influence the game. Surely they missed the dissecting play of their starlet, Graham Zusi, who has yet to return to match fitness following an injury he picked up during the MLS Allstar game, but they simply didn't have that typical killer instinct that has made Sporting KC so venomous this year. They had spells of encouragement and did a fair job at keeping San Jose's Rafael Baca and Sam Cronin contained, but while succeeding in this respect, Kansas City were unable to quiet the Earthquake's wings.   Despite Shea Salinas' name being omitted from the team sheet, Marvin Chavez and Jaime Alas were lively enough to always keep Kansas City's back line on their heels. Most notably, Steven Beitashour, San Jose's fullback had a remarkable game that saw him bomb up the field, play unwavering defense, and also notch another swooping assist. A resurgence appears to be underway for Beitashour and coach Watson is taking notice, "I think Steve is getting better every week, he's getting fitter, he's getting stronger, and his performances have been good of late."  As much as Bernardez was effective in shutting down KC's challenges in the sky, Beitashour was monumental in denying all efforts on the ground.   And although the Earthquakes did move the ball about, they still seemed grounded for much of the game. Alan Gordon and Wondolowski were finding life very difficult amid the blanketing defense of Kansas City. But just when their defensive shape was becoming interlocked with a searing grout of resolve, Wondolowski showed why he only needs an inch of space to bring opponents to their knees. In the 55th minute, Beitashour flew down the right hand side, played a perfect ball into the box, and Wondo only needed a sliver of space to head the ball with conviction pass Jimmy Nielsen.   Despite being frustrated for much of the game, Wondo knew that patience and tenacity will pay off in the end, "I think that were always going to stick to it and it only takes one opportunity, it's a tough battle and if it doesn't work for 89 minutes you try to get it in the 90th, that's all you can do and I thought the guys played really well and it just takes one chance." And it is that mindset and stubbornness which San Jose needs to take with them on the road in order to snatch a playoff birth. We see them getting it done at Buck Shaw, but it will take a similar, special effort away from home to truly get the job done and the Goonies back on track. Perhaps the team can all take a bit of inspiration from their goalkeeper, Jon Busch. Busch, who celebrated his 37th birthday during the game, also celebrated his 100th MLS win. After the milestone, Mark Watson only had words of praise for his veteran keeper, "That's fantastic it takes a long time to have 100 wins, only a few have it. It's a testament of quality over time. We are very fortunate to have Busch; he's an incredible professional. He works harder than any player I've ever seen." As Busch has shown throughout his career, you have to be persistent and keep fighting. These may be mere platitudes on paper, but they are the most basic truths on the field. What San Jose showed in this match was their ability to compete and trump one the league's very best units. And they did it with a few personnel alterations and a commitment to their tactics, even when things starting looking bleak. Proving this resolve on a consistent basis will be the biggest challenge the Earthquakes must overcome if they wish to compete for a third MLS crown.   You can follow Jeremy on twitter @jermg11 Jeremy is cofounder of Football and Futbol.
Original Story:
http://www.baysportsreport.com/2013/0...
THE BACKYARD
BEST OF MAXIM
Soccer News

Delivered to your inbox

You'll also receive Yardbarker's daily Top 10, featuring the best sports stories from around the web. Customize your newsletter to get articles on your favorite sports and teams. And the best part? It's free!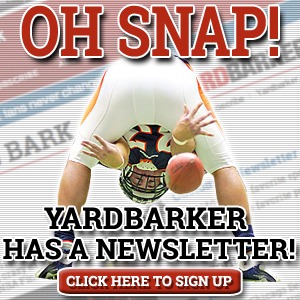 Latest Rumors
The Backyard

Today's Best Stuff

For Bloggers

Join the Yardbarker Network for more promotion, traffic, and money.

Company Info

Help

What is Yardbarker?

Yardbarker is the largest network of sports blogs and pro athlete blogs on the web. This site is the hub of the Yardbarker Network, where our editors and algorithms curate the best sports content from our network and beyond.