Found October 11, 2013 on Football and Futbol:
Entering into the World Cup Qualifiers this weekend, there is huge buzz around the MLS about the status of certain players getting called into international duty.  With only a handful of matches left to go in the MLS regular season, the timing of WCQ matches couldn't have come at a worse time.  Many teams are scrambling, trying to set alternate rosters while preparing for one last playoff push. The problem for the MLS clubs is obvious: their best players have been called away with the full authority of the FIFA guidelines.  It doesn't help that this MLS season has been a brilliant one, and many teams are packed together fighting for every last point to punch their ticket to the postseason.  And now, at this critical juncture, the best talents many clubs have purchased are simply not available. But is this the MLS reaping what it has sown?  For years, the MLS schedulers have purposefully chosen to have their season in the months when other major soccer leagues are off.  The original intent of this decision was to give worldwide soccer fans something to watch in the summer while giving the MLS the chance to grow without competing against the NFL, NHL and NBA.  But at what point does the MLS stop acting like a minor league startup venture and fall into line with the rest of the worldwide soccer culture? Of course, this debate really caught traction again when LA Galaxy coach, Bruce Arena, asked for Landon Donovan and Robbie Keane to be excused early from international duty so that they could focus on club play.  But this is a real issue for all MLS clubs – not just high-profile LA.  Consider Real Salt Lake – they are without Kyle Beckerman, Nick Rimando and Alvaro Saborio right now.  Granted, RSL has a bye week this week, but these key players are missing out on club practice and study for upcoming games. The Portland Timbers, also playoff bound, are now without Ryan Johnson, Alvas Powell and Rodney Wallace for their Cascadia derby with Seattle.  The list of teams without players goes on and on. But with 16 teams still fighting for playoffs, any missing body is a big deal. For international coaches who rarely get to see their players in action together, these dates are hugely important whether a team is playing a knockout game or a friendly.  It's understandable why many international coaching staffs are completely unconcerned with the bleating of MLS clubs.  These dates are too important to simply excuse the players coming from the States.  For better or worse, fair or not, international coaches want their players in action. In regards to fairness though, it only continues to compound the problem that the MLS gave 6 teams byes this week.  As if being shorthanded wasn't bad enough, many teams get to play with reduced rosters while their rivals are enjoying an off-week.  Where is the fairness in competition there?  Other major world leagues have figured it out – they simply shut down for international play.  The MLS, for all it has going right for itself, is making itself look amateurish by only having a partial shutdown. If the MLS wants to continue to buck the trend of global soccer and play in the summer, it has to do a better job of scheduling around FIFA dates.  This is one instance of poor planning and even poorer execution when dealing with an international break.  How does the MLS plan to comport itself when the World Cup actually happens?  The best players in the world will be gone for weeks.  The rest of the soccer world will close their doors and enjoy the beautiful game in its highest form. But the MLS will continue on its course.  Not only will the MLS continue to play its schedule during the World Cup, but it will have its All-Star game just weeks after the World Cup is finished.  It's a very American concept to march to beat of your own drum.  We're individualists, after all.  But when the rest of the world is performing a perfectly synced drum line, is it still cool to be the kid that's just banging the cymbals?
Original Story:
http://www.footballandfutbol.com/inte...
THE BACKYARD
BEST OF MAXIM
Soccer News

Delivered to your inbox

You'll also receive Yardbarker's daily Top 10, featuring the best sports stories from around the web. Customize your newsletter to get articles on your favorite sports and teams. And the best part? It's free!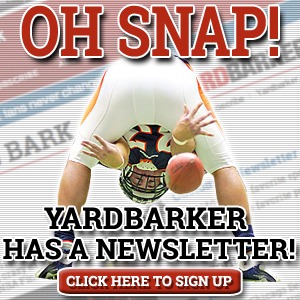 Latest Rumors
The Backyard

Today's Best Stuff

For Bloggers

Join the Yardbarker Network for more promotion, traffic, and money.

Company Info

Help

What is Yardbarker?

Yardbarker is the largest network of sports blogs and pro athlete blogs on the web. This site is the hub of the Yardbarker Network, where our editors and algorithms curate the best sports content from our network and beyond.