Found February 06, 2012 on The Sport Sofa:
Should John Terry have been stripped of his captaincy? Should he even be selected for England's squad during the upcoming Euro 2012 Championships?
BROCK SMITH
John Terry has been stripped of the England captaincy.
The 31-year-old Chelsea centre-back was informed of the decision by FA chairman David Bernstein last Friday.
The FA made their decision surrounding allegations of Terry racially abusing a fellow footballer. Terry is due to stand trial in July after an incident with QPR's Anton Ferdinand, to which Terry has entered a plea of not guilty to the charge
Losing the England captaincy is not new for Terry. He has lost the privilege of leading his country on to the pitch once previously.
In a statement, the FA said Terry would not "captain the England team until the allegations against him are resolved."
It continues: "The FA board expected the trial to be concluded prior to the European Championship.
"Further to Wednesday's confirmation that the trial will not take place until after the tournament, the board has discussed the matter in detail and has collectively decided it is in the interests of all parties that John has the responsibilities of captaincy removed at this time.
"This decision has been taken due to the higher profile nature of the England captaincy, on and off the pitch, and the additional demands and requirements expected of the captain leading into and during a tournament."
The FA said Capello was free to select Terry for the Netherlands friendly in February and Euro 2012, and many expect he will follow through with that decision.
Capello took a strong stand on the issue. The Italian made it clear to the FA that he believes "everybody is innocent until proven guilty," therefore Terry should not be stripped of the captaincy for the time being.
Capello has a history of siding with the Chelsea talisman. The first time the Terry was sacked as England captain, it was Capello who tried to ease the pressure off of Terry, rather than publicly humiliate him for the problems his private life would cause in the dressing room. Somewhat understandably, Capello expressed his support for Terry because his sole purpose is to win trophies for England, and has no interest in the politics of English football.
Although the circumstances surrounding Terry's previous sacking as captain were different than those currently, they still created a similar uneasiness in the dressing room. Terry was previously stripped of the captaincy in 2010, following allegations he had an affair with the ex-girlfriend of Wayne Bridge, an England teammate.
Terry was reinstated 13 months later, with Capello saying, "one year of punishment is enough."
The FA has received support from other influential sports figured. England sports minister Hugh Robertson stated, "I completely support the FA's decision. It would have been impossible for John Terry to have continued as captain with this charge over his head."
IMPLICATIONS
What we have on our hands in a man, who in the span of two years, is now known throughout the league, and among his colleagues and fans, as a racist and an adulterer.
Now, what can't be forgotten is that the charges against Terry are still allegations, but I pose this question: can allegations make you feel differently about someone? I would answer "yes."
If you were a teammate of John Terry, would you feel the same about him? Maybe it wouldn't matter to you, so long as he leads England to victory after victory. But what if you were Glen Johnson, or Ashley Cole (the typical starting right and left backs for England, respectively). Johnson and Cole, both black athletes, may not hold the same trust they once held for Terry. And if they do not? The result would be a poisoned team. First it could be a quick comment here, a shouting match there. But when it could become an intentional botched pass here, or 'forgetting' to cover for a teammate there, it has gone too far.
Not to mention, Terry is probably not trusted with teammate's wives and girlfriends, given his track record. (Hide yo' kids, hide yo' wives. Sorry, I had to.)
I'd also like to pose this question – as a fan of hockey, and (for most of the readership here on TSS) Team Canada, would you want an alleged racist and adulterer as your country's captain?
Would you be able to think of Scott Niedermayer the same if he shouted something awful at Jerome Iginla?
Would you be able to hold Ryan Smyth in the same light if you knew he had slept with Shane Doan's wife?
For me, one thing I love about Canadian hockey players is their ability to avoid negative press. Whether this is due to tabloid journalism not being as rampant in Canada as in England, or rather Canadian hockey players are simply just better people… it's tough to say.
Still, many Canadians would not want someone with such a tainted reputation to lead their country in a major championship. For an alleged racist and adulterer to be a member of the team, that's one thing. Skill alone can secure a place on a squad. But when it comes to representing not only your team, but also your country on such a grand stage, your captain must be a person that embodies values that your country holds dear.
To allow Terry to continue as captain would mean England condones the acts for which Terry has been charged.
For these reasons, John Terry should not captain the England side, despite the charges being allegations.
England deserves better.
Original Story:
http://www.thesportsofa.com/?p=3672
THE BACKYARD
BEST OF MAXIM
RELATED ARTICLES
England coach Fabio Capello disagrees with the decision by English soccer authorities to remove John Terry as national team captain. Terry was stripped of the armband Friday because his racial abuse trial won't be held until after the European Championship. Capello told Italy's state broadcaster RAI on Sunday he ''absolutely'' disapproves of the ruling by...
England manager Fabio Capello is to meet FA bosses on Wednesday after openly questioning their decision to strip John Terry of the captaincy of the national side. The FA decided the Chelsea defender could not lead England to Euro 2012 with the spectre of a trial for alleged racial abuse hanging over him. Terry has been charged with abusing QPR's Anton Ferdinand and, when his...
Former Football Association chairman Lord Triesman says that the FA had to strip John Terry of the England captaincy. The...
England manager Fabio Capello publicly expressed his disagreement with the FA this weekend over it's decision to strip John Terry of the national team captaincy. In an interview with Fai 1 in Italy, Capello said he had spoke with chairman David Bernstein and didn't feel Terry should be punished until the judgement against him becomes official. Capello stressed that the courts...
Ex-Three Lions defender aims a swipe at the Football Association for taking the armband away from the Chelsea center-half, insisting that it is 'bowing to media pressure'
England coach Fabio Capello disagrees with the decision by English soccer authorities to remove John Terry as national team captain.
The Attorney General's office has been made aware of a series of robust observations made by Joey Barton on Twitter over the John Terry racism saga. On Friday afternoon, following the stripping of the England captaincy from Terry, Barton took to the micro-blogging website to give his take on the matter. The Chelsea skipper had his country's armband taken from him for a...
England are looking for a new captain after the FA stripped John Terry of the captaincy. It's not a surprising...
Attorney General Dominic Grieve has defended his decision not to prosecute Joey Barton for a series of online comments about John Terry ahead of his trial, insisting they would not jeopardise the case. QPR midfielder Barton posted the remarks on Twitter on Friday after Terry, who has been accused of racially abusing Anton Ferdinand, was stripped of the England captaincy. Mr Grieve...
If he hadn't cheated on the apparent greatest living Briton, used hyperbole to show disgust at Arsenal's stinginess or shot someone with a rifle, would Ashley Cole really be a 20/1 outsider with William Hill to replace John Terry as England captain? Take all the role model nonsense out of the equation – and why [...]
Fabio Capello has hit out at the Football Association's decision to remove the England captaincy from John Terry. The FA's...
Soccer News

Delivered to your inbox

You'll also receive Yardbarker's daily Top 10, featuring the best sports stories from around the web. Customize your newsletter to get articles on your favorite sports and teams. And the best part? It's free!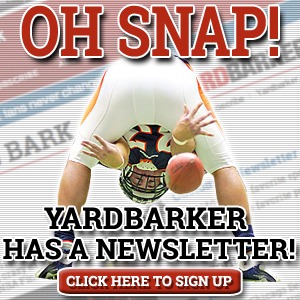 Latest Rumors
The Backyard

Today's Best Stuff

For Bloggers

Join the Yardbarker Network for more promotion, traffic, and money.

Company Info

Help

What is Yardbarker?

Yardbarker is the largest network of sports blogs and pro athlete blogs on the web. This site is the hub of the Yardbarker Network, where our editors and algorithms curate the best sports content from our network and beyond.