Found June 12, 2012 on Extra Pine Tar:
For those who follow European football, Michael Ballack is something of a legend. The former captain of the German national team, Ballack is celebrated in his home country of Germany as one of the greatest "footballers" to ever step foot on the pitch. He owns such honors as being named UEFA Club Midfielder of the Year, he was chosen by Pele as one of FIFA's 100 greatest living players and he was named German Footballer of the Year three separate times. He led the Germans to the 2002 World Cup Final, the 2006 World Cup semifinals and the Euro 2008 Final.
All of that pales in comparison his legend in a television booth.
Ballack is one of the analysts – along with former American player Alexi Lalas – for the ESPN pre and postgame shows at Euro 2012, as well as halftime. There are many reasons that I could list as to why Euro 2012 is a great time – which I already did – but the single best think about the tournament is kicking back and admiring the analytical magic that comes from Ballack.
You see, Ballack doesn't really speak the English language. If you're thinking to yourself that it would make sense for ESPN, which is broadcasting in English to a primarily American audience, to have an analyst who speaks the English language, then you are underestimating the Worldwide Leader. Employing a man who speaks the native tongue of the viewers was not very high on its priority list.
I don't mean any disrespect to Ballack – it's not his fault that ESPN wanted to pay him a bunch of money and put him in a booth with Bob Ley – who I'm sure knows as much about soccer as anybody out there. Just watch his Top 10 goals video and that should be a strong enough resume to establish credibility. But when he starts breaking down the matches, most of what he's saying gets lost in translation. And I don't mean the kind of Lost in Translation that has you wondering what Bill Murray whispered in Scarlet Johansson's ear. I mean the kind of lost in translation that makes you wonder if you hear him right, and gives way to videos like this.
Let's take a look at few examples.
1. Ballack's take on if the Netherlands is now set up for failure after it lost to Denmark, a substantial underdog:
"Absolutely. Couldn't be worse for Netherland. Put up their mouth now (laughs). Clean your mouth now (laughs again). Go home, analyze the mistakes, and do it better next."
You follow that? Ballack believes that "Netherland" (singular) should go home and "clean its mouth." Of course, prior to the Netherland cleaning its mouth, it's will certainly need to "put up its mouth."
Seriously, what the hell does that mean? Ballack thought it was one of the funniest statements a human being has ever made, as he nearl brought himself to tears while Bob Ley and Alexi Lalas were staring at him like he had just proclaimed his loyalties to the Third Reich.
Let's just hope the Netherland found a way to clean its mouth before its next match.
2. Ballack uses the word fantastic just about every sentence.
On Monday night/Tuesday morning's 1 a.m. Sportscenter, they showed highlights of two matches from earlier in the day. On two separate occasions, Ley threw the highlight Ballack's way for some hard-hitting analysis and was rewarded with this:
"Just fantastic…"
That's all he had, and he had it in his thick German accent, which makes it sound like it's three separate words – fan, tas and teek. Six times over the course of a two-highlights pan, Ballack used the word fantastic. It's as though when he was learning English growing up, the teacher really drove him the importance of the word "fantastic."
"All Americans use the word 'fantastic' nine times an hour. Trust me."
3. Michael Bollock went out with Alexi Lalas after the first night of Euro 2012 and loudly sang the East German National Anthem in a bar.
That's right. Let that soak in.
If you watched the telecast on Saturday, there was this unbelievably,y strange moment where Lalas kept trying to get Ley to ask him a question about how Lalas and Ballack went out to a bar the night before, once the telecast was over. Eventually, after the third or fourth time Lalas said something like "Michael and I discussed that over a beer last night," Ley took the bait and asked what happened.
Well you know what happened? Lalas and Ballack started cracking up, and then Lalas went on to tell everybody how Ballack had sang the German National Anthem loudly in a bar while they were out drinking the night before. That, in itself, is hilarious, but it gets so much better.
Ballack added to the story, telling a huge audience on national television that he did not just sing the German Anthem – no, no – he loudly belted out the National Anthem from the former nation of East Germany. Yes, the East Germany that existed on one side of the Berlin wall and was in the Soviet zone of occupied Germany. What does that mean? Well, for one, it was a communist state.
So now picture Ballack standing up the middle of a bar in the Ukraine with some tall, long-haired American (Lalas) and wailing the entire East German National Anthem out, while a bunch of stunned people stare at him and wonder if he's a threat to national security.  What is the proper move if you're in that bar? Do you just embrace the situation and start humming along to the old anthem of East Germany? Do you call the police? Do you leave? I don't know, but apparently everything worked out okay because Ballack and Lalas lived to tell about it the next day.
We also found out that Ballack LOVES the Russian National Anthem, and though he didn't get a chance to sing it that night, he plans on singing it in the future. Bob Ley was less than amused. Apparently communism is one of his buttons.
4. Ballack's take on the Greece-Poland game: 
"It seems like teams get a little bit fear if they were one man more. The opponents get a red card, you are 1-0 up, suddenly you change your game. Why? Poland was so dominant and yeah I was surprised they came out that strong, Greece, I didn't expect this, but they should win because they miss the penalty. So everything is still open in this group."
Just so you know, everything is still open in this group. Why? I don't know, even though Michael Ballack tried to outline it for me.
Give me time. In a couple weeks I'll be speaking fluent Ballack, and I may even try my hand in a National Anthem karaoke.
Michael Ballack, you my friend are fan-tas-teek.
Bonus - I also found this story about how Ballack's agent once called the German National team a "bunch of gays," so that's worth a read for comedy's sake at least.
Original Story:
http://www.extrapinetar.com/2012/06/1...
THE BACKYARD
BEST OF MAXIM
RELATED ARTICLES
I have to be the largest Michael Ballack fan in the country at the moment, and this video only fuels my need for as much Ballack as humanly possible on a day-to-day basis. Yeah, I know that sounds creepy. When England tied France 1-1 on Sunday, Alex Lalas seemed to think that England had done a masterful job with the way it played, and he expressed his thoughts on ESPN's Euro...
Michael Ballack provided a damning verdict on England's performance during their 1-1 draw with Euro 2012 Group D rivals France...
Soccer News

Delivered to your inbox

You'll also receive Yardbarker's daily Top 10, featuring the best sports stories from around the web. Customize your newsletter to get articles on your favorite sports and teams. And the best part? It's free!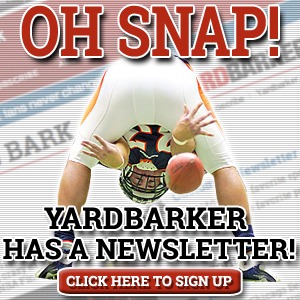 Latest Rumors
The Backyard

Today's Best Stuff

For Bloggers

Join the Yardbarker Network for more promotion, traffic, and money.

Company Info

Help

What is Yardbarker?

Yardbarker is the largest network of sports blogs and pro athlete blogs on the web. This site is the hub of the Yardbarker Network, where our editors and algorithms curate the best sports content from our network and beyond.