Found June 29, 2012 on Fox Soccer:
Ten reasons to root for this Italy team: 1 - Andrea Pirlo is the player of the tournament And if he isn't, somebody had better do something out of this world in the final. Italy's conductor has been in masterful form during Euro 2012. He manages to combine being wonderful to watch with stunning efficiency. His poise and passing make the team tick and elevate the performance of all his teammates. Half the time he looks like he is so in control you wonder if he could even play blindfolded. Pirlo has said he doesn't think he will still be part of the Italy scene by the next World Cup, but it's hard to imagine the Azzurri without him. 2 - Gigi Buffon's emotion When he is singing Il Canto degli Italiani, the Italian national anthem, it means so much to him he looks as if he is about to burst with joy. Belting out the words with his eyes squeezed shut, he epitomizes the reverence with which the Italians view their national shirt. Buffon is Italy's captain and his leadership and personality is as valuable as his exceptional goalkeeping repertoire and experience. He makes sure his team gives every effort. 3 - Antonio Cassano's unbelievable year Watching Cassano create a goal for Mario Ballotelli, observe the closing minutes of the semifinal from the substitutes bench as intensely as if he were kicking every ball, and then celebrate this final appearance, it was incredible to think last November he had a stroke, required heart surgery and spent six months recuperating. Once Italy's wild child, he claims to be a different person since his illness. Cassano's stamina is not quite up to 90 minutes but he has been reliable, professional and enthusiastic during this tournament. He has justified Prandelli's faith. Bravo. 4 - Hail Cesare! Considering he is new to this stage, Cesare Prandelli has overseen an excellent campaign. While it would be churlish to suggest he is without experience, he hardly came into the job with a CV to match some of his predecessors like Marcello Lippi or Giovanni Trapattoni. There were a couple of promotions from Serie B, but Prandelli's canon of good work came outside of Italy's super-elite. He his conducted this tournament with aplomb, forging a team with fantastic spirit and eagerness to perform at their best. They are both robust and skillful, and they have a smart game plan. They are a team which includes some unpredictable performers, but the coach stands firmly by his choices and is very loyal. So far, Prandelli has not put a foot wrong. 5 - Mario Balotelli There is never a dull moment in the life and times of Balotelli. An Italian colleague predicted, long before the Euro, that he could be the biggest star or the biggest car crash of the tournament. It's the not quite knowing that makes him so fascinating to watch. The shooting star of the semifinal, Balotelli demonstrated brilliantly that his talent has to be indulged. A performance like that at the age of 21 is remarkable. Asked why he doesn't celebrate goals with more obvious pleasure, he replied: "When I score, I don't celebrate because I'm only doing my job. When a postman delivers letters, does he celebrate?" He is a pure one-off. And he is also a fantastic poster boy for a more multicultural Italy. Never change, Mario. Never change. 6 - Crisis? What crisis? This is beginning to be something of a habit. It's not the first time Italy have arrived at an international finals with the game at home mired in shame and controversy. Paolo Rossi was implicated in a betting scandal but emerged to help Italy to win the 1982 World Cup, earning the golden boot in the process. The Calciopoli match-fixing scandal preceded Italy's victory in the 2006 World Cup. There was yet another investigation into a swindle as Prandelli and his players set off for Poland and Ukraine, but again the adversity appears to have unified the squad and inspired them. 7 - Daniele de Rossi, the midfield general Despite carrying a sciatic injury, it seems nothing will keep de Rossi from fighting for his cause. He has been lion-hearted, such a vital part of this Italian side in ensuring that they are competitive enough to let Pirlo do his thing. He plays with such visible determination, but there is so much more to his game than dynamic running and tackling. A vital presence around both boxes and everywhere in between. Surely just about everyone would like a de Rossi in their team. 8 - Late-developing, unsung heroes Alessandro Diamante was a pick from left field. He looks like a scruff, he has never played for the most fashionable teams, and came into contention late as an international player. He had only ever played half a game for Italy before being called into the Euro 2012 squad. Diamante has played a part in three games, and enjoyed his moment in the sun as he dispatched the decisive penalty against England. Federico Balzaretti is another unexpected promotion. He had only a handful of caps before this tournament, his first coming when he was almost 29 years old. He has performed with great vigour. 9 - Italy will not be scared of Spain The Spanish might be the favorites, and might feel a whole lot better about this fixture since they ended their Italian hoodoo in 2008, but Italy showed in the opening group game of this tournament that they are not fearful of the current international double winners. The Azzurri have grown into this tournament. It's a quality that is often seen as a hallmark of champions, and they have steadily improved during their stay in Poland and Ukraine. Italy traditionally had the better of Spain time and again, and they will relish the chance to try to unnerve Vicente del Bosque's team. 10 - Time for change? Having been the dominant force in international football over the past four years, Spain play like a team feeling the weight of expectation, dominated by the desire to make sure they don't lose. They have lost a little pizzazz, which explains why a lot of neutrals are eager to check out someone else's party. Nobody does footballing melodrama quite like Italy, and if they can achieve their second European Championship, some 44 years after their first, it will crown an extraordinary journey. This team lost three games in a row just before they arrived in Poland and Ukraine, and looked like they'd fizzled out before they started. Now they are ready for fireworks.
Original Story:
http://msn.foxsports.com/foxsoccer/eu...
THE BACKYARD
BEST OF MAXIM
RELATED ARTICLES
Germany legend Rudi Voeller says his country need to be mindful of Italy star Andrea Pirlo in their Euro 2012...
Italy is scheduled to play against Germany in the Euro 2012 semifinals on June 28 (Thursday afternoon in the US, Friday morning in Manila).  The Azzuri advanced by beating England in a penalty shootout 4-2 after enduring a goalless 90 minutes of regular action, in addition to 30 minutes of extra time. Andrea Pirlo was [...]
''Panenka'' penalties seem to be in fashion at the European Championship. Spain's Sergio Ramos used the audacious soft chip shot on Wednesday to help the defending champions beat Portugal in their semifinal penalty shootout. His penalty came just three days after Andrea Pirlo scored with a similar ''Panenka'' chip to the center of goal in Italy...
Spain midfielder Cesc Fabregas says his team will need to pay special attention to Andrea Pirlo in Sunday's Euro 2012...
Andrea Pirlo has warned his Italian team-mates not to get carried away after their 2-1 victory over Germany in the...
Juventus general director Giuseppe Marotta has praised Andrea Pirlo, saying that it is impossible to put a price on the...
Spain vs. Italy. Xavi vs. Pirlo. Casillas vs. Buffon. Balotelli vs. Pique. Iniesta vs. Chielini. I could go on and on and on, but I'm sure you get the idea. Two of the world's biggest football powers facing off in one match to decide which team can be deemed the European football Champions. On one hand you have the defending European and World Cup Champions in Spain, who have...
Daniele De Rossi has labelled Italy team-mate Andrea Pirlo a genius ahead of Thursday's Euro 2012 semi-final clash with Germany....
Germany boss Joachim Low is counting on his cheeky boys to secure a place in the Euro 2012 final. Despite being overwhelming favourites to set up a repeat of the 2008 final in Kiev on Sunday, Germany must overcome the weight of history. In seven competitive meetings with Italy, they have yet to come out on top. This time should be different, with Low banking on the personality...
Italy will take on Spain Sunday night in Kyiv with Europe's biggest prize on the line: the European Championship . The final is an unlikely one. Before the tournament, many had guessed the defending champs would face off against Germany . Instead, thanks to Mario Balotelli and an ageless performance from Andrea Pirlo , Germany are packing and Italy is dreaming. But, again,...
Sunday's European Championship final between defending champion Spain and Italy features two teams who have dominated possession through slick passing and disciplined defending at the tournament. Here's a quick look at the most intriguing matchups that could decide who emerges victorious at the Olympic Stadium: Xavi Hernandez vs. Andrea Pirlo Xavi and Pirlo have played key...
At this time last year, Arsenal fans were going through a very tough time they were losing two of their star players and there was almost no activity in the transfer market. Come next year, now Arsenal have made two top signings even before the official opening of the transfer window.  The club, driven by the ambition to win, are looking to add to the squad in order to strengthen...
Soccer News

Delivered to your inbox

You'll also receive Yardbarker's daily Top 10, featuring the best sports stories from around the web. Customize your newsletter to get articles on your favorite sports and teams. And the best part? It's free!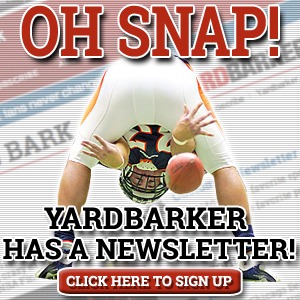 Latest Rumors
The Backyard

Today's Best Stuff

For Bloggers

Join the Yardbarker Network for more promotion, traffic, and money.

Company Info

Help

What is Yardbarker?

Yardbarker is the largest network of sports blogs and pro athlete blogs on the web. This site is the hub of the Yardbarker Network, where our editors and algorithms curate the best sports content from our network and beyond.