Found November 20, 2012 on Fox Soccer:
If records are meant to be broken, is it wrong to invent new ones when we've run out of the old, laying in fragments all around us? On Tuesday, Lionel Messi's Barcelona travels to Moscow to take on the local Spartak (live, FOX Soccer , 12 p.m. ET). The much-loved trickster will endeavor to get closer to smashing up the next supposedly meaningful record in his path, to relegating it to the pile already in tatters alongside his vaporized trail. Since January 1 of this year, Messi has scored 50 goals in the Spanish Primera Division , five goals in Spanish cup competitions, 11 goals in the UEFA Champions League and a dozen for Argentina's national team. 78 goals in all. That's seven short of the 85 Gerd Muller scored for West Germany and Bayern Munich in 1972. Didn't know that? Me neither. But Messi now so transcends his sport that we're clutching onto weird, hurriedly contrived records just to frame the unprecedented parameters of his greatness. Barca's overgrown star - newly a father, a somewhat perturbing image - with the furious little feet breaks records in such a blur of precision and competence that we're forced to come up with new ones for him to break. The latest product manufactured by Messi's "Mania Megahype Machine" (trademark pending): the single-calendar-year-goalscoring-across-all-competitions-both-on-club-and-international-level record. It's an obscure record at best, by a very prominent player from an era of yore. This pseudo-record doesn't even have a Wikipedia entry, our age's great legitimizer. Because we don't typically tabulate goals by the calendar year in soccer, that's what seasons are for. But we now reach for Muller's little-known high-water mark. Because there was nothing else left for Messi to break. He shattered the all-competitions single-season scoring record with 73 goals last season (also previously Muller's at 67) and, at 25, is already Barca's all-time scoring leader too. There's no marketable narrative in pushing further into atmosphere breathed by no other man. It doesn't speak to the imagination. Not in soccer anyway; only in space exploration and eating competitions. A record long since splintered and still in the process of being repositioned is uninteresting in its own right. Something superhuman is only identifiable as that when painted against a background humanity. As we lumber heavily after the lithe Argentinean, gasping in pursuit of a phenomenon that does things at such unfathomable speed, our own challenge is to keep up and define what it is that we're seeing, to explore the outer boundaries of soccer's universe. That means employing bizarre measurements. Because combining club and international goals into a single tally is that. They are different spheres. Some point out that Messi has already played more games in 2012 than Muller did in 1972 (61 to 60), underscore the problems with this comparison. This is another era. The sport Muller knew isn't the one Messi does. Muller's was slower and more open. There wasn't as much emphasis on defense then. And the gap between strong countries like West Germany and the weak ones, or strong clubs like Bayern and weak ones, was bigger. But then Messi has better science and information at his service, one could counter. Yes, but Messi doesn't even really play as an outright striker and piles up heaps of assists while Muller was a poacher with no concern other than to score goals, contributing little else. Wait, but Messi has Xavi. Yeah, well, Muller had Beckenbauer On and on it goes, back and forth. There's no comparing players from different eras. Everything is different; materials, coaching, sports science, accommodations and transportation. Even the game itself. But then how do we express the significance of something undoubtedly special? How to measure transcendence? Perhaps the best form of deference in this case, rather than invent new terms of dominance, however problematic within their historical context, is to simply acknowledge that this ethereal greatness cannot be grasped or defined or contextualized completely. It is beyond records.
Original Story:
http://msn.foxsports.com/foxsoccer/ch...
THE BACKYARD
BEST OF MAXIM
RELATED ARTICLES
Lionel Messi moved to within five goals of Gerd Muller's scoring record as Barcelona qualified for the knockout stages of the UEFA Champions League with a 3-0 victory over Spartak Moscow.
Tito Vilanova insisted Barcelona were not a one-man side after Lionel Messi scored twice and set up another as the Catalan club powered on at the top of the Primera Division with a 3-1 victory over Real Zaragoza . Messi took his season tally for Barca to 22 in all competitions with strikes in the 16th and 60th minutes, and also turned provider in the 28th minute to help summer signing...
Brazil defeated Argentina 4-3 on penalties to win the Superclasico de Las Americas on Wednesday, a trophy contested by national team players with local clubs in Argentina and Brazil and excluding top stars like Argentina's Lionel Messi. The trophy was settled by penalties after the teams finished the two-leg series level 3-3 on aggregate. Argentina won the second match 2-1...
Lionel Messi scored his ninth double of the season as Barcelona reached the knockout stage of the Champions League with a 3-0 victory at Spartak Moscow on Tuesday. Messi has now scored 80 goals for club and country in 2012, only five behind former Germany striker Gerd Mueller's all-time record from 1972. The Argentina forward made it 2-0 in the 27th minute after getting first...
Mario Balotelli can be as good as Ronaldo or Messi - originally posted on Soccerlens.comManchester City manager Roberto Mancini insists unpredictable striker Mario Balotelli can be as good as Cristiano Ronaldo or Lionel Messi if he applies himself in the right way. Balotelli is currently struggling with a back problem he picked up while on international duty and his manager made...
Barcelona are in, and Chelsea are almost out. Tuesday night saw a tale of two champions heading in opposite directions. For some the results will be cause for schadenfreude, particularly if you hail from the hamlet of Munich in Bavaria. Those folks never got over the fact that Chelsea managed to pip the giants on their home turf thanks to a rearguard action that Napoleon would have...
Doing the rounds: The Britannia… - originally posted on Soccerlens.comUpon their promotion to the Premier League, Stoke City certainly made a name for themselves. Whether it be their refreshingly medieval approach to the game, the rocket propelled wrists of Rory Delap, or the relentless thrashing they always seem to give Arsenal. Hell, the debate still rages on as to whether Lionel...
Agyemang-Badu celebrating wonder strike against Guinea at 2012 AFCON By Ameenu Shardow Ghana midfielder Emmanuel Agyemang-Badu believes he stands a good chance of winning the FIFA Goal of the Year award. The 21-year-old's sweetly struck volley outside the penalty area in the 1-1 draw with Guinea at the 2012 Africa Cup of Nations has been shortlisted alongside nine others for the...
Badu celebrates his goal scord at the Africa Cup of Nations GHANASoccernet.com is urging fans to vote for Ghana midfielder Emmanuel Agyemang-Badu to win the 2012 FIFA Puskas Goal of the Year Award. Badu received a pass from a corner-kick and then lifted the ball before volleying from outside the box during a 2012 Africa Cup of Nations qualifier against Guinea. Click on the below...
Soccer News

Delivered to your inbox

You'll also receive Yardbarker's daily Top 10, featuring the best sports stories from around the web. Customize your newsletter to get articles on your favorite sports and teams. And the best part? It's free!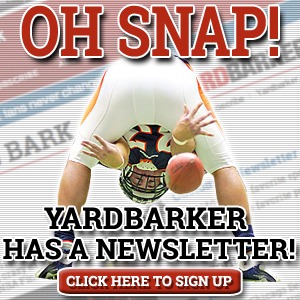 Latest Rumors
The Backyard

Today's Best Stuff

For Bloggers

Join the Yardbarker Network for more promotion, traffic, and money.

Company Info

Help

What is Yardbarker?

Yardbarker is the largest network of sports blogs and pro athlete blogs on the web. This site is the hub of the Yardbarker Network, where our editors and algorithms curate the best sports content from our network and beyond.