Found July 22, 2013 on EPL Talk :
It's been a whirlwind 24 hours for me that's included 6+ hours in a car, travel through three states and an absolute thrashing on a football pitch in Baltimore. Going to the USA vs. El Salvador quarterfinal in Baltimore, Maryland was a first for me. I had been to several club friendlies at the same venue (which included the Pirelli Cup match between Inter Milan and Man City a few years ago, though I wouldn't have called that match 'competitive') so this really was an eye-opening experience for me. The only time I have seen M&T Bank stadium packed to capacity (other than Ravens games) was a friendly between AC Milan and Chelsea a few years ago, a match that I unfortunately was not able to attend. But there really is something different when it comes to competitive international matches, there's a sort of buzz in the atmosphere that is kind of hard to explain. For starters, the drive into the stadium was absolute madness. As I drove in with Jim, the cameraman from my local TV station, we had a discussion about what the ratio would be of American fans compared to El Salvadorian fans. I assured him that the American fans would turn out, but was positive they would be outnumbered by the visitors. It wasn't until we were within eyesight of the stadium that we saw the true disparity between the two. It was as if the stadium sat in a sea of blue and white, the occasional red spec here and there, like a buoy you see if you've ever been out boating. Then there was the noise, it was like running into a wall of sound the second you exited the car. Drums, horns, saxophones, you name it and it was being played as loud as possible (though not always in the appropriate key). I had the fortune of meeting up with my cousin before the game. He had made the trip from Bowling Green, Virginia, and as I scanned the crowd at the bar we met at, I was almost positive that he would have been the sole representative of the good 'ol USA in his section. My cousin is a veteran of USA matches and I had asked him if this sort of thing was normal. I expected a disparity of possibly 60-40, but this was looking 80-20 and the gap was shrinking every minute. "This isn't shocking at all, El Salvador usually plays a friendly at RFK and whenever they do they sell the stadium out every time" he told me.  I had tried to talk to a few El Salvadorian fans, but my lack of Spanish speaking skills proved to be a bridge to far in most cases, but one couple was happy enough to let me take a picture of their young daughter, undoubtedly going to her first match as well. For the most part the El Salvadorian fans were extremely friendly, those with instruments would walk around the stadium playing their songs, even stopping for groups of American fans to chant "USA, USA, USA", which to me was a bit odd at first, but it was that show of duel pride that kind of put things in perspective for me. Even though their home country was playing in a quarter final, they were still happy to chant and mingle with their fellow American fans, showing pride for the country of their birth and the country they had made their lives in. As kickoff drew near, I made my way back to the press box, eagerly awaiting the national anthems to be played. I'm a sucker for national anthems. There's something supremely emotional and prideful when one is singing the national anthem in a competitive match. The El Salvadorians absolutely delivered in that respect. The familiar chills that come along with hearing 60+ thousand people singing in unison came and went. Though the USA fans were outnumbered, they gave an impressive performance when it came to the national anthem as well (and a hearty Baltimore 'OH' from both sets of fans from the local area) was extremely pleasing to hear. As the match got underway, it was clear that the US was on a different level. Aside from an extremely dodgy penalty, the US should have been free and clear by halftime. Kyle Beckerman and Mix Diskerud owned the midfield for the majority of the game. It seemed that every substitution that Jurgen Klinsmann made paid immediate dividends, highlighted by the Michael Chopra-esque substitute goal scored by Eddie Johnson. Unfortunately that is when things started to get ugly. Prior to the Eddie Johnson goal, there had been a small incident at the corner flag where something was thrown onto the pitch. I had written it off as nothing, but really it was a sign of the many things to come. As the rain started to pour down at M&T Bank stadium, so did the beer, cups and debris. Some of the more hardcore El Salvadorian fans had not taken a liking to the spanking they were receiving on the pitch and had decided to show their displeasure by showering those around them with the $11 dollar beers they had purchased not long before (wasting beer in such a fashion should be a felony). Fights had started to break out throughout the stadium, there were at least two within eyesight of the press box. As Landon Donovan and Mix Diskerud added to the tally, the anger grew more and more. It really was a shame to see. Clearly not all of the El Salvadorian fans felt there was a need to act in such a way. The majority of them seemed to be angry at their fellow countrymen for displaying such animosity. As I met back up with Jim for the post game press conferences, he had informed me that there were multiple fights outside of the stadium as well as inside. He had spoken to the head of security at the stadium who said they had tripled the amount of security and it still was barely enough to handle what was going on. The post match press conferences were routine as to be expected. Agustin Castillo acknowledged the gulf in class between the two clubs, stating that their game plan was to try and come at Beckerman to disrupt the midfield and that plan had backfired. The most telling interview though came from Landon Donovan who, at the time, made a statement that seemed quite harsh, but after having time to digest it, I actually kind of understand where he may have been coming from. "The fans show up in their blue and white and their jerseys, they boo us, then at halftime they take their jerseys off to show American ones underneath." While initially to me it seemed (and possibly was intended to be) a shot across the bow at El Salvador, but when I think about it he was right (in a sense and I hate agreeing with Landon Donovan). The majority of the fans were there to support El Salvador, the country of their birth. It's something to draw pride from and something that, as someone who takes immense pride in their Greek heritage, I can completely understand. But the United States is where they live now. They've made their lives here. They've brought their families here. Their kids go to school here. So what is so wrong with supporting both the country of your birth and the country you've made your home in? Personally I think it's great. Yes you may be pulling a bit harder for your 'homeland' but in the end, when the land that you make your home in does well, there's no shame in supporting them too. My First International: Recapping USA vs. El Salvador is a post from World Soccer Talk.
Original Story:
http://feedproxy.google.com/~r/EPLTal...
THE BACKYARD
BEST OF MAXIM
RELATED ARTICLES
PERFECT FIT?
YouTube The United States welcomed El Salvador to Baltimore for the quarterfinal of the Gold Cup over the weekend and the El Salvadorians made themselves right at home – in a rather impolite way.  The U.S. up 5-1 in the 87th minute when Landon Donovan lined up to take a corner kick. Along with the steady rain, Donovan was showered with whatever objects the El Salvadorian fans...
Towards the end of the USA's quarterfinal Gold Cub match against El Salvador on Sunday afternoon, some of the El Salvadorians in the stands were unhappy with what Landon Donovan was doing to their team. They began to throw some bottles and trash at him as he lined up for a corner kick in the 87th minute of the game. One spectator threw a pair of sunglasses at Donovan and as the...
The USA Men's National team is headed to the Gold Cup semifinals after defeating El Salvador 5-1 on Sunday. El Salvador's fans were pretty raucous throughout, and after a pair of sunglasses were thrown at Landon Donovan during a corner kick, Donovan got his troll game going. Pretty different reactions by the linesman in green and then a spectator in yellow. [Reddit]
Landon Donovan (seen here in 2010) provided a big spark for the Americans in their victory against El Salvador (courtesy of Reuters) Landon Donovan and company gave the sold out crowd  at M&T Bank Stadium a lot to cheer about on Sunday afternoon. The Americans cruised past El Salvador in the Gold Cup Quarterfinals and will meet the winner of Honduras and Costa Rica in Dallas...
Read: Landon Donovan's "Deal With It" Moment Interrupted By Overzealous Ref on Guyism.com >>
Landon Donovan (seen here in 2010) provided a big spark for the Americans in their victory against El Salvador (courtesy of Reuters) Landon Donovan and company gave the sold out crowd  at M&T Bank Stadium a lot to cheer about on Sunday afternoon. The Americans cruised past El Salvador in the Gold Cup Quarterfinals and will meet the winner of Honduras and Costa Rica in Dallas...
With the team USA leading 2-1 in the 6oth minute of the CONCACAF gold cup quarterfinals over El Salvador, Eddie Johnson substituted into the game. Landon Donovan was setting up to take a corner kick as Eddie Johnson was still jogging onto the field. As you will see, Donovan lightly kicks the ball into teammate Jose Torres who settles the ball and Donovan sends the ball towards the...
Late into the CONCACAF Gold Cup between the US national team against El Salvador in Baltimore tonight, a small number of El Salvador supporters began trying to pelt Landon Donovan with objects near the corner flag. Instead of acting like a jerk, Donovan picked up a pair of sunglasses that were thrown on the field, and put them on before being told by the assistant referee to remove...
The United States men's national soccer team cruised in its Gold Cup quarterfinal matchup against El Salvador Sunday afternoon, dominating the Central American team en route to a 5-1 victory. The Americans got a huge game from Landon Donovan who scored a goal, tallied three assists and helped set up another goal. It was a truly vintage performance from the best American soccer...
Soccer News

Delivered to your inbox

You'll also receive Yardbarker's daily Top 10, featuring the best sports stories from around the web. Customize your newsletter to get articles on your favorite sports and teams. And the best part? It's free!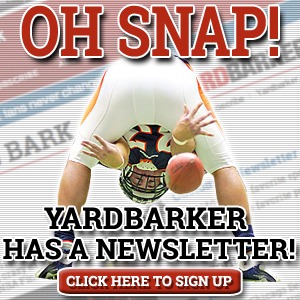 Latest Rumors
The Backyard

Today's Best Stuff

For Bloggers

Join the Yardbarker Network for more promotion, traffic, and money.

Company Info

Help

What is Yardbarker?

Yardbarker is the largest network of sports blogs and pro athlete blogs on the web. This site is the hub of the Yardbarker Network, where our editors and algorithms curate the best sports content from our network and beyond.