Found October 19, 2013 on Bay Sports Report:
(Bay Sports Report) Tomorrow marks the final Cali Clasico of the 2013 MLS season between the San Jose Earthquakes and the LA Galaxy, and for the Earthquakes, the implications could not be more enormous. Win, and qualifying for the playoffs remains a reality. Lose, and the final home game against FC Dallas will be nothing more than a bittersweet sending off. Everything is on the line for Sunday night's clash and the Galaxy, who currently are fourth win the Western Conference, would love nothing more to secure their playoff qualification while also denying the hopes of their rivals.   The last time these two teams met it was on a September night in Southern California and the Quakes got slaughtered. 3-0 was the score line and the Galaxy made sure that last second heroics, the kind we saw in Stanford Stadium earlier this season, were out of the question. The Quakes got hammered in that game but did not flitter away the season. They head into this game recharged, energized, a 13-11-8 record and most of all, downright determined to thrust themselves into playoff soccer. Chris Wondolowski may not be the same goal scoring machine he was last year, but he remains the ultimate Goonie scoring clutch, game winning, goals against Chivas USA and the Colorado Rapids which have put this team in the position to seal that final playoff spot. Getting three points against your enemy in their hostile environment will not be easy, however it is not impossible.   Steven Lenhart returns to the team sheet this weekend after serving a suspension following a questionable second yellow he received against Chivas USA last month. Lenhart, who has seen a late season surge involving everything from twerking, chia pets, and two critical away goals against Real Salt Lake, will need to be at his absolute best tomorrow night in challenging Omar Gonzalez and the Galaxy's backline. Lenhart, whose physical style of play and knack for controversy, have made him perhaps the most hated Quake amongst Los Angeles fans, can provide the perfect response to their jeers. Gonzalez is one of the best central defensive players in the league, making his battle in the air with Lenhart very intriguing and one that Lenny should be up for, regardless if he starts or comes off the bench. San Jose Earthquakes react to the penalty decision (San Jose Earthquakes Facebook page)   Mart Watson could start off similar to the last Clasico and use a formation where Lenhart, his Bash Brother Alan Gordon, and Chris Wondolowski all feature up top. He used this aggressive tactic last time and it could have worked if Wondolowski did not sit too deep. He is a handful for teams to deal with inside the box, yet in that game he was more of a central attacking midfielder. Taking him systematically out of his comfort zone will be harmful for the Earthquakes' chances to win this one and it should not happen. Since manufacturing a central attacking midfielder will not bode well for this team against the Galaxy, Sam Cronin and Rafael Baca will need to be at their peak in the middle of field. The responsibility to stifle the Galaxy's deadly attack of Landon Donovan, Robbie Keane, Gyasi Zardes and friends, will fall on their shoulders. However, igniting the attack can stem from them too. Obviously pushing far too forward will leave a midfield gaping and ripe for a textbook Galaxy counter attack. It may not be the prettiest soccer, but expect surging crosses from these two onto San Jose's target players. If they do push up greatly, then the Earthquakes are most likely in a scenario where they are either down a goal or the game is at a stalemate in the later stages and they need the breakthrough. Fortunately for them, they have speedy wide players who can make all the difference offensively.   Shea Salinas, who was excellent in the game against the Colorado Rapids, must have a great game again or frankly, the Quakes do not win this one. He is that important to this team and their chances right now, so where Cronin and Baca play with a more defensive attitude, expect the Texan to provide the flair and the pace needed to keep the Galaxy on their heels. Along with his incisive runs, he can pass too. Salinas is carrying eight assists into this game and although it was Wondolowski who got the goal two weeks ago, it was Salinas' work rate and corner kick that created the goal.   Fresh off his international debut with Iran, Steven Beitashour is another speedy Quake with a penchant for accurate passes, can be a difference maker in this one. As a right back, Beitashour's talents going forward and playing defense cannot be stressed enough. As much as Cordell Cato can blitz by opposing defenders on the right hand side, Beitashour provides insurance in case that spirited run breaks down, or, needs a precise cross. On the other side in a more defensive mindset is Jordan Stewart, who has been a superb reinforcement on the left hand side of the defense. Stewart may not be the most cunning player with the ball at his feet, but you'd be hard pressed to find a player who hustles harder. Finally, there are the rocks of San Jose, goalkeeper Jon Busch and the central defensive partnership of Clarence Goodson and Victor Bernardez. As clutch as Wondolowski is at scoring, Busch is the same with repelling goals and keeping the Quakes in the game. He did get smoked last time against the Galaxy, but the goals came in ways where Busch had no chance of making a denial. Jailbreak counter attacks and superlative volleys don't come often, whereas gutsy, imposing play from set pieces, and reflexive parries are in Busch's resume. Defending and limiting the Galaxy to these kinds of opportunities, the kinds that do not match their style, is crucial to the Quakes. Goodson and Bernardez, two men who returned to practice on Friday still wearing the pride of their national teams' World Cup Qualification triumphs, will need to get back into a rhythm and cohesion immediately. Goodson, who is American, received a call up for Jurgen Klinsmann's last starting lineup in the CONCACAF hexagonal, a table that was already won the game before. Bernardez on the other hand is the penciled-in starter for Honduras and lead Los Catrachos to third place and automatic qualification for next summer's finals. Unlike Goodson, he has not been with the side for quite some time, resulting in veteran Jason Hernandez to step up in his place. Hernandez has done his job tremendously and now with Bernardez back into the fold, the chemistry fostered between him and Goodson will need to reignite immediately. The Galaxy should not win the aerial battle against these two defensive titans, on the ground though, is where things could get messy. The Galaxy play quick, overlapping soccer and have burned teams in the past, including the Quakes. Knowing exactly where one another is and organizing a line respective of this threat is a vital job for this central pairing. In past games with the Quakes and most recently with their countrymen, both Goodson and Bernardez have shown they can perform under the most contentious circumstances. Tomorrow night is another, pressure packed test.   The San Jose Earthquakes will put everything on the line in tomorrow night's Cali Clasico at the Stub Hub Center. They are well aware of the stars the Galaxy posses and the position for which their rivals have over them. Unfortunately for the Galaxy, this group continues to throw doubt and perception out the window time and time again. Considering their current momentum and what is at stake, the Earthquakes are more than capable of leaving southern California with three points, a Clasico win, and a playoff birth within inches of achieving.
Original Story:
http://www.baysportsreport.com/2013/1...
THE BACKYARD
BEST OF MAXIM
Soccer News

Delivered to your inbox

You'll also receive Yardbarker's daily Top 10, featuring the best sports stories from around the web. Customize your newsletter to get articles on your favorite sports and teams. And the best part? It's free!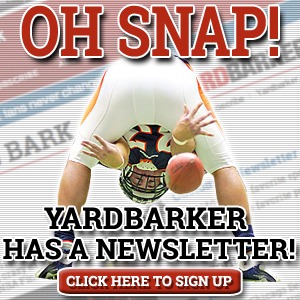 Latest Rumors
Best of Yardbarker

Today's Best Stuff

For Bloggers

Join the Yardbarker Network for more promotion, traffic, and money.

Company Info

Help

What is Yardbarker?

Yardbarker is the largest network of sports blogs and pro athlete blogs on the web. This site is the hub of the Yardbarker Network, where our editors and algorithms curate the best sports content from our network and beyond.