Found October 21, 2012 on Fox Soccer:
The players' union have defended Rio Ferdinand's right to make a personal protest against the Kick It Out anti-racism campaign. Ferdinand, whose brother Anton was the subject of racist abuse from Chelsea captain John Terry last year, did not wear a campaign t-shirt in the warm-up to Manchester United's Premier League match against Stoke on Saturday despite Sir Alex Ferguson saying on Friday that all his players would. Ferguson described the incident as "embarrassing" and promised to "deal with it". It is difficult to see what financial sanction could be imposed on Ferdinand in such circumstances, which instead points to a private dressing down for undermining Ferguson's authority. However, Professional Footballers Association chairman Clarke Carlisle told BBC Radio 5 Live: "We will definitely monitor the situation very closely and make sure Rio Ferdinand's rights as a human being, never mind as a footballer, are not undermined in this position. "Everyone has a right to free speech - just like you can't coerce anyone into shaking hands, you can't make somebody wear a t-shirt - although I do personally believe that joining in with the campaign is the best way forward. "And then for all these players to get together and put what it is they want down on paper so we together as a union - all the players, one with another - can make those changes and move forward." The former Burnley player believes communication is key and urged Ferguson to follow the examples of Reading boss Brian McDermott and Newcastle manager Alan Pardew in allowing Ferdinand to explain the reasons behind his decision. It was the declaration of Reading striker Jason Roberts on Thursday that he would not be wearing a Kick It Out shirt after becoming frustrated by what he perceived as the group's lack of action over racism that earned a rebuke from Ferguson. Carlisle added: "There are two sides to this one. "First of all, Sir Alex Ferguson is continual in his unwavering support for the Kick It Out campaign which is commendable and what we all want to see but you can't vilify or coerce any individual for making a stand. "This shouldn't be seen as an element of control or defiance - just like Sir Alex Ferguson said when he was talking about Jason Roberts in his first interview, he doesn't know the reasons why this stand is being made and what we should do first of all is hear those reasons and listen to them and take them on board. "Sir Alex Ferguson said he was embarrassed and that is because of the statement he had made but Brian McDermott and Alan Pardew, these guys said they had entered into dialogue with their players and listened to the reasons for them making their stand. "So I would sincerely hope that Sir Alex Ferguson now speaks with Rio Ferdinand and asks him why he wanted to make that stand and hopefully supports the position he is in and it isn't seen as a player-against-manager situation." However, former Manchester United defender Viv Anderson believes Ferdinand was wrong to go against Ferguson. Anderson, who became England's first black international when he played against Czechoslovakia in 1978, does not feel the United boss should have been put in such a position. "I don't agree with Rio," Anderson told MUTV. "You can see the manager was fuming and clearly he didn't know anything about it. "He expects his senior boys to set an example. He is the manager. If he says we are all doing it together, it should be the end of the story. "But Rio has gone the other way. "I don't see where he is coming from and I don't know what it is going to achieve." The row comes at the end of the week which has seen the ugly issue of racist abuse again come to the fore following the scenes at the England Under-21 match in Serbia. Former Arsenal and Tottenham centre-back Sol Campbell believes UEFA now needs to send a strong deterrent to prevent a repeat in the future, with fines having been issued for similar incidents in the past. Campbell told BBC Radio 5 Live's Sportsweek programme: "I think (UEFA should deduct) points and then after a while when you stop qualifying for these competitions I think people will start to wake up. "If you keep on knocking off six points, nine points, I think countries are going to start waking up because everybody wants the chance to play in the World Cup or European Championship." Campbell though has little faith in the football authorities, adding: "I'd love UEFA or FIFA to do something about it but I honestly believe they're not going to do anything," he said. "I don't think they're going to find them guilty, I think (Serbia) are going to get out of it. "The government have to get involved, you cannot leave it to associations any more, it never gets done."
Original Story:
http://msn.foxsports.com/foxsoccer/pr...
THE BACKYARD
BEST OF MAXIM
RELATED ARTICLES
Rio Ferdinand was training on Monday morning as normal ahead of Manchester United's Champions League encounter with Braga at Old Trafford. Ferdinand defied Sir Alex Ferguson on Saturday by refusing to wear a T-shirt supporting the anti-racism Kick It Out campaign ahead of United's 4-2 win over Stoke , leading his manager to state publicly that the 33-year-old defender would...
Manchester United manager Alex Ferguson has criticized Rio Ferdinand for failing to wear a T-shirt promoting an anti-racism campaign, calling the decision ''embarrassing'' and hinting at disciplinary action for the defender. Players across England donned the T-shirts during the warm-up before league matches on Saturday as part of the Kick It Out campaign. Ferdinand...
Anton Ferdinand joined older brother Rio in refusing to wear a T-shirt to support an anti-discrimination campaign Sunday, in a perceived protest at the impotence of organizations during recent racism cases in English football. The younger Ferdinand was at the center of the most high-profile incident in the past year when he was abused by John Terry during a Premier League match...
Rio and Anton Ferdinand are expected to wear 'Kick It Out' T-shirts ahead of matches this weekend, despite some players' misgivings. Some players have misgivings over the anti-racism organisation's response to the John Terry case. Kick It Out, part-funded by the FA, said they had been hamstrung by being forced to wait until the end of the disciplinary process before...
The players' union have defended Rio Ferdinand's right to make a personal protest against the Kick It Out anti-racism campaign after Manchester United manager Sir Alex Ferguson threatened to take action against the player. Ferdinand, whose brother Anton was the subject of racist abuse from Chelsea captain John Terry last year, did not wear a campaign t-shirt in the warm...
Manchester United manager Sir Alex Ferguson has said there is no problem between him and Rio Ferdinand over the player's refusal to wear a T-shirt supporting the anti-racism Kick It Out campaign ahead of the 4-2 win over Stoke. Following Ferdinand's defiance over the issue Ferguson said the 33-year-old defender would be "dealt with". The pair were reported to...
Manchester United manager Sir Alex Ferguson has confirmed that the T-shirt row with Rio Ferdinand has been resolved. The 33-year-old...
Manchester United legend Viv Anderson says Rio Ferdinand was wrong to refuse to wear a Kick It Out T-shirt on...
In the tone that an underworld criminal might refer to an enemy, 'We'll deal with it, don't you worry', were the words Sir Alex Ferguson used when referring to Rio Ferdinand, and his latest cause of controversy. The irate manager has opened a debate on whether his comments were justly or not, on a weekend when other Premier League managers supported their players who opted...
Manchester United manager Sir Alex Ferguson has condemned Jason Roberts for refusing to wear a Kick it Out T-shirt this weekend. Ferguson refuted reports that Rio Ferdinand was planning to join brother Anton of Queens Park Rangers and Reading striker Roberts in not wearing the anti-discrimination body's clothing ahead of the fixtures this weekend. Roberts told Sky Sports News...
Each day we'll bring you the very latest tabloid rumors as the biggest clubs around splash the cash to bolster their rosters. True or not, they're always entertaining... DAILY MIRROR Rio Ferdinand won his race-row battle with Sir Alex Ferguson after the Manchester United boss was forced to back down. John Terry will mark the anniversary of the day that destroyed his reputation...
Soccer News

Delivered to your inbox

You'll also receive Yardbarker's daily Top 10, featuring the best sports stories from around the web. Customize your newsletter to get articles on your favorite sports and teams. And the best part? It's free!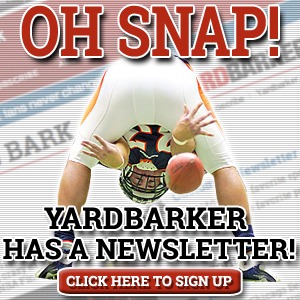 Latest Rumors
The Backyard

Today's Best Stuff

For Bloggers

Join the Yardbarker Network for more promotion, traffic, and money.

Company Info

Help

What is Yardbarker?

Yardbarker is the largest network of sports blogs and pro athlete blogs on the web. This site is the hub of the Yardbarker Network, where our editors and algorithms curate the best sports content from our network and beyond.