Found December 01, 2012 on Fox Soccer:
In a week filled with buzz about David Beckham's final MLS game and Landon Donovan's future, Houston just proceeded with business as usual. No one has paid much attention to their run of four MLS Cup appearances in seven years in the buildup to this final. Few people have noted that this Dynamo group - albeit with a markedly different composition - won on two of those occasions before succumbing to the Galaxy at The Home Depot Center last year. Only a handful of observers have noticed the savvy decision to fly into southern California after a quiet week of training in Houston to avoid some of the trappings of the final. This final is all about Beckham and the Galaxy, unless you actually have to prepare for it and devise a way to cope with a Dynamo outfit that possesses all of the necessary tools to sour the anticipated coronation. "I think everyone in the league is well aware of Houston and greatly respects them," Galaxy coach Bruce Arena said on Thursday before he delved into the numerous problems posed by the Dynamo. Houston cultivated its sterling reputation through hard work and persistent success, not some sexy Hollywood story. This story is all about diligence. Dynamo players adopt a certain ethos cultivated over the past several years, buy into the approach set forth by coach Dominic Kinnear and fulfill their obligations on the field. The mentality persists even as the characters change. Most of the familiar faces from that first title in 2006 - honest professionals like Wade Barrett, Dwayne De Rosario, Brian Mullan and Eddie Robinson - play elsewhere or perform other duties within the Dynamo organization. Holdovers Brian Ching, Brad Davis and recent returnee Ricardo Clark comprise the primary links from the start of this glorious run. They are now supplemented by a group of players that implement the principles established during that period and maintained ever since with little hesitation. "Guys pick it up," Houston goalkeeper Tally Hall said after the Dynamo secured a berth in MLS Cup final with a 1-1 draw at D.C. United on Nov. 18. "There's so much [there] with Chingy and Brad. They've been around since day one. They're still the core of this team. You either adapt or you don't really fit in. It is what it is. Everyone does it. You don't want to come into this team and be the odd one out. You get it and it takes a hold of you." While the Dynamo's collective mentality and rugged approach deserves its due, it should not obscure the talent at Kinnear's disposal. Davis remains one of the league's top left-sided operators with his clever work on the ball and precise service from crosses and set pieces. Boniek Garcia complements Davis on the right flank with his directness and his pace. Clark pairs with Adam Moffat to comprise an assured midfield pairing. Will Bruin plunders in front of goal and possesses more pace than one might expect for a player of his size. Hall directs a back four that allies pace (fullbacks Corey Ashe and Kofi Sarkodie) and strength (center backs Bobby Boswell and Jermaine Taylor). Kinnear molds the pieces available to him into an efficient and uncompromising unit. Garcia's arrival means this Dynamo side operates more in possession than it has in the past, but the underlying principles remain fairly similar. This team still operates best with a minimum of fuss through midfield, a plethora of opportunities created from crosses and set pieces and an uncompromising defensive mindset. Those tenets do not attract headlines, increase ratings or sell tickets to finals. They just pave the way for postseason success. And in the buildup to a match affected by a multitude of external issues, those strengths could prove more than enough cause an upset and turn the conversation in an entirely different direction on Saturday.
Original Story:
http://msn.foxsports.com/foxsoccer/ml...
THE BACKYARD
BEST OF MAXIM
RELATED ARTICLES
Although David Beckham is leaving the Los Angeles Galaxy after Saturday's Major League Soccer Cup, he plans to play a major role in the league's growth indefinitely. Beckham began his last few competitive days in a Galaxy uniform Thursday with a training session for the defending champions' final match against the Houston Dynamo. The former England captain says he nearly...
David Beckham came, he sold, he conquered. For the first two years after he joined the Los Angeles Galaxy in 2007, he was more of a brand than a player, his impact at America's cash registers far greater than any transformation on the field. By the time the 37-year-old English midfielder played his final game in Major League Soccer on Saturday, he had achieved his goals athletically...
David Beckham wraps up his five-year career with the Los Angeles Galaxy on Saturday in the MLS Cup. He just hopes fans realize they'll miss an excellent game if all eyes are focused only on him. Los Angeles goes after its second straight MLS title at home in a rematch with the Houston Dynamo, who lost 1-0 on the same field last season in Beckham's first championship. Beckham...
Confetti fluttered in the drizzle, fireworks shot billowy pillars into the sky. The going-away party had taken its time in getting properly started. This wasn't the fault of the partygoers, who at more than 30,000 were ample and vocal, sending calls of "LA" and "Galaxy" at each other from opposite ends of The Home Depot Center. They had brought their signs...
The Los Angeles Galaxy are set to lose superstar David Beckham after Sunday's MLS Cup Final, but they already have big things in mind for the post-Beckham era. On Friday, the president of Galaxy ownership group AEG left no ambiguity as to who is the next soccer star he wants to see added to L.A. Beckham first joined the Galaxy when he was 31, and another star from the Real Madrid...
Landon Donovan and Robbie Keane sent David Beckham off a winner in his final MLS game as Los Angeles won its second consecutive MLS Cup with a 3-1 victory over Houston at the Home Depot Center. Donovan and Keane scored second half penalties to complete the Galaxy comeback and ensure Beckham left the Galaxy on a winning note. Houston forward Calen Carr scored the opener shortly before...
For the second consecutive season the Houston Dynamo have won the Eastern Conference and will travel to Home Depot Center to take on the LA Galaxy in MLS Cup. Dynamo fans hope the script has a different ending in this sequel. Much of the news leading up to this match has centered around David Beckham and his announcement that this will be his final MLS match. The former...
Fashlete David Beckham was spotted kicking it courtside at the Lakers Vs. Indiana Pacers game Tuesday night  at the Staples Center, and A injured John wall shared a photo on Instagram of himself after his Washington Wizards got their first victory of the season yesterday. Whose look are you feeling?? Beckham left the sharp suit at home and opted for a casual look rocking his...
Sarkodie, left, watches as Landon Donovan springs away with the ball in Saturday's final By Akyereko Frimpong Manson Ghana-born Kofi Sarkodie had his Major Soccer League title hopes dashed on Saturday as LA Galaxy beat them 3-1 in the Cup final. The 21-year-old center-half played 77 minutes for Houston Dynamo as they threw away a precious lead to lose to a star-studded Galaxy...
MLS CUP (Carson, California) Dec. 1st LA Galaxy 3-1 Houston Dynamo (0-1 Halftime) Fueled by two lightning-quick goals early in the second half that wiped out a gritty first half from the Houston Dynamo, the Galaxy joined Major League Soccer royalty on Saturday by winning their second consecutive MLS Cup in front of a giddy sold-out crowd at The Home Depot Center. Defender Omar Gonzalez...
It's been many months since my last projection and quite a bit as changed. Geoff Cameron is starting to establish himself as a central defender, Danny Williams has impressed in midfield, and creative midfielder Graham Zusi is now viewed a a possible starter. I have chosen to include Landon Donovan despite his recent comments as he hasn't officially retired form international...
The confetti in the air and the rampant celebrations on the Home Depot Center field masked the pain felt in the Houston sideline. It isn't easy to cope with a second consecutive MLS Cup defeat. But that is what had just happened to the Houston Dynamo . And the manner of the loss made it much, much harder. "I think this year is different than last year," Houston coach...
Soccer News

Delivered to your inbox

You'll also receive Yardbarker's daily Top 10, featuring the best sports stories from around the web. Customize your newsletter to get articles on your favorite sports and teams. And the best part? It's free!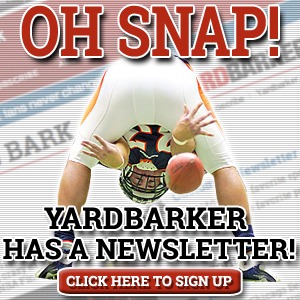 Latest Rumors
The Backyard

Today's Best Stuff

For Bloggers

Join the Yardbarker Network for more promotion, traffic, and money.

Company Info

Help

What is Yardbarker?

Yardbarker is the largest network of sports blogs and pro athlete blogs on the web. This site is the hub of the Yardbarker Network, where our editors and algorithms curate the best sports content from our network and beyond.