Found July 29, 2013 on 90Soccer:
U.S. MNT head coach JURGEN KLINSMANN On his leadership as a coach after the Gold Cup victory: "Looking back, whenever you lose a game, that's just a normal part of football globally. You get criticized if you win the games, things are not nice. It's just normal. We said that we want to start a path that hopefully guides us to Brazil 2014 with a deeper pool of player that gives us more options. The players learn how to go through difficult moments and challenge themselves every time they come into a National Team environment. They were rewarded today for the fantastic Gold Cup that they played. They put all the energy out there that they had." On if the team is where he wanted it to be following the Gold Cup: "It's difficult to say. You always want to see progress. You want to see the guys grow and mature, and over the last two games we saw a lot of players reach another level. Personally, in the club environment and in the National Team environment, we keep pushing. We want to see them get to the next level again. They got rewarded for a very consistent and focused performance throughout those four weeks of the Gold Cup. They pushed each other. All 27 players involved. That's why the four players that left after the group stage were here today. They helped each other. They had an amazing spirit in this group and they badly wanted this competition. They deserved it. "By far the best team of the tournament was the United States. We all know that there are different benchmarks out there. The global game is played in South America and it's played in Europe and there are a lot of other benchmarks waiting for us, but it's time that you see progress from this group of players. They all understand that it takes a lot more to become really good. A month from now we are already talking about World Cup Qualifying and the next benchmark. Today, they deserve the biggest compliment and they gave me a nice champagne shower. We will enjoy this moment because these moments are there to celebrate." On the growth of soccer in the U.S.: "Soccer in this country is unstoppable; you can't stop it anymore. It will get only better. It will get bigger. The crowds we've had at the last three games were 60-70-80 thousand in Dallas, in Baltimore, people buying into this sport. Millions of kids play in this country. Do we need to improve many elements in the game? Yes, we all know that. You can't stop it anymore. Soccer made it here in the U.S." On American finding success in top European leagues: "You always want to see the player move on to the next highest level, wherever that is. If it's in Europe, if it's in South America, if it's here and you improve through the American system, fine. You want them just to get better and make the most out of their career, make the most out of their potential, and that's what we're here for as a National Team coaching staff. We help them understand where the next level is." On Mix Diskerud coming on for Stuart Holden and the depth of the team: "We hope to see a challenging group and competitive group. We saw already in the first couple days in San Diego before our friendly against Guatemala that these four midfielders, Jose (Torres), Mix (Diskerud), Stuart (Holden) and Kyle (Beckerman), they were going for it. Everyone was just challenging. I said it in the team meeting this morning to Jose and Mix that it hurts me as a coach to leave you on the bench, because you deserve it like everybody else to be in the starting eleven. At the end of the day, you can only choose eleven, and they were okay with it." On bringing in Brek Shea as a substitute: "That element with Brek coming in and taking people on and having this surprising element in his game, every opponent would fear that. As a coach you always think that if you do something now what would an opponent fear from your end. You see a guy like Brek, unpredictable for himself and for the opponent. It is a card that you want to play. He knows that he has a way to go, he knows that he's has a fight for his spot as Stoke, which he will do from tomorrow on. He has this hunger and this willingness to learn. " On what his first trophy means: "It's always nice winning a trophy. You just always want to win it in a way that you have the feeling that you deserve it. This team definitely deserves the trophy, they were by far the best team of the Gold Cup, and that's what they already said when we had our team talk. You do what you did the last four weeks, you deserve to win this tournament. It's going to be a nail-biter, it's going to take patience. It's a good feeling for everyone, for the coach as well. You win the trophy because you deserve it. Same as 1990, we (Germany) won a World Cup and we deserved it." On Landon Donovan joining the team for World Cup Qualifiers: "He has to prove himself every day, and he does that. He takes this challenge. He deserves every compliment from everybody here about this tournament, about being the MVP of the tournament. Scoring all the goals and making a difference. I'm giving all that energy to the group. There's a high probability that he joins us for the September games. It's not a discussion. He also knows that it's always about the present, it's about today and tomorrow and he took that very well and he accepted that role." On Stuart Holden's injury: "We are very concerned about Stuart's situation. It looks like a very serious injury, but I'm not a doctor and I can't confirm it. We're going wait until tomorrow where hopefully things look better. We'll get an MRI and he'll have all the tests done. Stu is a player that when something happens, he knows when something happens. Hopefully it's not as bad, but it's not looking good right now." On what the Gold Cup told him looking forward toward the World Cup Qualifier against Costa Rica: "This Gold Cup showed us that we have a lot of players being ready for the next level. We understand that World Cup Qualifying will be extremely difficult at the next level, but we're getting ready for that. We're going to go there and we want to win the game there if possible and we want to give it a very good game. We have developed over the last two months a bigger pool of players that understand what international football is about, and they're ready and are all hungry for the next opportunity. We have a friendly in Europe with mostly European-based players. Not even a month from now, we'll be talking about beautiful Costa Rica, and that's something we're looking forward to." U.S. Forward LANDON DONOVAN On the goal: "Alejandro cut onto his left foot, it deflected off one of their defenders, rolled in front of me and I took a mighty swing at it and missed. But it was enough to throw the goalie off and was a tap-in for Brek." On the 2013 Gold Cup: "I've enjoyed it tremendously. As far as just having fun, it's up there. I'm really proud to be a part of what we've been through. As I get older the things that matter to me are winning and when you look around and see kids holding the trophy and experiencing something for the first time it makes me really happy." On his future after Gold Cup: "This is not the end. This is just the end of the tournament but hopefully this is just the beginning for a lot of us and we want to be part of the bigger picture." On Panama's strategy: "It was the story of the tournament. They defended very well and sometimes you get frustrated and you think what I can do better but at the same time you have to give them credit for doing a good job. It was very clear early on that their intention was to close the space to myself and Eddie and they did a good job of that but as time wore on I think broke them down and wore them down." On the team's bench: "Our subs in this tournament were fantastic. Every time someone got called on they made a difference in the game and that's a big part of winning the tournament." http://www.ussoccer.com  
Original Story:
http://90soccer.com/wordpress/ussocce...
THE BACKYARD
BEST OF MAXIM
RELATED ARTICLES
U.S. soccer coach Jurgen Klinsmann has made one change to his lineup for the CONCACAF Gold Cup final against Panama on Sunday, starting Joe Corona in place of Jose Torres. Corona did not play in Wednesday's semifinal against Honduras, but he has two goals in the tournament so far. He scored in the 5-1 victory over El Salvador in the quarterfinals and also in the 4-1 victory...
A suspension forced Jurgen Klinsmann to watch the United States win the 2013 CONCACAF Gold Cup from afar, but he was always close to the action. Klinsmann, head coach of the U.S. Men's National Soccer Team, watched the Gold Cup final between the U.S. and Panama game from a luxury box at Soldier Field in Chicago. He was forbidden from sitting on the bench or having any contact...
CHICAGO — U.S. coach Jurgen Klinsmann likes to describe Brek Shea's style of play as "unpredictable." Nobody could have predicted this. Just 42 seconds after coming into the game as a substitute Sunday, Shea scored, and his goal in the 69th minute gave the United States a 1-0 victory over Panama and the CONCACAF Gold Cup title. It is the fifth Gold Cup title for the Americans...
United States men's national team manager Jurgen Klinsmann will have another attacking option up his sleeve. AZ Alkmaar forward Aron Jóhannsson announced on Monday his intention to become a United States international player. Jóhannsson, a dual national who had eligibility for the United States and Iceland national teams respectively, revealed his decision on Facebook. &quot...
July was supposed to be a minor diversion: a group of fringe players and B-listers, playing in a tournament stripped of its meaning. A summer frivolity - perhaps even a waste of time. We may look back instead and see the 2013 Gold Cup , and the USA's fifth win in this continental tournament , as a major step forward for a national team that had looked lost only four months prior...
The U.S. Soccer Federation says forward Aron Johannsson wants to switch his national team from Iceland to the United States. Johannsson, a 22-year-old Mobile, Alabama native, grew up in Iceland and scored one goal in 11 appearances for Iceland's under-21 team. He appeared in eight qualifiers for the 2012 UEFA Under-21 Championship, which means he can't switch affiliations...
((HT: Fox Sports)) After another Brek Shea goal (who thought the HQ would say that regarding the USMNT offense, like, ever...???)- 42 seconds in after being called in as a substitute- the Gold Cup final went to the United States in front of 59,000 at Soldier Field in Chicago. After only having three goals scored against them leading up to the last game in the tournament, Panama...
Soccer News

Delivered to your inbox

You'll also receive Yardbarker's daily Top 10, featuring the best sports stories from around the web. Customize your newsletter to get articles on your favorite sports and teams. And the best part? It's free!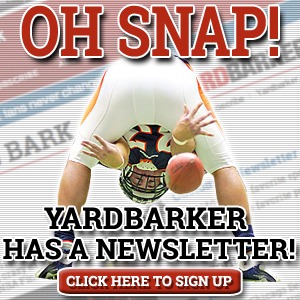 Latest Rumors
Best of Yardbarker

Today's Best Stuff

For Bloggers

Join the Yardbarker Network for more promotion, traffic, and money.

Company Info

Help

What is Yardbarker?

Yardbarker is the largest network of sports blogs and pro athlete blogs on the web. This site is the hub of the Yardbarker Network, where our editors and algorithms curate the best sports content from our network and beyond.