Found September 09, 2012 on 90Soccer:
U.S. Men's National Team head coach JURGEN KLINSMANN

On the match overall:
"A couple of things went wrong. Having that lead maybe gave players the feeling they can play the complicated way. I told them at halftime this is not the way it works. You've got to keep things simple on the field. Every time we played simple passing and combined, we created chances. In between those moments we just made things far too complicated. Then we give away free kicks in an area where we knew the Jamaican team has their strength in set pieces. After that equalizer, they rose to the occasion, they had a tremendous amount of energy and they gave everything they had and at the end of the day they deserved that win. They were hungrier and more determined and that's how they came off the field as the winning team. We have to fix it now. We have to fix it back in Columbus and I think it's clear to the players that in certain moments you just need to be a little bit smarter."
On what the U.S. can take away from the loss:
"In the moment of a defeat you learn a lot. You probably learn more when you get beaten than when you win games. So, we learned a lot. We take that with us to Columbus, certain things that we did wrong tonight we will avoid on Tuesday and you've got to continue to build. The next game is always the most difficult one. We expected a very difficult game, we were aware of the Jamaican team, we respected them and we have to take it the way it is now. There are not only good moments like there were in Mexico and Italy, but now there are more difficult moments and so you've got to adjust to it and the good thing about the situation now is that we can repair things in four days."
On whether there will be changes made heading into Tuesday's rematch:
"Obviously, we're going to analyze things and see on the tape how things went. When you have a little more distance you can see things a little bit better than you can on the sideline. The key to that game was really that we made things far too complicated in the first half. We allowed them to come back into the game. Instead of keeping the ball and moving it around simply, we gave them opportunities and opportunities to get free kicks and they scored off of a free kick in the first half and the second half. I think the team has the opportunity on Tuesday to fix it."
On potential roster moves for the next match:
"We have a big enough roster to discuss certain things within the coaching staff and if we're going to make changes, we will make changes. That's not the point. Overall we have to give Jamaica a compliment at how they rose to the occasion. They were hungry and so determined. They wanted it so badly. They were very physical and we had problems with that. There is a lot to take from the game even if the result for us is a negative one."
On playing again on Tuesday in Columbus, Ohio:
"A return match within four days is something that everyone is used to. You play in Europe, there you play games every four or five days. It's no big deal. We travel back to Columbus and we have another match and it starts 0-0 on Tuesday night and we will try everything to turn it around."
On leaving more veteran players off the roster and out of the lineup:
"The guys that stepped on the field are in charge. They are responsible to give everything they have. They are responsible for the outcome. They have to match the Jamaican team and overmatch them in a certain way. I don't complain about players that are not here because there are reasons why they're not here. Michael [Bradley] is injured, obviously. We take it the way it is. We have a good group here that is able to beat Jamaica and we were just making too many mistakes. It is what it is. Now we will prepare properly for the return match and try to get our points there."
On not having Steve Cherundolo or Carlos Bocanegra dress for the match:
"We knew yesterday that Steve wasn't 100 percent and we didn't want to take risks. We both agreed that it was smarter to bring Michael Parkhurst on to start. On Carlos, he had some problems to get in a rhythm and there were some transfer things and we had a very good experience in Mexico with Geoff Cameron in the middle and Maurice Edu in the middle and Clarence for weeks has been playing consistent in Europe. They are ahead of him in that moment. That was the decision basically, very simple."
On the pressure to perform on Tuesday:
"Pressure is always there in World Cup Qualifiers which is a wonderful thing because it's important. We have no problem with that so we know we have to bounce back and prove everybody wrong in Columbus."
On footing the blame for Friday's loss:
"You can blame me, no problem. There was no over confidence. There was excitement coming out of Mexico City, but we expected a very difficult match tonight. We watched Jamaica a couple times on tape, we had scouts come down here. They have a good side. They were physical and prepared and hungry. They got back in the game with a free kick and they won the game with another free kick. You don't even have to talk about tactics. It has nothing to do with whether you play a 4-4-2 or a 4-3-3 , you lost the game because of two free kicks and that's what you have to accept and you've got to turn it around in a couple of days."
Original Story:
http://www.90soccer.com/ussoccer/usmn...
THE BACKYARD
BEST OF MAXIM
RELATED ARTICLES
The status quo had outstayed its welcome. The United States had been playing more or less the same way for decades - relying on organization, sound defense, fitness and athleticism, ruggedness and an unshakable belief in the breakaway and the long ball. But all those qualities, bedrock to six consecutive World Cup qualifications and anything else the US ever achieved on a soccer...
A reporter asked United States men's national coach Jurgen Klinsmann Monday what it would be like if his team were to lose to Jamaica for the second time in five days. ''No, we won't (lose),'' Klinsmann said with a smile. ''Don't worry.'' A lot of people are concerned, however, after the Americans lost 2-1 against host Jamaica in a World...
Jurgen Klinsmann is in a tough spot. Some thought he would work miracles when he took over as U.S. Men's National Team head coach 13 months ago, but he has been exposed as a man, made of flesh and blood, a mere mortal. Jamaica's 2-1 victory over the U.S. on Friday has caused much head-scratching and soul searching among those interested in the fortunes of Klinsmann's...
A reporter asked U.S. men's national coach Jurgen Klinsmann Monday what it would be like if his team were to lose to Jamaica for the second time in five days. ''No, we won't (lose),'' Klinsmann said with a smile. ''Don't worry.'' A lot of people are concerned, however, after the Americans lost 2-1 against host Jamaica in a World Cup qualifier...
The United States needs a win in CONCACAF 2014 World Cup Qualifying as they host Jamaica on September 11, 2012. The match will take place at Columbus Crew Stadium with kickoff scheduled for 8 PM USA EST. USA manager Jurgen Klinsmann "We gave away cheap free kicks and lost the game based on that. You can't blame the backline for it. You can't blame tactical reasons or whatever...
The United States lost to Jamaica 2-1 for the first time, even after Clint Dempsey scored the fastest goal in World Cup qualifying.   Rodolph Austin and Luton Shelton scored on free kicks as the Reggae Boyz rallied to beat the Americans for the first time in 19 games. "It means a lot to me to beat the U.S. for the first time," said Shelton, who plays for Karabukspor in...
Several key players may be absent, but the opponent is the one that beat them just last Friday and the margin for error now is no thicker than a pencil-line. The United States men's national team sees no cause for concern. On the eve of a crucial game in its campaign to qualify for a seventh consecutive World Cup in Brazil in 2014, the US and its manager tipped off no angst...
With the USMNT coming off a shocking World Cup Qualifying loss to Jamaica this past Friday, the Yanks are in desperate need of a win when they face them again tomorrow night at Columbus Crew Stadium.  The loss dropped the US down into second place with four points, elevating Jamaica up to first with seven.  All of a sudden, the USMNT are facing early elimination if they don't...
Soccer News

Delivered to your inbox

You'll also receive Yardbarker's daily Top 10, featuring the best sports stories from around the web. Customize your newsletter to get articles on your favorite sports and teams. And the best part? It's free!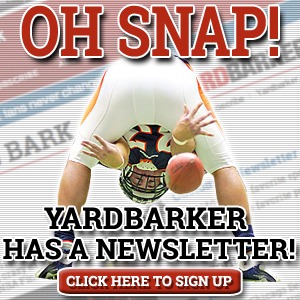 Latest Rumors
The Backyard

Today's Best Stuff

For Bloggers

Join the Yardbarker Network for more promotion, traffic, and money.

Company Info

Help

What is Yardbarker?

Yardbarker is the largest network of sports blogs and pro athlete blogs on the web. This site is the hub of the Yardbarker Network, where our editors and algorithms curate the best sports content from our network and beyond.