Found May 30, 2013 on Fox Soccer:
It was a gamble, whichever way you look at it. Booking friendlies with two of the world's most shiny and dizzying teams in Belgium and Germany in the run-up to three key World Cup qualifiers - away to Jamaica and at home against Panama and Honduras - had as much potential to set the United States men's national team up for success as it did to dwindle their precious powers and deflate their spirits. And then there was the sheer workload head coach Jurgen Klinsmann was subjecting his team to by turning a three games-in-twelve days equation into an even more daunting five games-in-21 days proposition. If you recall, this backfired for Klinmann last year. He packed five games into the May-June international window then, squeezing in bouts with Scotland, Brazil and Canada before two qualifiers. By the time those money games rolled around, the USA looked weary and underwhelmed in a labored 3-1 victory over puny Antigua & Barbuda and a 1-1 draw with Guatemala. Ahead of the Belgium clash, Klinsmann was adamant that his judgment was correct and his reasoning sound. "When we go through stretches like that, it's when our coaching staff learns a tremendous amount of things," he said. "About players, obviously; about the team itself; about chemistry, who is helping who, who is making things work. We took a lot of good information out of that stretch last summer and I made some adjustments." Added Klinsmann: "We took a lot of good information out of that stretch last summer and I made some adjustments. It's just really exciting now for that next three and a half weeks with that group." But educational though it may have been last year, and stimulating as the prospect of this new series may now be, the merits of it still don't seem to outnumber the pitfalls. Belgium took the USA apart with surgical precision, forcing endless errors while seemingly never exerting themselves past a mild sweat. Soon enough, heads American heads began to droop as those passes rolled right into Belgian feet. "I think it's an important game because it gets us right now on our toes with where players are," Klinsmann said following the 4-2 loss . "We have to jump-start this three and a half weeks period now. This is why we want to play teams like Belgium, like Germany, like Russia or Italy because there's so much that you can read from those games, so much that you can see." At some point, surely, all this information doesn't justify the toll one-sided losses like the one against Belgium can extract on the team's psyche, though. "Those are the games that you need to play," insists Klinsmann. "And there's no player now that kind of has sleepless nights for a couple of days. They understand that they made mistakes and they have to pay for it with a defeat. I don't think their confidence comes into play there. They understand why certain things happened and then you can correct it. It all builds into [the preparation for] Jamaica, that's what we're working towards." The team doesn't appear to be suffering the emotional consequences just yet. "Everyone's disappointed, you never like to lose," said midfielder Sacha Kljestan. "Jurgen came through and just said, 'Come on, guys, pick your heads up, we've gotta get ready for the next one.' It's not the last game we're going to lose as a team." "It doesn't change the mood," added goalkeeper Tim Howard. "We're disappointed and we're all willing to admit that and it shouldn't be any other way but we'll lick our wounds and come back. Ultimately, we need to make sure our morale is good all the way through. That's what we've talked about. Our mental state is important, because the three games on the back end are going to help make or break us." That's just the thing. On Sunday follows the next game, against Germany, arguably a better team than Belgium. Die Mannschaft skipped out to a 4-0 lead in just 24 minutes against a strong Ecuador squad in Florida on Wednesday, before taking its foot off the gas and settling for a 4-2 win. A second consecutive humiliation could put cracks in the foundation. And confidence is such an important part of the American puzzle. It's what allows the team to fight and compete when, as often, it is outgunned. A dash of American exceptionalism mixed with sound organization and snappy counter-attacks. That's the American formula. The latter two have gone missing for long stretches under Klinsmann. Chip into the confidence, that final bedrock of their success, and things could all come crashing down. These are doomsday prognostications to be sure. The loss to Belgium was only one game, and the heavens aren't about to cave in on this USA team just yet. It's just that the wisdom of setting things up the way they have been is questionable. And the upshot of it all could potentially be ruinous, if it comes to that. It was a gamble, whichever way you look at it.
Original Story:
http://msn.foxsports.com/foxsoccer/us...
THE BACKYARD
BEST OF MAXIM
RELATED ARTICLES
In a game celebrating the United States Soccer Federation's hundredth anniversary, head coach Jurgen Klinsmann will come face to face with his own enduring legacy when the USA faces Germany ( live, Sunday, 2:30 p.m. ET ), his old team as a player and a manger, in the friendly held at RFK Stadium. "It is something special," said Klinsmann on Saturday. "We asked...
Jurgen Klinsmann has been controversial lately as the coach of the United States soccer team. Klinsmann is a huge part of the sport's history, making huge contributions as a player and as the one-time coach of his own country, Germany, and is now making history as coach of the US but possibly for the wrong reasons. Klinsmann's latest move that is not sitting well with his status...
Jurgen Klinsmann's men looked disjointed in a difficult 4-2 defeat in Cleveland on WednesdayThe post USMNT Crowded Out By Superior Belgians appeared first on The Soccer Daily.
The United States men's national team lost to Belgium tonight by a score of 4-2 in what was probably their worst defensive performance under Jurgen Klinsmann. Inside Cleveland's Firstenergy Stadium, the Americans constantly chased the Belgians, who were formidable in the middle of the attacking third, able spread the field efficiently, and always posed a threat when in possession...
Freiburg have signed former Borussia Monchengladbach forward Mike Hanke on a free transfer. The former Germany international, who has played 269 games in the Bundesliga, scoring 55 times, will strengthen the Black Forest club's attack next season. "The whole package at Freiburg was right," said Hanke, whose contract with Gladbach was not renewed. "I have spoken...
Soccer News

Delivered to your inbox

You'll also receive Yardbarker's daily Top 10, featuring the best sports stories from around the web. Customize your newsletter to get articles on your favorite sports and teams. And the best part? It's free!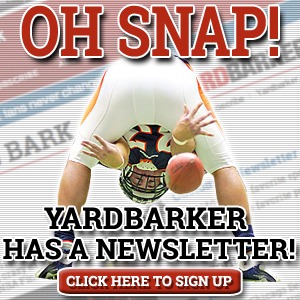 Latest Rumors
The Backyard

Today's Best Stuff

For Bloggers

Join the Yardbarker Network for more promotion, traffic, and money.

Company Info

Help

What is Yardbarker?

Yardbarker is the largest network of sports blogs and pro athlete blogs on the web. This site is the hub of the Yardbarker Network, where our editors and algorithms curate the best sports content from our network and beyond.