Found January 26, 2012 on Fox Soccer:
Two games, two wins and two shutouts. That simple summary of the US national team's first action of 2012 would suggest a very successful start to the new year, but while victories are always a good thing, that alone isn't going to hide the fact the national team hardly set the world on fire against Venezuela and Panama. The January friendlies were never supposed to be about results; at least, not as the most important aspect of playing these games. The significance of the matches was testing a crop of national team newcomers and retreads to see which, if any, were ready to graduate to the full senior squad. It was a hunting expedition for national team depth more than a quest to help Jurgen Klinsmann improve his disappointing won-loss record, though that clearly isn't a bad added benefit. On Wednesday, the United States won and did so on the road against a tough Panama side, even after going a man down. Those factors should make the win even more impressive, and they do, but none of that changes the fact that Panama out played the United States for 90 minutes, and outplayed the Americans before the suspect red card issued to Geoff Cameron. The reality of Wednesday's match was that far more US players laid eggs than didn't. That disappointing fact doesn't make Wednesday's match useless, though. Klinsmann still came away learning plenty about the players he was evaluating. Some players stepped up, some definitely did not. After the match, Klinsmann wasn't ready to single out any players for praise or criticism. He kept things about as vague and positive as we've come to expect from him. "I don't think it would be right at this point to name players," Klinsmann said. "We had a very good look at all of them. Everyone came in from a different background and a different environment. What we did in these last three weeks was get a really good picture." It's tough to be too hard on Klinsmann for his team's underwhelming showings. The reality is this squad was a patchwork group of players, most of which hadn't had much, if any, national team experience. Perhaps it was a bit unrealistic to expect this team to come together and play beautiful soccer. That said, there is no denying that some players took advantage of the opportunities and excelled while others stumbled. Ultimately that was the point of these games, at least just as important as whether the makeshift squad was able to get results. So what did we actually learn from the recent USA friendlies? Here are some players who impressed: JERMAINE JONES Yes, he had his share of turnovers, which critics seem intent on focusing on, but the fact is he was dominant in both games and was the clear-cut leader of this group. He is good enough to play for the full senior team and had to impress Klinsmann enough in these games to earn more minutes down the road. The battle for minutes in central midfield is tough, but Jones provided a reminder that he still merits consideration. GEOFF CAMERON It might be surprising to see him on here considering the red card he earned against Panama, but the fact is he had an outstanding first game and was holding his own against Panama before Blas Perez ran onto a long pass and forced him into a play that was ruled a red card foul rather than a fair challenge. Cameron still impressed Klinsmann and stands a very good chance of more call-ups in 2012. HEATH PEARCE One of the few players who rebounded from a tough outing against Venezuela with a better showing against Panama (actually, the only player). Pearce came into this camp as a player to watch because he was considered a viable left back option for the full senior team. Against Panama, he came on just before halftime and helped shut down his side of the field, which Panama had been abusing before his inclusion. Will that be enough to earn a call up next month in Italy? It just might. CHRIS WONDOLOWSKI No, he didn't score, but it's hard to ignore the fact that he does a great job of creating chances for himself, even when the midfield isn't providing him with much service. He isn't a player likely to worry top teams like Italy or Brazil, but Wondolowski could certainly be a serviceable option against CONCACAF rivals in the next round of qualifying. He showed that much in the recent friendlies. C.J. SAPONG While he didn't get many minutes or get any real scoring chances, what Sapong did is show off a confident and physical presence up top. There aren't a ton of forwards in the national team pool with his strength and athleticism. Expecting him to get a call-up with the full squad soon is probably a stretch, but he showed enough for Klinsmann to keep an eye on as the MLS season approaches. NICK RIMANDO It's easy to write off Rimando because of his age and lack of size, but the simple fact is he's one of the best goalkeepers in MLS. Against Panama, he was absolutely stellar. Does that mean he has a legitimate chance of becoming Tim Howard's back-up? Perhaps not, but he definitely gave Klinsmann something to think about the next time he's putting a roster together. Here are players who saw their stock take a dip: TEAL BUNBURY Given a golden opportunity to start two games and boost his stock, Bunbury was largely invisible. When seen, he showed a flawed game. Whether he was still rusty from the off-season or just not ready for prime time, Bunbury didn't do much to suggest he merits another senior team look any time soon. You can point to the team around him and say he didn't have much support, but Chris Wondolowski had the same teammates and created significantly more chances for himself. BREK SHEA The only player to play in every game Klinsmann has coached for the United States had two thoroughly underwhelming showings and had little connection with the team around him. He is still a lock to be on the full squad, and should do better with more talent around him, but if he is hoping to become a lock-down start on the full team he really didn't offer much of a case this past week. ZACH LOYD In fairness to Loyd, he's still young and inexperienced, but there is no denying he was completely overwhelmed against Panama. That shouldn't erase the fact that he looked good as a sub against Venezuela or the fact his pass set up Graham Zusi's game-winning goal. The reality is he's just not ready for primetime. He's 24, fast, athletic and versatile. A.J. DELAGARZA A promising debut against Venezuela got DeLaGarza off on the right foot, but Panama thoroughly exposed him for what he is: a center back who just isn't close to being an international full back. It isn't his fault he doesn't have much experience at right back, and just isn't really suited to the position, but it's clear that is where Klinsmann saw him fitting best, which doesn't bode well for him being called in again anytime soon. MICHAEL PARKHURST It might seem unfair to list him here because he was stellar against Venezuela, but the Panama game exposed flaws in his game that were a concern almost three years ago during his first go-round with the national team. He's a smart player, and is good with the ball, but against international level strikers he gets found out and abused. There's no shame in praising the good aspects of his game, but there's also no shame in saying that he just isn't likely to be a viable center back option for the full national team.
Original Story:
http://msn.foxsports.com/foxsoccer/us...
THE BACKYARD
BEST OF MAXIM
RELATED ARTICLES
While the national team's trip to Panama had it's share of enjoyable moments, Klinsmann knows the pressure will build as the World Cup qualifiers draw closer.
If the January U.S. national team camp, and the two friendlies scheduled during that time, is a crash course in what it takes to make the national team, then Professor Jurgen Klinsmann's next test will cover playing in front of a hostile crowd far from home. The United States takes on Panama on Wednesday in Panama City, and while the match won't have the intensity of a World...
The US sported a new formation Wednesday night in Panama City, but Klinsmann saw a similar lackluster performance from his squad. Despite the unorganized mess the US put forth on the pitch, they did come away with the result with Graham Zusi providing the lone goal of the match. It was the Yanks 3rd 1-0 win in the Klinsmann era out of the 4 victories the German born coach has accumulated...
Graham Zusi scored his first international goal in the eighth minute, and the United States beat Panama 1-0 in a friendly on Wednesday. Using mostly backups while the regulars remained with their European clubs, and playing nearly the entire second half a man short, the Americans evened their record at four wins, four losses and a draw under coach Jurgen Klinsmann. Panama, which...
Graham Zusi scored his first international goal in the eighth minute, and the United States beat Panama 1-0 in an exhibition game Wednesday night at Panama City for its third straight win. Using mostly backups while the regulars remained with their European clubs and playing nearly the entire second half a man short, the Americans evened their record at 4-4-1 under Jurgen Klinsmann...
The United States travels to Panama on Wednesday night, the latest chance for a group of national team hopefuls to make their way into Jurgen Klinsmann's plan before summer's World Cup qualifying. FOX Soccer senior writer Ives Galarcep will be chatting with you during tonight's match, which will kick off at 8:30 p.m. Eastern. The chat will begin at 8:15 p.m. and go through...
U.S. coach Jurgen Klinsmann continues to ignore criticism for choosing Jones as team captain, while the Schalke midfielder looks to end a successful camp on a high-note.
I have a love/hate relationship with the US Men's National Team. As an American, I of course want them to be as successful as possible and to beat Mexico at every opportunity. As an observer and commentator on the game of soccer, I often find myself immeasurably frustrated with certain elements surrounding the team…I'm looking at you supporters. There's a great deal of grey...
Graham Zusi scored his first international goal in the eighth minute, and the United States beat Panama 1-0 in a friendly on Wednesday. Using mostly backups while the regulars remained with their European clubs, and playing nearly the entire second half a man short, the Americans evened their record at 4-4-1 under coach Jurgen Klinsmann. <p. Panama, which upset the U.S. in...
Soccer News

Delivered to your inbox

You'll also receive Yardbarker's daily Top 10, featuring the best sports stories from around the web. Customize your newsletter to get articles on your favorite sports and teams. And the best part? It's free!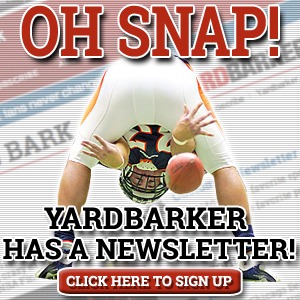 Latest Rumors
The Backyard

Today's Best Stuff

For Bloggers

Join the Yardbarker Network for more promotion, traffic, and money.

Company Info

Help

What is Yardbarker?

Yardbarker is the largest network of sports blogs and pro athlete blogs on the web. This site is the hub of the Yardbarker Network, where our editors and algorithms curate the best sports content from our network and beyond.