Found June 25, 2012 on Taking Bad Schotz:
PLAYERS:
Roger Federer
,
Rafael Nadal
,
Novak Djokovic
,
Tomas Berdych
,
Richard Gasquet
,
Nicolas Almagro
,
Ernests Gulbis
,
Andreas Seppi
,
Andy Murray
,
Ivo Karlovic
,
Milos Raonic
,
Marin Cilic
,
Nikolay Davydenko
,
Andy Roddick
,
Feliciano Lopez
,
Jo-Wilfried Tsonga
,
Mardy Fish
,
Juan Carlos Ferrero
Tennis for the past decade has been dominated by three players, Roger Federer, Rafael Nadal, and Novak Djokovic, which each having their own strings of utter dominance during the period. Wimbledon is no different. Centre Court used to be Roger's house, but the torch has been passed subsequently to Rafa, and now Novak. It's unlikely that another player has what it takes to get past the big three, but stranger things have happened on the illustrious Centre Court. The draw itself is particularly interesting, and there are many things to watch for at the sport's most prestigious tournament. Novak's Quarter Defending champion and world number one Novak Djokovic likely has little to worry about in his draw, at least until the quarterfinals. He'll square off against former world number one Juan Carlos Ferrero in the first round, who could be a challenge except for the fact that he's 32, a dinosaur in tennis years. Up and coming American Ryan Harrison is fun to watch, but he's still not ready to beat a player of Djokovic's caliber (they'd face off in the second round). Who Novak has to worry about is the 6'5" Czech Tomas Berdych. The Czech is the last player to beat Djokovic in London, on his run to the 2010 final. Other interesting matches to watch is the possible third rounder of Richard Gasquet (France #18) and Nicolas Almagro (Spain #12), and Berdych's first round matchup against the ever erratic but fascinating to watch Latvian, Ernests Gulbis. Predicted Semifinalist: Djokovic Federer's Quarter Fed's play has been susceptible at Wimbledon of late, losing in the quarterfinals the past two years to the aforementioned Berdych, and most recently the theatrical Frenchmen Jo-Willy Tsonga. He has the easiest path of the four top seeds to the semis though, with no major grass players in his section, and only a possible quarterfinal matchup against Isner to derail him. He should move on. Other matches of note: Isner versus the red hot Italian Andreas Seppi in the third round. Predicted Semifinalist: Federer Murray's Quarter The window will close soon for Andy Murray and his quest for a major title, he's now 25, and the British public is absolutely desperate. He's still managed to make the semifinals here the past three years though, but he faces an absolute gauntlet of a draw this time at SW19. The potential matchup with huge serving Ivo Karlovic in the second round is a nightmare for any player on a grass court, and big servers Milos Raonic, Kevin Anderson, and Marin Cilic all could play the Brit by the 4th round. And don't forget Nikolay Davydenko, who faces Murray in the 1st Round. The former world number 4 has regressed a ways, but he can still be dangerous once in a while. Who to look out for: Andy Roddick. I don't see Murray getting out of this quarter. Instead, I see an out of nowhere last gasp run by everyone's favorite American to rag on, Roddick. Currently ranked number 30, his draw is set up nicely for him, as he could face Del Potro and Ferrer, both uncomfortable on grass. He's old and it's out of the blue, but if there's anywhere for this to happen, it's at Wimbledon. Predicted Semifinalist: Roddick Nadal's Quarter Nadal doesn't have it super easy in London either. Fresh off of his French Open win, Nadal will face off against unpredictable Brazilian Tomaz Bellucci in the first round. His likely round of sixteen matchup against Feliciano Lopez should also give him a scare. But where he may have the most trouble getting to the semis is against the powerful server Jo-Wilfried Tsonga. Tsonga has beaten Nadal at a slam before (albeit at the Australian) and perhaps is most comfortable on grass. If the Frenchmen gets on one of his unbreakable streaks, watch out. I still see Nadal persevering however, if only because of Tsonga's unstable game. Other matches to watch: Bernard Tomic versus Mardy Fish (possible third round). Predicted Semifinalist: Nadal Semifinal Predictions: Federer defeats Djokovic Nadal defeats Roddick Finals Predictions: Nadal defeats Federer -Fitzburgh
Original Story:
http://www.takingbadschotz.com/?p=7318
THE BACKYARD
BEST OF MAXIM
RELATED ARTICLES
Rafael Nadal lost the first four games of his first-round match at Wimbledon before turning things around against Thomaz Bellucci, beating the Brazilian 7-6 (0), 6-2, 6-3. Just like defending women's champion Petra Kvitova in the match before him, Nadal had a shaky start on Centre Court. He was two points away from going down 5-0 in the first set, but Bellucci netted an overhead...
Defending champion Novak Djokovic has won his opening match at Wimbledon by beating former No. 1 Juan Carlos Ferrero 6-3, 6-3, 6-1. In keeping with custom, the defending men's champ played the first match Monday on Centre Court. Djokovic was broken in his second service game but held the rest of the way, losing only nine points on his first serve. He had 13 aces. The top-ranked...
Novak Djokovic brought some extra sports equipment to Wimbledon for the opening match at Centre Court on Monday: a golf club. And once he started playing tennis, the tournament's defending champion and top-seeded man probably wished he could take a mulligan. As something of an inside joke with a sponsor, Djokovic pulled a kid's golf club out of his racket bag and put it...
Maybe Roger Federer deserves a little bit of credit for American qualifier Jesse Levine's first-round victory at Wimbledon. Levine, a 24-year-old based in Boca Raton, Fla., has practiced and trained with the 16-time Grand Slam champion on occasion. The 106th-ranked Levine beat 94th-ranked Karol Beck of Slovakia 6-4, 6-7 (6), 6-3, 6-2 on Tuesday, then talked about his work with...
WIMBLEDON – Top seeds Novak Djokovic and Maria Sharapova, along with third seed Roger Federer cruised to easy first round victories in London at the All- England Club on Monday. World No. 1 and defending champion Novak Djokovic  brought a child's golf club with him to his 6-3, 6-3, 6-1 victory over former No. 1 Juan Carlos Ferrero. The Serbian pulled out the golf club out of...
WIMBLEDON – Brazilian Thomaz Bellucci and Australian Carsten Ball lost in three very competitive sets 7-5, 7-6(8), 6-3 on Monday to the very experienced doubles team of Daniele Braccialli and Julian Knowles. But Bellucci sees the positive side in playing doubles and getting more hours playing on grass. He feels that this will help him on Tuesday against Rafael Nadal. Bellucci enjoys...
A look at Wimbledon, the year's third Grand Slam tennis tournament: Surface: Grass courts. Site: The All England Lawn Tennis and Croquet Club. Schedule: Play begins Monday. The women's singles final is July 7; the men's singles final is July 8. There are no matches scheduled for the two-week tournament's middle Sunday, July 1. 2011 Men's Singles Champion:...
Rafael Nadal is out in the third round at Wimbledon after being upset by Lukas Rosol in five sets on Thursday. On the women's side, Maria Sharapova's old serving problems resurfaced, costing her the second set before she recovered to beat dangerous Tsvetana Pironkova, 7-6 (3), 6-7 (3), 6-0. The Court 1 match took two days and ended three minutes after Serena Williams concluded...
Profiles of the top contenders for the 2012 Wimbledon Championships. Note: Grand Slam records for main draw matches only.  – by Jack Cunniff     http://twitter.com/jrcunniff   1. Novak Djokovic 2012 Record: 36-6 Grand Slam Record: 123-25 Wimbledon Record: 27-6 Wimbledon Best Result:  W (2011) Fast Fact: Djokovic has reached the semifinals in eight consecutive Grand Slam...
Tennis players are a special breed of people who deserve thoughtful and fun tennis gifts! We have scoured the internet HIGH and LOW to find great bargains on cool tennis products! Check out these… Trendy Treats for your Tennis Enthusiast! Form meets function with this adorable tennis bag that will hold up to two racquets. With one exterior and three interior pockets...
Tennis News

Delivered to your inbox

You'll also receive Yardbarker's daily Top 10, featuring the best sports stories from around the web. Customize your newsletter to get articles on your favorite sports and teams. And the best part? It's free!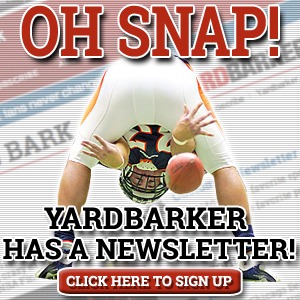 Latest Rumors
Best of Yardbarker

Today's Best Stuff

For Bloggers

Join the Yardbarker Network for more promotion, traffic, and money.

Company Info

Help

What is Yardbarker?

Yardbarker is the largest network of sports blogs and pro athlete blogs on the web. This site is the hub of the Yardbarker Network, where our editors and algorithms curate the best sports content from our network and beyond.