Found January 23, 2013 on Tennis Panorama :
By Jaclyn Stacey (January 23, 2013) MELBOURNE PARK, Melbourne -Roger Federer progressed through to his 33rd career Grand Slam semifinal at the Australian Open by defeating Jo-Wilfried Tsonga in a thrilling five set encounter 7-6(4), 4-6, 7-6(4,) 3-6, 6-3 on Rod Laver Arena on Wednesday night.   "It's always special everytime you go into a fifth or every time you can play at night."   It was a fired up and feisty Federer who won through to the semifinals after he came under pressure from a rejuvenated and in form Tsonga. Federer lost the first two sets of his tournament and did not look happy on court. He was uncharacteristically animated and vocal when he was able to get ahead on the tough points or close out a tight set.   The win extends Federer's record for consecutive Australian Open semifinal appearances to ten. If he is successful on Friday night and wins his 18th Grand Slam title on Sunday he will equal Chris Evert and Martina Navratilova in 4th place for the most major singles titles of all time for both men and women.   Federer pulled out all of his weaponry at the beginning of the match and secured himself a break in the opening game. It went bad from there as he struggled on serve, managing just 55% of first serves in for the first and was broken back by Tsonga in the sixth game. The set remained on serve and ended in a tie-breaker, Federer getting the mini break early on and sealing the set 7-6(4).   In the second set Tsonga's play was reminiscent of his 2008 run to the Australian Open final where he lost to Novak Djokovic in four sets. He got ahead with a break in the seventh game and closed out the set 6-4 to level at one set a piece.   The Federer flair resurfaced in the third set as he managed to break Tsonga in his first service game to lead 2-0. The Frenchman then broke back immediately and won a long service battle in the next game to hold. The set went the same way as the first, ending in a tiebreaker with Federer winning it 7-6(4).   In the fourth set Tsonga looked in control again, dictating play from the baseline and claiming a break in the sixth game to lead 4-2. Federer broke back for 3-4 with a deep backhand winner but was then broken again by Tsonga to go down 3-5. Tsonga consolidated the break and claimed the set 6-3 with an ace to send the match to a decider.   Federer served first in the final set and got the first break to lead 3-1. He roared out loud on break point and began fist pumping through his next game to consolidate the lead 4-1. Federer started to move forward and take charge in the match and it was clear he didn't want to stay out any longer, putting his foot down to race to victory.   "It was a tough close for sure. But the whole match was tough you know, any set could have gone either way and obviously it's tough. You never know what Jo's going to come up with."   "I served three great serves at 205/210(kph) almost and every time he got it back. It's just what he can do you know. That's why he remains dangerous throughout a match, throughout a tournament, throughout a season."   Federer said it was a much improved Tsonga that took to the court against him on Wednesday night.   "He played extremely aggressive. He stood into the court especially on the return. We know how good he can serve and how athletic he is. He always has a tendency to come to the net and he did that really well tonight. I think he returned much better than he has in the past which is going to make him unfortunately really hard to beat in the future."   Federer goes on to meet Andy Murray in the semifinals. The two have had some tough battles in the past and Murray edges their head-to-head 10-9. Federer was asked whether or not playing Murray in both the Wimbledon and Olympic finals matter in terms of the Australian Open: "I think those two, but the World Tour Finals and Shanghai, so those last four matches, that's what I'll probably be looking at with my coaches and sort of go from there. "Obviously then the two Wimbledon matches are different.  It's grass and you play different. "But, yeah, then the Olympics was playing much faster.  So was Shanghai.  This is a bit different here, but obviously I've played Andy now sometimes in the last sort of six months or a year since he's, you know, won the gold, won the US Open.   "So I know what to expect, " Federer said in terms of playing Murray. "Whereas it would be different if I hadn't played him.  Because he has changed his game around a bit.  He's playing more defensive.  I'm looking forward to it.  Obviously a great player, and I was very happy for him when he won his first Grand Slam and the gold. So I'm expecting a tough match, of course."   Jaclyn Stacey is a Melbourne based freelance journalist covering the Australian Open tournament as media for Tennis Panorama News.  Follow her Australian Open updates on @TennisNewsTPN. Follow her personal twitter @JackattackAU.
Original Story:
http://www.tennispanorama.com/archive...
THE BACKYARD
BEST OF MAXIM
RELATED ARTICLES
HOO BOY
Tennis player Jo-Wilfried Tsonga might receive some backlash after saying women's tennis players are more emotionally unstable than their male counterparts.
If you can beat Roger Federer at Wimbledon, as Jo-Wilfried Tsonga did in 2011, you might feel you could beat him anywhere, especially if you were returning as well as the big Frenchman did on Rod Laver Arena on Wednesday night. But, no, Federer in 2013 is embarking on another campaign looking as sharp, as keen and as dangerous as ever and came through a big battle that got better...
Does Federer have anything to fear from Tsonga tonight? Welcome to this live blog of the Australian Open quarterfinal between Jo-Wilfried Tsonga and Roger Federer.  We will update about once for every two or three games as the match unfolds, possibly more often at tense moments.  Keep refreshing the page and scrolling down to see updates. Federer 1*-0:  A double fault contributes...
On the eve of the Australian Open, Novack Djokovic was asked if he had noticed anything different about Andy Murray. ''He has a shorter haircut,'' said the five-time Grand Slam winner, smiling. But the top-ranked Djokovic turned serious because Murray's makeover is no joking matter. The 25-year-old player from Scotland is attempting to win a second consecutive...
As Roger Federer, Andy Murray, and Novak Djokovic tear up the courts in Melbourne, athletes thrill experts and spectators alike with their defined swings. What makes their slice so special? For Federer's backhand, a clockwise rotation of the arm encourages ball spin. For Murray's serve and forehand, his ready-to-go stance coming out of his serve jumpstarts his counters. For Djokovic...
The Australian Open semifinal is a rematch of last year's Wimbledon final. Follow this live blog during the highly anticipated semifinal between Andy Murray and Roger Federer.  The winner will battle two-time defending champion Novak Djokovic for the Australian Open title on Sunday night.
Federer and Murray shake hands after their Australian Open semifinal. Prior to tonight, Roger Federer and Andy Murray had never met before the final stage at Grand Slam level. It's the kind of statistic that seems revealing until it's explained away. Really it reflects nothing more sinister than a quirk of the rankings, coupled with that species of coincidence that provides the...
By Yeshayahu Ginsburg Andy Murray is one of the two current players on tour that have a winning record against Roger Federer. The other, obviously, is Rafael Nadal. Murray and Nadal do not play similar styles, but they do have something in common. They are both, at their very essence, counterpunchers. Yes, they have a drastically different way of doing things. But their basic goal...
Roger Federer hits the practice courts at the Australian Open By Jesse Pentecost Being essentially a radioactive substance, a tournament draw at a tennis event conforms to a fixed and exponential rate of decay. At Grand Slam level, each event discards precisely half its mass as charged particles every two days, although inevitably some of the particles are more charged than others...
Tennis News

Delivered to your inbox

You'll also receive Yardbarker's daily Top 10, featuring the best sports stories from around the web. Customize your newsletter to get articles on your favorite sports and teams. And the best part? It's free!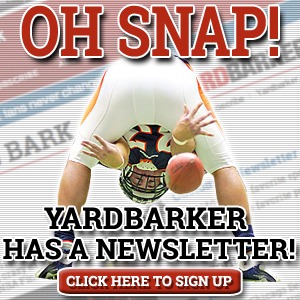 Latest Rumors
Best of Yardbarker

Today's Best Stuff

For Bloggers

Join the Yardbarker Network for more promotion, traffic, and money.

Company Info

Help

What is Yardbarker?

Yardbarker is the largest network of sports blogs and pro athlete blogs on the web. This site is the hub of the Yardbarker Network, where our editors and algorithms curate the best sports content from our network and beyond.