Found October 14, 2011 on Tennis Panorama :
An interview with: KEI NISHIKORI – Courtesy of the Shanghai Rolex Masters tournament.
Kei Nishikori defeated Alexander Dolgopolov 6-3, 6-4 on Friday to move on to the semisfinals. Here is a transcript from his news conference.
Q. Kei, an important milestone in your career, to reach your first semifinal. Is it extra special to do it in Asia?
KEI NISHIKORI: It is, for sure. I feel, you know, like home here. It means a lot, you know, to play semis here. Even first quarterfinals, semis, I'm really excited now.
Q. Today maybe your easiest win of the week. Can you explain why?
KEI NISHIKORI: Well, I know I have to win in two sets sometimes. It's always been to win three sets all this week. Even Kuala Lumpur I was playing all the time three sets.
But I think I started well today. I knew he's going to hit a lot of slice and I have to be careful. I was trying to be, you know, not going for too much, just try to steady on the court, and that works.
I guess, yeah, I won in two set today.
Q. Can you talk a little bit about what this year has meant to you overall. Obviously you're having your best season, reaching the top ranking for a Japanese player.
KEI NISHIKORI: Yeah, it is great year for me, this year. I get to high highest ranking. To be No. 1 player in Japan, it means a lot to me.
I had a shoulder injury in September, one month. It's always, you know, I have to fight with injuries. But now it's semis here, one of biggest tournaments going on for me here. It's been, yeah, really great year for me.
Q. I overheard that your mother is a little bit worry about your possible next round opponent, Andy Murray. Do you share the same feeling? And if you have any tactic?
KEI NISHIKORI: I mean, they haven't play yet, so I can't say anything. You know, Andy is winning two tournaments in a row, and beating Nadal. You know, it's going to be tough.
I never play him, so I don't know. But I'm going to ask my coach, Brad. He knows a lot of things, I guess.
But, you know, Andy is having great week here, so is going to be tough match both guys.
Q. Is there anything serious with your ankle injury?
KEI NISHIKORI: No, I twisted little bit. Took two, three games to come back. But now it's recovering. So I think it's fine.
Q. I heard you were a roommate of the son of Brad Gilbert. Now Gilbert is your coach. Could you say something about him.
KEI NISHIKORI: Yeah, when I was in academy, when I was 15, 16, I was roommate with his son. Now he's coaching me. It is helping me a lot. He knows a lot of players. He teach me, you know, how top players play, how I need to play. So it is helping me a lot I think.
Q. I remember when you cracked the top 100 in 2008, you became suddenly a big star in Japan. Are you still a star in Japan?
KEI NISHIKORI: I think so. I hope so. It is special feeling when I go back to Japan. The people sometimes realize me when I walk in the street. But it is something special. Usually you don't get the feeling.
Yeah, I really enjoying how the life is going on.
Q. But are you still a star in Japan?
KEI NISHIKORI: I don't know. Don't ask me. Ask, I don't know, media or something. Sorry.
Q. Do you think for Asian players, if you want to be a top player, training in Europe or America is the only way?
KEI NISHIKORI: I don't think so. But for me it is helping me that I was in U.S. when I was little, playing with all the different players. There is a lot of power players, a lot of different type of the players. So I think that helps me to learn how to win against them.
You know, I want to go to Europe sometimes to train, but I haven't try yet. But I'm thinking to going Europe sometimes.
Q. Can you give us an idea of the status of tennis in Japan. How popular is the game compared to other sports in Japan?
KEI NISHIKORI: Yeah, I think baseball and soccer is one of biggest sports in Japan. But I think tennis is getting better in these two, three years. A lot of kids playing, start playing. Me and Kimiko Date came back. Tennis is getting more popular now.
I think a lot of kids start playing. So tennis is getting popular in Japan.
Q. You seemed today to be very comfortable at the net. Is that something that Brad perhaps has told you to be a little bit more aggressive, bring a little bit more variety into your game?
KEI NISHIKORI: Yes, he told me not going for the net, but he told me use my forehand and go to more aggressive. He was, you know, telling me, when we started, to more steady on the court, you know, good defense, but same time I have to go aggressive and give more pressure.
Yeah, he told me that.
Q. When Brad coached Andy Murray, he often alluded to his time with Andre Agassi and Andy Roddick and used to say to Murray, You should do that like Agassi used to, or, You should do that like Roddick used to. Does he ever say to you, You should do that like Murray?
KEI NISHIKORI: I don't think so, no.
Q. It's been a good year for Asian tennis, Li Na and now you. Do you feel that sense of responsibility as well, that you're flying the flag for East Asia?
KEI NISHIKORI: I'm not sure. Yeah, I know Li Na won the first title, first Asian to win a Grand Slam. It is really excited news. You know, it's good to see the Asian playing well, a lot of Asian coming now for boys, Tomic. I think they are getting stronger.
Q. If you do meet Andy in the semifinals, talk to us a little bit about what his best strengths are and how you might find a way to beat him.
KEI NISHIKORI: He never miss. That his best things. He had a big serve. I played doubles last week. He was hitting ace, ace, ace. So I have to be careful his serve.
But I think, you know, I have nothing to lose. Only thing I have to do is I have to go aggressive and give him lot of pressure. But, yeah, I'm playing well this week. I'm getting a lot of confidence. If I can play my best tennis, I think I will have some chance to win.
Q. Is there anything written on your headband?
KEI NISHIKORI: No. Uniqlo, that's my sponsor. That's the mark.
Original Story:
http://www.tennispanorama.com/archive...
THE BACKYARD
BEST OF MAXIM
Tennis News

Delivered to your inbox

You'll also receive Yardbarker's daily Top 10, featuring the best sports stories from around the web. Customize your newsletter to get articles on your favorite sports and teams. And the best part? It's free!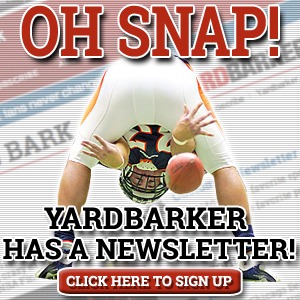 Latest Rumors
The Backyard

Today's Best Stuff

For Bloggers

Join the Yardbarker Network for more promotion, traffic, and money.

Company Info

Help

What is Yardbarker?

Yardbarker is the largest network of sports blogs and pro athlete blogs on the web. This site is the hub of the Yardbarker Network, where our editors and algorithms curate the best sports content from our network and beyond.