Found May 17, 2012 on Tennis Panorama :
Venus Williams
On the windy conditions:
…a bit strange but I like that challenge and when the wind does in the middle of the point and I said "Whoa – who is in control here."
On her comeback:
I wasn't ready but I needed to get points for the Olympics I probably would have come out before Wimbledon or after…… but I didn't have choice.
I do know how to play tennis but everything else. Everything else is like a wildcard – I am a wildcard now. (Laughter)
Q: You and your sister are loved by the Rome public. So do you
feel this tournament in any particular way.
Venus Williams: Really – is that so.. I like that and indeed I need some love and I need some help for these matches and so if I get some love here then good.
Q: So was that you throwing in your hat to Serena for the doubles at the French.
Venus Williams: I wasn't thinking of it. I feel that I can probably do it if I can get the feel right. I mean., I have been holding her back on her destiny for her doubles title. I feel like I can probably do it. I can try but I want to be smart and qualify for the Olympics …. Yeah, I just have to win a match. Thank you.
Serena Williams
Q: How do you feel 10 days before the Roland Garros?
WILLIAMS: Is it only 10 days? I'm getting nervous. I feel good and I have had a lot of practice on clay and today I was running so much and I was ready to play and feeling good. I wasn't tired at all. I feel good.
Q: What so you think about your music on internet and the buzz(?).
Do you think this will be your future?
WILLIAMS: I love tennis and will always love that.
Q: How do you feel about playing at the French Open with Venus
WILLIAMS: Hey – is that who I have to play with. …. Laughter…..
Rafael Nadal
On being Nadal's favorite time of the season:
Rafael Nadal: I started clay well in Monte Carlo and Barcelona without losing a set and it's great to win two tournaments – without losing a set and you have to be playing well to do that and then I played bad in Madrid and so I am here on clay and I am solid and well and I played a good match yesterday and today. I always say I go week by week and I always say I arrive to Roland Garros at my best and don't take this tournament to prepare me for the rest … I take this tournaments like a very important tournament each one and I try my best in every match to have the best I can. Roland Garros is in two weeks and I am now here in Rome and that is the most important thing for me and last week I was in Madrid where the conditions didn't help.
Q: Novak will go to the French Open and will have the chance to have four Grand Slam titles. You had this chance at the Australian Open last year. Did you feel the pressure – with everyone talking?
Rafael Nadal: I don't feel that. I arrived at the beginning of the season playing fantastic but I got sick in Doha and I recover but then I got injury in the quarterfinals in the 3rd game of the match but I don't feel pressure –normal game to play your best and that is not pressure. That is enough pressure.
Richard Gasquet
Q: Can you tell us if you speak Italian now after being with Piatti.
Gasquet: I don't speak Italian – but I am with 1 year with him. I can't but Piatti- he has lived in Monte Carlo for 20 years and he doesn't speak French.
Q: And the match?
Gasquet: It was a big match and I was a little disappointed for losing the first set- one hour 20 minutes tiring for me and very tough but then I started to play well and I broke him in the first game of the second set and I started to feel comfortable with my serve. Then I won the second set and it was another match and I won two sets.
Andy Murray
Similar to the other night. Long match and sore back towards the end but I was expecting that coming to the tournament and I didn't take a break but training and playing a lot but the muscles are more tired and fatigued.
About the back injury:
I don't want to go into detail here about it and the treatment but been there for a while, since December and so …. You wait for the right moment and then there is the French Open and then Wimbledon and then the US Open coming up and there is not much time for rest – anything goes – whatever and not is the best time to do it and now or never and so when the French Open comes up I will be in peak condition.
To be honest when you lose matches your confidence drops and when you win your confidence grows and that is the only possibility … it is good some extra days break and I was planning on going to Paris straight away and start to practice as the Grand Slam start in 9 days and so I was to make sure I get practicing and getting into the gym and the first days there you are not doing too much, just getting into shape and understanding the conditions.
Sometimes things get better when you play on them or you have an extended break but when you identify the problem when you identify the problems then experience helps you. I have had 3 long matches and one was 2 hrs 40 and today's was a good test and I did relatively well.
Petra Kvitova
Q: Can you tell us something about the Fed Cup final against Serbia. I think you have an negative score against Ivanovic 3 or 4 year ago?
Kvitova: I remember that (Jankovic) is a former number one and wants to beback in the top 10. and Both players are players are playing well right now but we are playing at home and so I think we will have the crowds with us and we will have more support and especially for the final. It will be nice to win and yes, it will be tough but we'll see.
Q: Can you tell us something about the conditions out there and if it is good preparation for the French Open?
Kvitova: I think that on Monday it was bad but today and yesterday it wasn't too bad . sometimes the wind comes and sometimes it doesn't but its not too bad. I think on court it is the same for both players.
I think that this tournament and also the other games in Strasburg and Brussels will be good preparation for the Roland Garros.
Novak Djokovic
It was a very strange match it was difficult to play with that wind. But the conditions were the same for both us, he just handled it better at the start. I was playing far too defensively and passively and he was controlling everything. He was the better player for a set and a half.
On receiving a warning form the chair umpire for banging his racquet on the court:
It's not the first time and I don't think it will be the last time, I'm a player with a lot of emotion. I hope kids didn't see it. But then it changed the match, … the momentum swung to my side.
Mentality is what is needed and especially when you are playing against a player who prefer this surface and has already won two tournaments on this surface this year already and he plays with confidence and so when I stepped into the court today he took his chances and then I go into the rhythm and I starter to play better than the beginning of the game.
It's frustrating the conditions like this but you just try to keep focused and yes, my emotions are important all through the math and so I have been like that for many years but I just keep positive in my head and pull the momentum to my side and that I show I got on the winning board.
I am not worried — I think I played well and the 2 matches that I played in the tournament in different conditions – at night and day and I found my way to win against a good opponent who plays well on this surface and this is encouraging for the next challenge.
Q: Nadal and Federer in the past years have been sort of drivers. What about yourself and popularity outside the tennis court. They are important for the work of other people who know nothing about tennis. Will it take time – is it a goal?
First of all I respect them as tennis rivals and good examples of champions and they have done a lot for many generations of new generations. They have done a lot to raise awareness and I joined this a couple of years ago with Murray also and we are experiencing a good time now but I am not thinking about popularity and I am here to enjoy what I do and win as many matches as I can and if I can be an example to kids and up and coming talent – especially with my Foundation to let kids realize their dreams .. I was in their position and it's nice to see that.
Original Story:
http://www.tennispanorama.com/archive...
THE BACKYARD
BEST OF MAXIM
RELATED ARTICLES
Serena Williams has withdrawn from the Italian Open with a lower back injury moments before she was scheduled to meet Roland Garros champion Li Na in the semifinals. The withdrawal comes eight days before the French Open, but Williams said the move was mainly precautionary and that she'll be ready for the clay-court major. The decision ends Williams' winning streak at 17...
Serena Williams surrendered the chance to make a third clay-court final of the season to protect her bid to land the surface's biggest prize at the French Open. Williams apologized to her fans after she surprisingly withdrew from Saturday's Rome Masters semifinals. Her voluntary withdrawal, citing a lower back problem, handed reigning French Open champion Li Na a direct...
Serena and Venus Williams closed out their matches almost simultaneously on Thursday afternoon in Rome to reach the quarterfinals of the Internazionali BNL D'Italia. Venus, the elder Williams sister upset fifth seed Samantha Stosur 6-4, 6-3, closing the match out by winning the last five games. Younger sister Serena routined Anabel Medina Garrigues 6-3, 6-1. Venus' victory is...
World No.6 Serena Williams is still the best WTA player in the worldYou know Eye On Sports tennis lovers, I've got to say… I love me some Serena Williams!Yes, I know a lot of tennis-loving folks that don't particularly care for the younger Williams sister, but I understand why – and it makes me appreciate Williams and her mindset even more. First and foremost racquet lovers...
This past week of tennis in Rome for the women has been full of excitement, twists, and turns.  Now into the semifinals, four women are left to battle it out for the title.  Let's preview the two women's semifinals that will be played on Saturday, one in the early afternoon, and one in the evening. Semifinal #1- Serena Williams vs. Li Na As expected, Serena Williams...
Serena Williams Serena Slam, Novak Slam? Q: It's a few years since you did the Serena Slam. Novak is now going for the Novak slam…in a couple of weeks slam. I wonder what you were feeling like when you were going in to the last one to complete the Serena slam. Were you nervous or did you feel that you were on such a roll that you though nobody would beat you? Serena Williams...
Serena Williams advanced to the semifinals at the Italian Open on Friday after Flavia Pennetta retired with a right wrist problem while trailing 4-0 in the first set. The Italian player called for the trainer after falling behind 3-0. She had her wrist re-taped, but conceded during the fifth game after 28 minutes of play. The victory extended Williams' winning streak to 17...
Andy Murray World No. 4 Andy Murray celebrated his birthday with a hard-fought win over veteran David Nalbandian 6-1, 4-6, 7-5 to advance to the third round of the Rome Masters.   The Scot Murray needed two-hours and 37 minutes to top the Argentine, hitting 29 winners in the process and rallying from 1-3 down in the third set.   "I'm very happy to win, considering how the last...
By Lisa-Marie Burrows Internazionali BNL D'Italia, Rome – It was a mixed day of results for the Williams sisters in Rome. Serena Williams needed to play only four games before her opponent and home crowd favourite, Flavia Pennetta retired to due a right wrist injury and Venus Williams' magnificent run came to an end today againstMaria Sharapova in straight sets 4-6, 3-6...
By Maud Watson The Moody Blues We're at the business end of things in Rome, but there's still plenty of chatter about the blue courts of Madrid. Those courts are likely to be a hot topic at Wimbledon during the players' meeting, as some of the top names will be keen to do what they can to ensure the 2013 staging of Madrid is back on red. It will be interesting to see how...
  INTERNAZIONALI BNL D'ITALIA Rome, Italy May 12-20 Red Clay/Outdoors Results – Friday, May 18, 2012 Singles – Quarterfinals (2) Maria Sharapova (RUS) d. (WC) Venus Williams (USA) 64 63 (12) Angelique Kerber (GER) d. (4) Petra Kvitova (CZE) 76(2) 16 61 (8) Li Na (CHN) d. (14) Dominika Cibulkova (SVK) 61 76(4) (9) Serena Williams (USA) d. Flavia Pennetta (ITA) 40 ret. (right...
By Kelyn Soong Roger Federer, 30, is into the quarterfinals at Rome after winning the title in Madrid last week. (Clive Brunskill/Getty Images Europe) Over the last couple years both players have been dismissed as past their primes, too old to dominate the game they once owned. But Roger Federer and Serena Williams, both 30, have been turning back the clock these past few weeks...
Tennis News

Delivered to your inbox

You'll also receive Yardbarker's daily Top 10, featuring the best sports stories from around the web. Customize your newsletter to get articles on your favorite sports and teams. And the best part? It's free!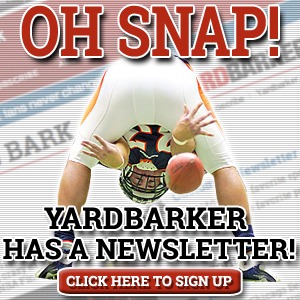 Latest Rumors
The Backyard

Today's Best Stuff

For Bloggers

Join the Yardbarker Network for more promotion, traffic, and money.

Company Info

Help

What is Yardbarker?

Yardbarker is the largest network of sports blogs and pro athlete blogs on the web. This site is the hub of the Yardbarker Network, where our editors and algorithms curate the best sports content from our network and beyond.