Found August 29, 2012 on The Sports Headquarters:
PLAYERS:
Andy Murray
,
Donald Young
,
David Ferrer
,
Jo-Wilfried Tsonga
,
Martin Klizan
,
Brian Baker
,
Ivo Karlovic
,
Tomas Berdych
,
Viktor Troicki
,
Alexandr Dolgopolov
,
Jesse Levine
,
Milos Raonic
,
Marin Cilic
,
Janko Tipsarevic
,
Fabio Fognini
,
Guillermo Garcia-Lopez
,
Juan Monaco
,
Mardy Fish
,
Nikolay Davydenko
,
Sam Querrey
,
Ruben Ramirez Hidalgo
,
Marcos Baghdatis
,
Andy Roddick
Because of the way the US Open staggers the first two rounds, this is being published while 3 first round matches are still ongoing. However, those matches will most likely not finish before Andy Murray begins his second-round match against Ivan Dodig.
The first round of the US Open was full of 5-setters. In fact, 14 of the 61 completed matches so far went the distance. The incredible stat, however, is that in 8 of those matches the winning player lost the first two sets. That means that at the very least one-eighth of all first round matches will have been comebacks from 2 sets down. That is just ridiculous. This tournament is turning into one where you can't know the winner of any match until the last point is actually played.
Top Players Roundup:
Andy Murray played what in all honesty was an ugly match against Alex Bogomolov, Jr. The wind and a bit of nonchalance from Murray made it a match that was not so enjoyable to watch. Murray came through easily and is into the second round, which is really all that matters. Murray cannot afford to play like that against better opponents though. Federer's match was not as ugly but could be similarly described. Federer did not handle the wind and humidity so well and did not seem overly concerned with the outcome of the match. Of course, that's something that you can get away with when you play Donald Young at the moment, but it's an attitude that Federer needs to banish very quickly.
Djokovic, on the other hand, was absolutely lethal against a clearly overmatched Paolo Lorenzi. Djokovic dropped two games and was clearly dominant in the points from start to finish. He looks like he is trying to send a message to the field that the slightly weaker Djokovic of the past few months will not be at this tournament. He looked just as strong as he ever did, even going back to last year. David Ferrer took care of business against big-serving Kevin Anderson, breaking the South African's serve quite a bit and looking very dangerous on the return. And Jo-Wilfried Tsonga struggled quite a bit against Karol Beck. He will need to be better against an in-form Martin Klizan in the second round or he could have some trouble.
Who Looked Good:
1. Jimmy Wang- Wang is another comeback story here along with Brian Baker. Wang was a former top juniors player who was rising on the main tour. Injuries halted his career after 2007 and he was almost exclusively playing futures and challenger events from 2007 until now. He qualified for Wimbledon but lost in the first round and then he qualified here. He beat an injured Ivo Karlovic in 4 sets. He broke the big man's serve 3 times, which is still an impressive feat even if Ivo is not 100%.
2. David Goffin- Yes, I'm putting a guy who lost in straight sets in the "Who Looked Good" list. Part of this is to make up for leaving him out of the "floating seeds" in the preview, and partly because he played quite a good match. He got himself a ton of break opportunities against Tomas Berdych and really played a very good match. He got a little tentative on the big points, which is to be expected from someone his age and with his lack of experience. But hopefully he learns from and builds off of this experience, because he really does have the talent to be a major factor in Slams in the future.
3. Cedrik-Marcel Stebe- Stebe won the Challenger Tour finals last year but really hasn't played well on the main tour at all this year. I was expecting a breakout year from him but we just never saw it. His first-round upset against Viktor Troicki here was quite impressive though. Troicki did not play as consistently as he can (which he doesn't seem to do often anyway), but Stebe played a very good match and kept Troicki from finding his comfort zone. It was a very good upset for the young German.
4. Young American Doubles Teams- I kid you not. In the first round of the doubles tournament, 2 all-American teams upset top 5 seeds. None of those 4 Americans are older than 22. Steve Johnson and Jack Sock upset #1 Mirnyi/Nestor while Ryan and Christian Harrison upset #4 Frystenberg/Matkowski. It looks like the Bryan brothers might have some good up-and-coming American pairs to continue their legacy. And Nicholas Monroe isn't so young, but he did team up with Donald Young to upset #7 seed Llodra/Zimonjic.
Who Looked Bad:
1. Alexandr Dolgopolov, Jr.- Yes, he has a blood disorder. No, it didn't really seem to be affecting him. He just didn't play enough attacking tennis and it almost cost him. He was getting hit off the court by Jesse Levine, something that just shouldn't happen to any top player. He didn't keep his shots deep enough and really didn't take the ball as early as he can. He came back from a 2-set deficit and got through the match, but that was a scare that a player of hi caliber shouldn't encounter.
2. Milos Raonic- Something just looked off from the big-serving Canadian. He didn't looked so focused and hit far too many poor shots. He hit 15 double faults and 55 unforced errors (according to the official stats) and just looked bad out there. Giraldo had his chances to win the match but couldn't close it out and got more and more frustrated with the officials as the match went on. If Raonic plays this way against Mathieu, he is probably not moving on to the third round (though Mathieu didn't play so well in his first match either).
3. Marin Cilic- Like Raonic, something just looked off about Cilic for most of the match. He hit a ton of errors against Marinko Matosevic, a player who Cilic is much more talented than. Matosevic knew he was outclassed and just went for all of his shots, and it really seemed to bother Cilic. But Cilic's play looked off from the start. Matosevic took the first two sets before Cilic came back to win the last three and the match. But it was a poor performance from Marin, who has been slowly building back to the form that got him to the Australian Open semifinals 2 years ago.
4. Janko Tipsarevic- Janko started out the match quite poorly. He didn't look off, but he just wasn't playing as well as he could have. His usual consistency wasn't there and he didn't keep the ball as deep as usual. Guillaume Ruffin is a talented player, but he really should never be 2 sets up on a top 10 player like Tipsarevic. It was a disappointing showing from the #2 Serb, but he did get through the match.
Match of the Round:
Tuesday was an exciting day of tennis, with six 5-set matches. 3 of those matches went to a tiebreak in the fifth set. A lot of people believe that the fifth-set tiebreak takes away from the tennis, but no one can deny that the fifth-set tiebreak is the biggest test of nerves in tennis. But first, Fabio Fognini was involved in a five-set match. He beat Edouar Roger-Vasselin 7-5 in the fifth. Unfortunately, that match was not on a televised court.
No, the match of the round was definitely Guillermo Garcia-Lopez's comeback upset over #10 seed Juan Monaco. GGL was clearly outplayed in the first two sets but dug deep to win the third and then came through in the fourth in a tiebreak. The fifth set was a tight affair, with a bit of controversy. GGL was down break point at 5-5 and let a shot go which was then called out. Monaco challenged and the ball was in, but the umpire only granted a replay of the point. He probably should have been given the point and the break because Garcia-Lopez had already let the ball go before the out call was made, but a replay was awarded and GGL went on to hold. Monaco began the tiebreak with a few errors and Garcia-Lopez managed to hold on to complete the upset.
What to Watch in Round 2:
In the top half of the draw, Mardy Fish against Nikolay Davydenko has potential to be a great match. Davydenko can still show flashes of his old brilliance and Fish wasn't as sharp as he could have been in the first round. If Fish picks up his level it's a match that he should win, but if not it could be a very entertaining one to watch. Sam Querrey against Ruben Ramirez-Hidalgo also has potential if Ramirez-Hidalgo can play his top level fairly consistently.
Ivan Dodig against Andy Murray has the potential to be a very tight match. Dodig came out firing in his first-round match and only dropped 3 games. Meanwhile, Murray did not play well at all against Alex Bogomolov, Jr. If each player brings that same level into the second round, we could be in for a very tight match. This is definitely not a match that Murray can afford to overlook or try and just coast his way through. Dodig will come out hitting the ball hard from start to finish, and if Murray isn't ready to play his best defense and counterpunch then Murray could very well end up leaving New York very early.
In the bottom half, Alexandr Dolgopolov against Marcos Baghdatis is a match that has potential to be good, though both played pretty poorly in the first round and they might both be tired after going five sets in each of their respective first-round matches. Fognini meets Garcia-Lopez in another battle of two players who went 5 in their first-round matches, and of course Fognini is always can't-miss tennis. And Andy Roddick against Bernard Tomic could be interesting. It is a chance for Roddick to save some face after a very poor summer and for Tomic to try and rise back up in the rankings after a disappointing 2012 so far.
If you're looking at a real potential upset in the second round, even if both players play well, keep your eye on Brian Baker against Janko Tipsarevic. Baker looked very solid in his first-round match and looks like he is quickly getting past his slump from this summer. Tipsarevic did not play so poorly but was far from his best in the first round. He will need to play at the level that brought him to the top 10 or he will end up as another defeated opponent on the Baker comeback train.
Follow on Twitter at twitter.com/yesh222TSHQ
Original Story:
http://feedproxy.google.com/~r/TheSpo...
THE BACKYARD
BEST OF MAXIM
RELATED ARTICLES
Andy Murray is getting some unusual questions at this year's U.S. Open, and they have nothing to do with his newfound status as Olympic gold medalist for Britain. The queries have to do with the nude photos of Prince Harry that a British tabloid used. After reaching the third round at the U.S. Open for the seventh year in a row, beating 118th-ranked Ivan Dodig of Croatia 6...
When champions play well, they win. When champions play a lot less than well, they still win. Andy Murray, the Olympic gold medalist and former finalist at the US Open, served at 49 percent of first serves and got broken four times when playing the US-based Russian Alex Bogomolov Jr., on a steamy afternoon at Flushing Meadow. But he won 6-2, 6-4, 6-1. "I didn't serve well...
FLUSHING MEADOWS, NY - Third seeds Andy Murray and Maria Sharapova have reached the US Open second round on Monday with straight set victories. Despite the 6-2, 6-4, 6-1 win over Russian Alex Bogomolov, he struggled at times with his serve and play in general. "I just didn't serve that well" Murray told media.  "Didn't serve well most of the match.  That was why I actually...
  FLUSHING MEADOWS, NY – The men's and  women's third seeds proved to be deadly against their opponents during  the Wednesday evening session at the US Open. Andy Murray and Maria Sharapova made quick work of their opponents. Sharapova opened the night session with a 6-1, 6-0 stomping of Spain's Lourdes Domínguez Lino. The Russian evaluated her performance:" I thought...
By Romi Cvitkovic Tennis players are vocal by nature due to always being interviewed and probed by media, commentators and fans. So they make a lot of funny, quirky, quizzical and sometimes insightful comments. Here's the roundup of the best player quotes from Day One of the U.S. Open. MARIA SHARAPOVA, on her stomach bug that kept her out of Montreal and Cincinnati: "I had...
By Romi Cvitkovic With the absence of Rafael Nadal giving the men's draw a shakeup, many were expecting early upsets and surprise winners on the men's side, but it was several seeded women who went crashing out today in the first round. Check out this and other big headlines from Day One of the U.S. Open below, including Andy Murray, Sorana Cirstea, Jack Sock, Petra Kvitova...
Tennis News

Delivered to your inbox

You'll also receive Yardbarker's daily Top 10, featuring the best sports stories from around the web. Customize your newsletter to get articles on your favorite sports and teams. And the best part? It's free!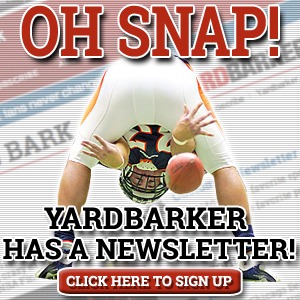 Latest Rumors
Best of Yardbarker

Today's Best Stuff

For Bloggers

Join the Yardbarker Network for more promotion, traffic, and money.

Company Info

Help

What is Yardbarker?

Yardbarker is the largest network of sports blogs and pro athlete blogs on the web. This site is the hub of the Yardbarker Network, where our editors and algorithms curate the best sports content from our network and beyond.