Found September 03, 2012 on The Sports Headquarters:
PLAYERS:
Victoria Azarenka
,
Samantha Stosur
,
Serena Williams
,
Maria Sharapova
,
Marion Bartoli
,
Nadia Petrova
,
Petra Kvitova
,
Ana Ivanovic
,
Sara Errani
,
Agnieszka Radwanska
,
Angelique Kerber
Victoria Azarenka vs Samantha Stosur:
Of the 4 quarterfinal matches, this one is the biggest-though not by much. All 4 quarterfinal matches are actually quite compelling. But this one pits the defending US Open champion against the current World #1. Both play power games, though Stosur's is based a lot more on spins and getting bite on the ball while Azarenka is more of a pure hitter.
When I say that this is the most compelling of the matches, I am also aware that Stosur has never beaten Azarenka in their 6 matches. Actually, none of them have ever been close. Stosur hasn't even ever taken a set off of Azarenka. Azarenka can absorb everything that Stosur puts on the ball and return it with interest. And that fact will have to be playing in Stosur's mind. But Stosur seems to play this tournament at a level that no one, with the possible exception of Serena Williams, can match. On paper, this should be an easy victory for Azarenka. But these matches aren't played on paper and Stosur will want to do everything possible to get her first win against Azarenka.
It will not be easy for Stosur though. Both women have been dominant so far this tournament. Neither has dropped a set and neither was ever in any real danger in any of their matches, though Stosur has had the harder path so far. Stosur will need to play smarter tennis, work Azarenka around the court, and hit the ball cleanly to have a chance in this match. She will need to attack every possible opening and force Azarenka to hesitate before playing her normal game. It's a very tall task, but Stosur should be up to it here. I think that she will definitely manage to win her first set off of Azarenka, though taking the match might be too tall of a task.
Prediction: Azarenka in 3
Maria Sharapova against Marion Bartoli:
This is another quarterfinal match in which one player has never taken a set off of the other. Sharapova has won all 4 of their career meetings in straight sets. Both players had tough fourth-round matches and Sharapova came very close to not advancing this far. But she has looked very strong aside from that match against Nadia Petrova. Bartoli, meanwhile, upset #5 seed Petra Kvitova in 3 sets.
Bartoli is a fighter who uses a bif of an awkward style which can trouble most opponets. It's never bothered Sharapova though, who can just get to everything and then hit Bartoli off the court. I don't ever expect to see Bartoli give up, but I can't see her bothering Sharapova. As long as Sharapova plays as well as she did in the first three rounds, she will not be challenged by Bartoli. But if she begins to slip, Bartoli will be able to take advantage.
Prediction: Sharapova in 2
Ana Ivanovic vs Serena Williams:
I'm beginning to notice a trend here. This pair have met three times before. Serena has won all three matches, all of them in straight sets. Ivanovic was the 2008 French Open champion and became World #1 for a short while. But after that, everything went downhill. She went around 3 years playing a very poor level of tennis. After switching coaches and working nonstop, she has finally managed to start bringing her level close to what it once was.
But she will need to do a lot more than just that very quickly if she wants to have a chance in this match. Serena has been playing at an incredible level since Wimbledon and is really untouchable by almost anyone on tour right now. In fact, Ivanovic might be one of the few women on tour who has the potential game to hang with Serena. Back at her peak, she could hit huge attacking shots from anywhere on the baseline and could hit winners or point-controlling shots whenever she needed to. If she can find that level again she might have a chance. But transformations like that don't happen overnight and she will still need to work herself back up to a level where she can actually challenge Serena in her current form.
Prediction: Williams in 2
Sara Errani vs Roverta Vinci:
This one could be what we would call the surprise quarterfinal. Vinci got here by upsetting World #2 and Wimbledon runner-up Agnieszka Radwanska in the fourth round. Actually, Vinci has beaten both Radwanska sisters this tournament. At the age of 29 and in her 12th year competing at Slams, Vinci has finally reached her first-ever Slam quarterfinal. In fact, Wimbledon earlier this year was her first time even reaching the fourth round of a Slam. This is a great turnaround for a player who is nearing the end of her career.
Errani being here is also a slightl surprise as she had top upset #6 seed Angelique Kerber in the fourth round to get here. Like her fellow Italian Vinci, Errani had not reached the fourth round of a Slam before this year. But so far this year she reached the quarters at the Australian and the final of the French. Errani has the incredible ability to deal with spins very well and keep just about everything in play. She is a strong, tricky player who is only getting better and will probably continue to move up in the rankings. Vinci won the first two meetings between this pair, but Errani has won their last 3 in straight sets. Vinci has had an incredible run to get here, but I expect that last stat to be increased to 4 straight on Wednesday.
Prediction: Errani in 2
Original Story:
http://feedproxy.google.com/~r/TheSpo...
THE BACKYARD
BEST OF MAXIM
RELATED ARTICLES
  FLUSHING MEADOWS, NY -  No. 1 Victoria Azarenka edged out defending champion Samantha Stosur 6-1, 4-6, 7-6 (5) in 2 hours, 23 minutes on Tuesday to move into her first US Open semifinal. "She really pushed me,"Azarenka said of Stosur. "We fought really hard.  I felt like there wasn't something, you know, somebody was missing.  It was always somebody had to grab the...
Top-ranked Victoria Azarenka was pushed to the limit by defending champion Sam Stosur before winning in a third-set tiebreaker at the U.S. Open quarterfinals. Azarenka eked out a 6-1, 4-6, 7-6 (5) victory on Tuesday in 2 hours, 23 minutes - not including an early 76-minute rain delay. She had never lost even a set to the Australian in six previous meetings, but Stosur rallied time...
  FLUSHING MEADOWS, NY – Top seed Victoria Azarenka, rocked the court on Sunday, along with her post-match news conference. After defeating No. 74 Anna Tatishvili, the World No. 1 from Belarus pulled a day-glo RED Foo from LMFAO up with her to her news conference. The Party Rock singer opened and drank the Evian water left for Azarenka as if there was nothing unusual about it...
Sam Stosur clung doggedly and often brilliantly to the US Open crown she won in such stunning fashion over Serena Williams here last year but, after 2 hours, 23 minutes of top-class tennis, it was clawed from her grasp by the current world No. 1 Victoria Azarenka of Belarus 6-1, 4-6, 7-6 (5). When Stosur put away a smash to reach 5-5 in the deciding tiebreak, she still thought she...
FLUSHING MEADOWS, NY – It took nine match points, but defending US open champion Samantha Stosur put away feisty British teen Laura Robson 6-4, 6-4 for a berth in the round of 16. "I thought it was a good match, Stosur said. "I thought I played, you know, pretty well.  Towards the end there, probably stepped it up another gear when I had those match points and couldn't...
Tennis News

Delivered to your inbox

You'll also receive Yardbarker's daily Top 10, featuring the best sports stories from around the web. Customize your newsletter to get articles on your favorite sports and teams. And the best part? It's free!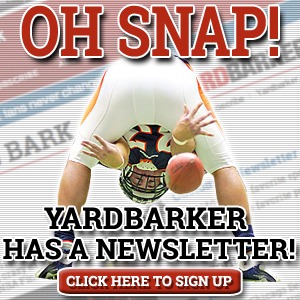 Latest Rumors
Best of Yardbarker

Today's Best Stuff

For Bloggers

Join the Yardbarker Network for more promotion, traffic, and money.

Company Info

Help

What is Yardbarker?

Yardbarker is the largest network of sports blogs and pro athlete blogs on the web. This site is the hub of the Yardbarker Network, where our editors and algorithms curate the best sports content from our network and beyond.