Found August 23, 2012 on Tennis Panorama :
The New York Times Magazine:
Cover Story: Venus and Serena Against the World
15 years after the sisters' first U.S. Open, they're still the most interesting story in sports.
Link: http://www.nytimes.com/2012/08/26/magazine/venus-and-serena-against-the-world.html?ref=magazine
By JOHN JEREMIAH SULLIVAN
Excerpt from article:
There's video that exists of Venus and Serena Williams playing tennis when they were kids — 8 and 7, respectively — in the late '80s, on unshaded but otherwise decent-looking public courts in California. This is not one of the clips you've maybe seen, taken from various news segments, but an earlier, stranger video, made by their father and longtime coach, Richard Williams, as a kind of audition tape for the tennis-instructional guru Vic Braden, ostensibly requesting an invitation to Braden's camp, although the real reason for it, you can't help feel in watching, simply was to let Braden know that greatness had arrived in the world. Richard's face in the film as he presents the girls to Braden seems, as it does so often, on the brink of laughter. This was in Compton, the low-income, gang-afflicted hub city outside Los Angeles, an area made infamous by many a rap song. Although they enjoyed about as stable an upbringing as you could have in Compton back then, its problems were no mere abstraction: they supposedly knew to lie down on the court when gunshots rang out in the park. And there's a story that Richard, when asked what he would do if his daughters ever won a Grand Slam, said he would go back and try to help the Crips who sometimes looked out for the girls during their practice sessions. "Venus Williams Is Straight Outta Compton!" read an early promotional poster their father made, to post on telephone poles. He billed the two as celebrities before they were even famous. That was how you did it. Not fake it till you make it. You decided what you were. First you had the belief, and then you had the training. "Belief and training," Venus told me a couple of weeks ago when I met with her in Cincinnati, where she and Serena were playing in a tournament just days after returning from the Olympics. "That was unconquerable."
She sat at a round, empty table in the meeting room at the Hyatt, first messing with her dog, a little terrierlike creature, and then placing it inside a duffel bag, where it apparently liked to hang out, because it stayed completely silent there for the better part of two hours, not even receiving any treats or anything. "He's unemployed," she said, forcing him with her fingers to make a face at me.
Because she's usually frowning and scowling on court, or squinting and chewing the inside of her mouth, or looking bummed in the changeover chair — or finally at the end sometimes grinning and laughing maniacally — it's easy to find yourself unprepared for her sheer prettiness, as witnessed when she's more or less at ease, 6-foot-1 in pale designer jeans, quietly flashing the smile that made her at one time the richest woman in sports (before Maria Sharapova came along).
I was trying to bring the person across the table into some kind of stereoscopic harmony with the girl on the tape, the one whose short, beaded braids hang like a fringe of tassels on the side of her head. It showed her hitting big, swinging volleys from midcourt at about the skill level of a decent college player, except that she was catching them up above her head, scything the fed balls out of the air with enough topspin to send them arcing down toward the lines. After an especially good shot, Richard would say, "Good shot, Venus," and Venus would say, in dulcet tones that retained a trace of his Louisiana syrup, "Thank you, Daddy."
Richard addresses the camera directly. Venus and Serena stand on either side of him, taking shelter in the shadow of his legs as if the camera might not find them there. Richard reveals to Braden that they have been watching his popular tape, "Tennis Our Way," quoting his fantastically optimistic slogan, "You'll be famous by Friday." Richard can't remember the exact wording. "You kept saying we'd be good by Friday," he tells Braden. "We was good by Tuesday. We should be great by Friday."
The remarkable thing about the tape, from the point of view of someone interested in tennis, isn't the almost voyeuristically candid preflight glimpse it gives of some soon-to-be superstars but simply the footage of Venus hitting. She doesn't bounce on her feet yet between every shot, she hasn't fully learned that readiness; she just stands there, in her jeans, waiting to be fed the next ball. Nor is it even the excellence of her technique, although her technique, it goes without saying, is ridiculous for an 8-year-old. It's more something that she doesn't even know she's doing, something having to do with the transfer of force, of mass, from the back of her body to the front, and the way that this transference is passed along into the shot, the way it enters her racket head at precisely the millisecond she hits the ball, resulting in a kind of popping sound, the distinctive pop in ball-striking that signals someone who can really play, the thing you simply cannot and will never learn to do if you are a hack or even a pretty good player who has hit that cruel ceiling, the limits of your own physical ability, beyond which you cannot progress, even after decades of lessons and work, but beyond which some 8-year-old girls can go and indeed beyond which they were born. It's the tyranny of talent. Watching this little girl do it, watching her have it, that lays it bare, undeniably evident, extracted from the game like the Higgs boson from those protons.
I asked Venus about this tape, if she remembered it at all. She did, she said (vaguely, I sensed), but in general she tries not to look back, preferring to remain "at a continuum of moving forward."
If Braden ever watched the tape, there survives no mention of it. He must have had parents trying to sell him on their little prodigies every day, and even if he had noticed — as he could not have failed to — that the girls, especially the older one, possessed the proverbial "thing that can't be taught," there was plenty else in the tape to put him off. The father's boasting (relatively subdued, for this performance) has about it the whiff of slight insanity. The way he keeps mentioning the "famous by Friday" business, the way he talks about the girls not as promising youngsters but as celebrities, as princesses, as if he worships his own creation. His Southern accent verges at times on the unintelligible. "Stay in touch with us," spoken pathetically, hopefully, toward the end of the tape, sounds like, "Stain touch widders."
Although he has been the subject of excellent profile writing (notably in Sports Illustrated, by S. L. Price and L. Jon Wertheim), Richard Williams remains an eternally elusive and evasive figure. I find him powerfully and movingly American somehow. His whole personality seems to have evolved as a complex reaction-structure to an insecurity so profound that it must remain secret, especially from him. Throughout his daughters' careers, he has gone about fanning a splendor of boxing-promoter language, of lies, half-truths, boasts, misstatements, non sequiturs, buffoonery, needless exaggerations, megalomania, paranoia — as well as here and there genuinely wise, amusing lines — all of which, you begin to feel, are designed (subconsciously, yes, but no less shrewdly) to deflect attention away from a still, small center, the place where he dwells and operates. It's there that he is who he is, whoever he is.
He came from a part of Shreveport, Lurr-zeeana, as he pronounces it, in a neighborhood whose school was called, amazingly, Little Hope. At various times he has told reporters or anyone who listened that he was a sports star there in his youth — and certainly it seems plausible, given his height (6-4-ish) and what we realize to have been present at least in a nascent way in the genes — but there are no records of these exploits, if they occurred. Perhaps he dreamed them. Perhaps he assigned them to himself the way a great novelist might give them to a character, as a necessary past for the Father of the Williams Sisters. Perhaps (most likely) he needed them in order to be the girls' father, to carry the necessary authority in their eyes. Listen to me, now. I was like you. I was a great athlete, too. That may have been useful.
The source that brings us closest to him, precisely because of its complete lack of objectivity, is an extraordinary documentary made just over a decade ago, "Raising Tennis Aces: The Williams Story," by a black Englishman named Terry Jervis, who himself possesses, from what can be gauged, self-promotional instincts downright Richard Williams-like in aspect. The film is about Richard Williams, mainly, but also done in collusion with him.
To continue reading, click here.
Excerpt used with permission from The New York Times Magazine
Original Story:
http://www.tennispanorama.com/archive...
THE BACKYARD
BEST OF MAXIM
RELATED ARTICLES
Venus and Serena Williams are featured on the cover of The New York Times magazine. The article reflects back to the sisters' childhood in Compton, California, how their father Richard branded them as superstars right from the beginning and the racism they faced as two black women taking over the lily white world of tennis. [...]
Venus and Serena Williams received a wild-card entry into the U.S. Open doubles draw Friday, giving them a chance to play for their 14th career Grand Slam title. The Williams sisters won Wimbledon, then followed with a gold medal at the London Olympics and will now try for their first U.S. Open championship since 2009. Also receiving a wild card was three-time singles champion...
Will Serena Williams dance at the U.S. Open? The Olympic singles champion isn't sure. Williams caused a stir with her celebratory ''crip walk'' dance when she beat Maria Sharapova at the Olympics this month, but has nothing planned if she wins next month's Open. She says the first dance was impromptu. She adds: ''I have to win seven matches, so we...
With the US Open set to kick-off on Monday at the USTA Billie Jean King National Tennis Center in Queens, The New York Times Magazine put together a fascinating cover story on the Williams sisters, focusing upon their reemergence as forces to be reckoned with — both individually and as doubles teammates — on the women's tennis scene. [...]
Top-ranked Victoria Azarenka will be seeded No. 1 at the U.S. Open, with 2006 champion Maria Sharapova at No. 3, and three-time winner Serena Williams at No. 4. The U.S. Tennis Association announced the seedings Wednesday, strictly following this week's WTA rankings. Azarenka, who won the Australian Open in January, is followed by No. 2 Agnieszka Radwanska, the runner-up to...
Will Serena Williams dance at the U.S. Open? The Olympic singles champion isn't sure. Williams caused a stir with her celebratory "crip walk" dance when she beat Maria Sharapova at the Olympics this month, but has nothing planned if she wins next month's Open. She says the first dance was impromptu. She adds: "I have to win seven matches, so we'll see...
6th ANNUAL BNP PARIBAS SHOWDOWN RETURNS TO MADISON SQUARE GARDEN ON MARCH 4, 2013 RAFAEL NADAL, JUAN MARTIN DEL POTRO, SERENA WILLIAMS AND VICTORIA AZARENKA TO CONTINUE THE TRADITION OF TENNIS AT THE GARDEN New York, NY (August 22, 2012) – New York area tennis fans are in for another great night of tennis  with some of the world's top players scheduled to appear for the sixth...
For a player who has spent more time watching Roger Federer on TV than trying to beat him, it's safe to say Rhyne Williams will not win the U.S. Open this year. But to say Williams' trip to Flushing Meadows has been less than a rousing success - well, that's not quite true, either. While Federer, Novak Djokovic, Serena Williams and all those other big names get their...
New York, NY – On Wednesday the sixth annual BNP Paribas Showdown at Madison Square Garden was announced. The event which is scheduled for Monday, March 4, 2013 will feature World No. 1 Victoria Azarenka, facing off against Serena Williams. Following the ladies will be Juan Martin del Potro, versus Rafael Nadal. Friday early evening Azarenka, Williams and Del Potro met a select...
Last night, tennis star Serena Williams decided to drop by "The Late Show With David Letterman" to talk about tennis and the upcoming U.S. Open. As she walked out, Serena was wearing a very-tight red dress that got Mr. Letterman all hot and bothered to say the least. Below is the entire interview and Dave's dress talk starts at the :46 mark: (Courtesy of Guyism)
Rafael Nadal is heading to the Big Apple to play tennis - only it'll be for an exhibition match next March, not the U.S. Open next week. Nadal, who pulled out of the year's last Grand Slam tournament because of knee trouble, is scheduled to face 2009 U.S. Open champion Juan Martin del Potro in the BNP Paribas Showdown at Madison Square Garden on March 4. Nadal has won 11...
Serena Williams is gearing up for the U.S. Open next week and made an appearance on David Letterman Wednesday night. Serena rocked a red curve hugging dress with a black zipper up the back by Victoria Beckham and Louboutin Decorapumps. She looked amazing! So amazing in fact that she noted Letterman's "eyes popping out" and [...]
Tennis News

Delivered to your inbox

You'll also receive Yardbarker's daily Top 10, featuring the best sports stories from around the web. Customize your newsletter to get articles on your favorite sports and teams. And the best part? It's free!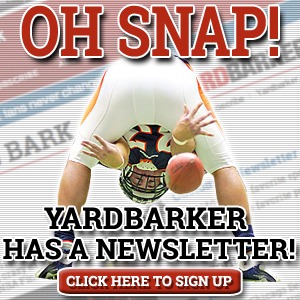 Latest Rumors
The Backyard

Today's Best Stuff

For Bloggers

Join the Yardbarker Network for more promotion, traffic, and money.

Company Info

Help

What is Yardbarker?

Yardbarker is the largest network of sports blogs and pro athlete blogs on the web. This site is the hub of the Yardbarker Network, where our editors and algorithms curate the best sports content from our network and beyond.