Found June 25, 2012 on Tennis Panorama :
WIMBLEDON – Five-time champion Venus Williams was dismissed in straight sets by Russia's Elena Vesnina 6-1, 6-3 on the tournament's opening day. It was only the second time that the 32-year-old has ever lost in the first round at Wimbledon.
"I did my best today," the 58th ranked Williams said. " You know, my opponent played well."
Vesnina will face their seed Agnieszka Radwanska in the second round.
The American only held serve once in the first set, but was more competitive in the second.
Williams is looking forward to the Olympics.
"Well, that's all I've fought for this whole year," Williams noted, "so I hope that I can play well there.  For me it will just be an honor to be there, and try to capitalize on that moment.
"I'm really proud of my efforts to get my rankings up for the Olympics.  That's one of the toughest things I've ever done in my life.  So now I don't really feel that much pressure, to be honest.  I want to win."
Williams  who suffers from an autoimmune, fatigue-inducing illness called Sjogren's Syndrome spoke about her drive to continue to play after the Olympics: "I feel like I am a great player.  I am a great player.  Unfortunately, I had a deal with circumstances that people don't normally have to deal with in this sport.
"But I can't be discouraged by that, so I'm up for challenges.  I have great tennis in me.  I just need the opportunity.
"There's no way I'm just going to sit down and give up just because I have a hard time the first five or six freakin'  tournaments back."
Williams lists her sister Serena as "inspirational" in her comeback. "Of course Serena Williams has been inspirational, said Venus Williams.  "She's fought back near‑death experiences ‑ several.  I'm very motivated by her and nothing getting her down and everything that she's been through that no one even knows about.  That's definitely inspirational, that in itself.
"There's been a lot of people in this world that fought back from the brink.  I don't have time to feel sorry for myself because of everything that's going on.  I have to be positive.
"I love this sport.  I feel like I can play well and I'm not going to give up on that."
I don't have time to be negative.  I don't know if you've had any negative experience, but it's not fun.  I like to use the same time to be positive because it feels a whole lot better.  And also it's easier to be productive when you're positive, so that's what I work on."
"But I'm tough, let me tell you, tough as nails."
Wimbledon singles may be over for Williams this year but she will compete in the doubles with her sister Serena and plans on playing Wimbledon in 2013.
"I'm playing doubles here, so I'm going to really try to hone my doubles, do that, and then I'll go to the Olympics," said Williams.
Original Story:
http://www.tennispanorama.com/archive...
THE BACKYARD
BEST OF MAXIM
RELATED ARTICLES
EXIT STRATEGY
Yesterday we featured Venus Williams. Today is her sister Serena's turn. Serena finished her first Wimbledon round with a confident win over her opponent. We already featured Serena's Wimbledon dress in our Wimbledon fashion and personality quiz, and frankly on the picture it looked much better than on Serena. Either she messed up with the size, or Nike messed up with...
Before we all began to forget about French Open, Wimbledon started. And though traditionally white, it's still interesting to observe Wimbledon fashion, as each player tries to add something to the style and dilute white a little bit. Unfortunately Venus Williams repeated her sister's Serena bad luck loosing in the first round of a major. As we already mentioned during...
WIMBLEDON, England -- Five-time champion Venus Williams was eliminated 6-1, 6-3 by Elena Vesnina of Russia at Wimbledon on Monday, the first time the American has lost in the opening round at the All England Club since her debut 15 years ago. Williams, a seven-time Grand Slam champion, has fallen to 58th in the world rankings since being diagnosed with an autoimmune disease. She...
Just in case there were any doubts out there, Serena Williams wants to make perfectly clear that she's going to be around tennis awhile longer. So is older sister Venus. ''I have no intention of stopping, and I don't think she does either. We're definitely connected at the hip,'' the 30-year-old Williams said Saturday, two days before Wimbledon begins...
How big an impact did her first-ever, first-round Grand Slam defeat at Roland Garros have on Serena Williams? We are about to find out. So bouncy and enthusiastic after beating the then-world No. 1 Victoria Azarenka to win the Madrid title in May, Serena has seen all the old questions about Serena's fitness and motivation have resurfaced in recent weeks -- questions she will...
Five time Wimbledon ladies champion Venus Williams has been eliminated from this year's Wimbledon, losing 6-1, 6-3 to Russian Elena Vesnina. It's the first time since 1997 that Venus had lost in the first round at the All England Club. Venus has been battling an autoimmune disease that she was diagnosed with during last years US Open. She lost in the second round of this...
From the United States Tennis Association: The USTA announced on Tuesday the 12 players nominated to the U.S. Olympic Tennis Teams for the 2012 Olympic Games in London, July 28 – August 5. U.S. women's tennis coach Mary Joe Fernandez nominated a six-person team with four singles entries and two doubles teams.  13-time Grand Slam singles champion Serena Williams will compete...
Petra Kvitova WIMBLEDON – Defending Wimbledon champion Petra Kvitova, second seed Victoria Azarenka and four-time former champion Serena Williams all moved into the second round at the All England Club with straight set victories on Tuesday. The Czech Kvitova started out slowly, coming back from a 1-4 first set deficit to defeat Uzbek Akgul Amanmuradova 6-4, 6-4 in a rain-interrupted...
BETTER CALL LIFE ALERT
A cameraman at Wimbledon had a very embarrassing moment Monday as he fell over backwards and was pinned to the ground by his own camera. It happened as the cameraman (whose name is Colin according to some sources) had his tripod positioned to film Elena Vesnina signing autographs after her first round upset victory over Venus Williams. It's unclear why Colin fell, although...
Tennis players have an affinity for eclectic on-court ensembles, using each tournament as a forum to showcase their personal style. Wimbledon is the one Grand Slam where strict limitations are set when it comes to clothing, as players are limited to the All England Club's traditional dress code. Despite the tournament's often lackluster white wardrobe, the game's top female...
Tennis News

Delivered to your inbox

You'll also receive Yardbarker's daily Top 10, featuring the best sports stories from around the web. Customize your newsletter to get articles on your favorite sports and teams. And the best part? It's free!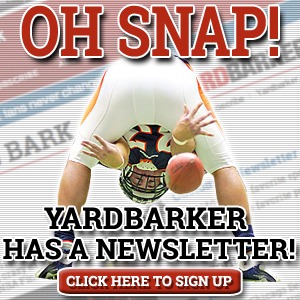 Latest Rumors
The Backyard

Today's Best Stuff

For Bloggers

Join the Yardbarker Network for more promotion, traffic, and money.

Company Info

Help

What is Yardbarker?

Yardbarker is the largest network of sports blogs and pro athlete blogs on the web. This site is the hub of the Yardbarker Network, where our editors and algorithms curate the best sports content from our network and beyond.