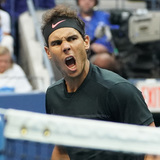 Not only is he well-known among tennis fans, but Rafael Nadal also happens to be one of the most recognizable people in the sports world.That's why what happened at the Paris Masters tournament was a bit of a surprise.Nadal was seen walking the grounds during the tournament — with his racquet and bag, certainly resembling a tennis player — when he was stopped by a security guard...
Today, Rafael Nadal won his sixth ATP title of the year in dominating fashion. The victory came at the China Open in Beijing over Nick Kyrgios. Nadal has looked virtually unstoppable these last few weeks, and with Shanghai coming up, he appears to be the favorite going in. Let's start with what he did this week. His tournament started out with a very difficult first round against...
Today the final major of the 2017 ATP season, the U.S. Open, came to a close. It finished with Rafael Nadal dominating the second week of the tournament all the way through the final, earning his 16th major title by beating Kevin Anderson in straight sets. Here I will outline what I saw as the highlights of the tournament and a few takeaways from it. This was undoubtedly one of the...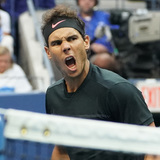 An incredible throwback photo of Kevin Anderson and Rafael Nadal began circulating on social media ahead of Sunday's men's final between the two at the U.S. Open.According to Ben Raby, the photo was taken when the two were 12 years old (they were born just weeks apart). The photo is apparently from the Junior Nike Masters in Stuttgart: Who would have figured that nearly 20 years...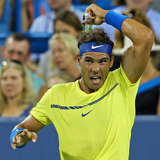 Even at 31 years of age, Rafael Nadal still possesses a good deal of a speed.He's not the spring chicken he once was, but he still has a lot of the same agility that made him great.One particular cameraman learned that lesson at the Cincinnati Masters tournament when Nadal came running at him for a promo.The cameraman was so shaken up that he backpedaled and wiped out — hitting the...
Rafael Nadal had the most unusual autograph request following his second-round win at Wimbledon on Wednesday. After beating Donald Young in straight sets, Nadal was greeted by a fan holding a prosthetic leg out to be signed: Nadal was asked after the match about signing the prosthetic and said it probably wasn't even the weirdest thing he's signed. We don't want to even imagine what...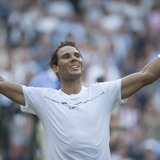 Rafael Nadal downed Donald Young in straight sets to advance at Wimbledon Wednesday, but that wasn't the big story. That came in the autograph line after the match, as well as in the post-match press conference.As Nadal was exiting the court, he began signing autographs for some of the fans, one of whom gave him a prosthetic leg. In the press conference afterwards, Nadal was asked...
Today, Rafael Nadal capped off the most dominant run in a major tournament that I can remember by destroying Stan Wawrinka and winning his tenth French Open title. Here I will discuss what this means for Nadal's legacy and his future. There was no man that was able to take a set off Nadal at his favorite tournament this year. Not only that though, he didn't allow a single opponent...
Today, Rafael Nadal won his third clay-court title of the season in Madrid and remains undefeated on the surface this year. He took the match in two sets against the youngster Dominic Thiem. What does this mean for the next few big tournaments on clay? So far this year, Nadal has looked like his old, unbeatable self on clay. He stormed his way through Monte Carlo and Barcelona, and...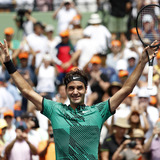 A reporter at Sunday's Miami Open final was apparently watching a different match from everybody else.After Rafael Nadal lost the Miami Open title to rival Roger Federer 6-3, 6-4, he was congratulated by a journalist on the victory in his post-match press conference. Upon Nadal pointing out that he had actually lost, the reporter then attempted to save face, leading to this awkward...
MORE STORIES >>
Tennis News

Delivered to your inbox

You'll also receive Yardbarker's daily Top 10, featuring the best sports stories from around the web. Customize your newsletter to get articles on your favorite sports and teams. And the best part? It's free!