Posted August 11, 2012 on AP on Fox
Justyn Warner spiked the flag down onto the track. What was supposed to be a celebration lap for the Canadians turned into an Olympic moment Warner wished he could forget. Moments after taking third in the 4x100-meter final on Saturday night, Canada was disqualified for stepping outside of its lane. The bronze medal was gone. And so was a chance to be part of a medal ceremony along with Usain Bolt and the Jamaicans, who beat the United States in a world-record time of 36.84 seconds. The difficult part for Warner was not really knowing why his team was disqualified from the race. They were wrapped in flags and just about to set out on a slow jog around the track to soak up the moment when Warner happened to glance at the scoreboard. That's when his heart pounded even more than when he sprinted his section of race. When his team finished, there was a time by his country's name. And when he looked up again five minutes later, all that appeared was a big ''DQ.'' ''I don't know what happened. I don't know what happened,'' Warner said as he sobbed. ''I put everything into that. It just showed up as 'DQ.' We ran a good race. We got the job done. ''It's the dream to get the medal. We won it. We worked hard for this, to prove all the disbelievers wrong, and got it taken away.'' So incensed was Warner that he tossed the Canadian flag to the ground. Immediately after it left his hand, he regretted his actions. ''I didn't mean to throw it,'' Warner explained. ''It's hard. It's not any of our faults.'' Jared Connaughton blamed himself for the blunder. He said the lane infraction occurred on the third section, soon after he took the baton. ''When I looked up on the screen, I saw the replay and I could see that I stepped on the line,'' Connaughton said. ''It's pretty unforgivable. I am sad and sorry for my teammates. It is sad to have happened like this.'' The Canadians appealed the disqualification, but it was rejected. Trinidad & Tobago was bumped from fourth to the bronze. ''My emotions went from two extremes - sad to ecstatic,'' said Richard Thompson, who ran the anchor leg for Trinidad. After receiving their bronze medals, the Trinidad sprinters jumped up onto the top step of the podium and mugged with Bolt and his team. That could've been Warner and his Canadian teammates, but they lost what would've been the country's second medal on the track in London. Derek Drouin's bronze in the high jump is Canada's lone medal. ''It's devastating,'' Gavin Smellie said. ''I never expected this at all. We ran and won the medal and we were happy. Now, it's just really devastating.''
Original Story:
http://msn.foxsports.com/olympics/sto...
THE BACKYARD
BEST OF MAXIM
RELATED ARTICLES
Since he is widely considered to be the fastest man on earth, it's easy to understand why Usain Bolt is such an appealing figure for endorsement deals. Instead of using the Road Runner cartoon to advertise how fast your company is capable of doing something, why not use a six-time Olympic gold medalist who can run 100 meters in under 10 seconds? A startup company based in the United...
Usain Bolt went from breaking a record to spinning a record. The sprinter completed the defense of all three Olympic titles by anchoring Jamaica's 4x100-meter relay team to a world record Saturday night. Bolt then hotfooted it from Olympic Stadium to a party nearby in east London, where he turned DJ, entertaining the packed crowd in the early hours of Sunday morning. At the...
Track official Gordon Staines has two special words for Usain Bolt: ''Thank you!'' Staines is the guy who fired the gun to start the men's 200-meter final Thursday night, and he's downright thrilled that Bolt and his other competitors stayed ''steady'' at the start of the race and that no one had to be disqualified. ''I know I breathed...
Toting his third gold medal of the London Games, Usain Bolt gave a little wave to 80,000 or so of his best friends in the Olympic Stadium stands. Almost immediately, the questions started: What did that mean? Was Bolt bidding adieu for good? Will he be back? Will the world get to watch him sprint on his sport's biggest stage again in 2016? ''It was a goodbye to London...
Usain Bolt: Happy Happy, Joy Joy Why not click the Google +1 & the retweet buttons? **Follow us on Twitter. Subscribe, or Return to BobsBlitz.com.Follow us on Twitter. Subscribe or Return to... Full story at Bob's Blitz ~ http://www.bobsblitz.com
The question of Usain Bolt versus Michael Phelps dominated headlines in 2008. And now that the two have combined for five gold medals at the London Olympics, the debate about which is the greater Olympian has resurfaced four years later. But while you will get reasons touting each athlete's superiority -- Phelps supporters point to his 18 gold medals, while Bolt backers argue...
Click on photo to read more about the Preseason All-America Team I'm very curious to see the impact that Jadeveon Clowney has at South Carolina this year. South Carolina looks like a team that could make some noise. Love USC this year. I'm all in on the Trojans this year. The Press Olympic Swimming 2012: The Top 5 Moments from London [BleacherReport] The 20 Hottest Photos of...
Justyn Warner spiked the flag down onto the track. What was supposed to be a celebration lap for the Canadians turned into an Olympic moment Warner wished he could forget. Moments after taking third in the 4x100-meter final on Saturday night, Canada was disqualified for stepping outside of its lane. The bronze medal was gone. And so was a chance to be part of a medal ceremony...
The London Olympics may well be remembered as the event that drove home the power of social media - partly to the chagrin but mostly to the benefit of NBC, which controlled images of the games in the United States. Twitter estimates there were more than 50 million tweets about the Olympics, at a pace of 80,000 per minute after Jamaica's Usain Bolt won the gold medal in the 200...
Usain Bolt is looking to try out with a British soccer team. What athlete that you've seen in the Olympics would you most like to see trying out for an American baseball team? Ethan Santa Clara, CA _________________________ Olympians turned baseballers? I like the way you think, Ethan. And I welcome the possibilities! I can't help but think Michael Phelps would look good in...
Hi. It's Friday. Tyrann Mathieu, the Honey Badger was dismissed by LSU. That's sort of a big deal. David Ross is no Usain Bolt. He is more a Ryan Henning. I like the Wire, and I like sports, so this is a great post. SCOREBOARD nothing….
Track and Field News

Delivered to your inbox

You'll also receive Yardbarker's daily Top 10, featuring the best sports stories from around the web. Customize your newsletter to get articles on your favorite sports and teams. And the best part? It's free!
THE TRACK AND FIELD HOT 5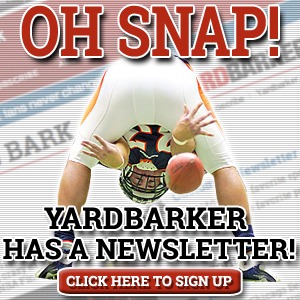 Latest Rumors
The Backyard

Today's Best Stuff

For Bloggers

Join the Yardbarker Network for more promotion, traffic, and money.

Company Info

Help

What is Yardbarker?

Yardbarker is the largest network of sports blogs and pro athlete blogs on the web. This site is the hub of the Yardbarker Network, where our editors and algorithms curate the best sports content from our network and beyond.