Found November 03, 2013 on The Other Paper:
During the Beijing Olympics, a then 22 year-old Usain Bolt thought that Chinese food was "odd." So the Jamaican sprinter ran to the nearest McDonald's in search of his favorite food: chicken McNuggets — and ending up eating 1,000 pieces of the fried chicken parts over the course of the Games. Besides his Kobayashian feat (and Olympic gold), this is just one of the tidbits the international track and field star reveals in his new memoir, "Faster Than Lightning" (Harper), out next week. "At first I ate a box of 20 for lunch, then another for dinner. The next day I had two boxes for breakfast, one for lunch and then another couple in the evening. I even grabbed some fries and an apple pie to go with it," the N.Y. Post writes about the book. Bolt estimates that during the 10 days he spent in Beijing, he downed 100 nuggets every 24 hours. That equals 1,000 chunks of chicken. "Man, I should have gotten a gold medal for all that chowing down," he writes. He also had a "don't ask don't tell" policy with his first girlfriend. Bolt was already dating his first serious girlfriend, Jamaican runner Mizicann Evans when he arrived in Beijing. But after becoming an overnight sensation, he found that the "ladies threw themselves" at him, he writes. "I was able to get any lady I wanted . . . I could walk into a party and take my pick," he writes. "I would go into a club and think, 'Hmm, a'ight, which one? You . . . ? You . . . ? Oh, you! Let's do this.' " So, how did the couple stay together? "We had one rule: If I was doing my thing with someone else and Mizzi didn't know, then she was cool. But if she found out that something had happened between me and another girl, then that person had to go," writes Bolt. After five years together, the couple has since split. He also says "Bolting" — the runner's go-to celebration, where he pulls his arm back like an archer and aims an imaginary bow at the heavens — wasn't his idea. The flamboyant Bolt first struck this pose when he set the world record in the 100 meters during the Beijing 2008 games. And though it looked like an impromptu celebration, it was actually planned in advance with a dancer friend from Jamaica. "I'd made a deal that if I won the 100, I would bust some crazy dance move. It was called 'Di World,' " he writes. Though he has been criticized for the unsportsmanlike move, it hasn't stopped Bolt from striking the pose every time he wins a race. For the next Olympics we know Rio 2016 has the ladies, but does it have McNuggets?
Original Story:
http://ihatelupica.blogspot.com/2013/...
THE BACKYARD
BEST OF MAXIM
RELATED ARTICLES
Usain Bolt, the fastest man alive, is out with his new memoir this week, "Faster Than Lightening."   In the book, Bolt wrote about the unusual sex pact that he had with his girlfriend, Jamaican runner Mizicann Evans.  Bolt became an instant celebrity after winning three gold medals in the 2008 Beijing Olympics and women "threw themselves" at him.  
Usain Bolt burst onto the scene at the 2008 Olympics, taking home the gold medal in the 100- and 200-meter sprints, as well as the 4x100-meter relay -- setting world and Olympic records in each event -- and according to a new book, he did it all while binge eating fast food. The New York Post got a hold of Bolt's new memoir, "Faster Than Lightning," and in it, the...
Usain Bolt's story Faster than Lightning: My Autobiograph comes out this week. The Post reports he's had a lot of sex.He had a "don't ask don't tell" policy with his first girlfriend.Bolt was spoken for when he arrived in Beijing, already dating his first serious girlfriend, Jamaican runner Mizicann Evans, for five years.But after becoming an overnight sensation,...
What is the secret to being the fastest man in the world? Apparently, chicken nuggets.In his new book entitled "Faster Than Lightning," Jamaican track star Usain Bolt claims that he ate 1,000 McNuggets during the 2008 Olympics in Beijing. Yes, ONE THOUSAND.So, why did Bolt gorge on the processed pieces of fried goodness? Well, because he found Chinese food to be extremely...
As a chicken enthusiast myself, I understand what Olympic sprinter Usain Bolt might have been going through during the Beijing Olympics. Bolt recently admitted that during his time there he found the Chinese food all around him odd. Leading him to search for some type of food that he was familiar with. Naturally, the fastest man in the world came across a McDonald's. Nothing wrong...
Usain Bolt is angling for a McDonald's sponsorship deal if he doesn't already have one. In his new book "Faster Than Lightning," Bolt says that he subsisted on chicken McNuggets during the 2008 Beijing Olympics. According to the New York Post, Bolt says in the book that he found Chinese food "odd," so he decided […]
Despite winning three gold medals and setting three world records at the 2008 Olympics, the most impressive feat by Usain Bolt during the Beijing games might have occurred off the track. In an excerpt from his soon-to-be-released book, "Faster Than Lightning", the Jamaican sprinter reveals his love of fast running times, fast women and fast...Read the Rest...
You would think that Usain Bolt, a ridiculous world-class athlete who at one point was the fastest man on the earth, is also a health food nut. That couldn't be an farther from the truth, apparently. The Olympic legend has a new book coming out detailing his incredible life and career, and in it, he talks about his diet at the Summer Olympics in Beijing in 2008. That diet doesn't...
Other Sports And with that, our Olympic dreams are still alive.
Usain Bolt's diet, NHL toughness, and Dwight Howard reacts to Mark Cuban...
Track and Field News

Delivered to your inbox

You'll also receive Yardbarker's daily Top 10, featuring the best sports stories from around the web. Customize your newsletter to get articles on your favorite sports and teams. And the best part? It's free!
THE TRACK AND FIELD HOT 10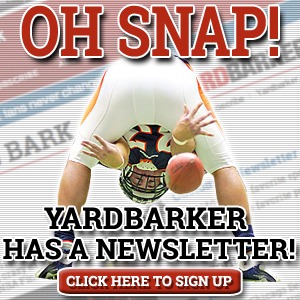 Latest Rumors
Best of Yardbarker

Today's Best Stuff

For Bloggers

Join the Yardbarker Network for more promotion, traffic, and money.

Company Info

Help

What is Yardbarker?

Yardbarker is the largest network of sports blogs and pro athlete blogs on the web. This site is the hub of the Yardbarker Network, where our editors and algorithms curate the best sports content from our network and beyond.