Found April 09, 2013 on PWS Entertainment:
– Thanks to Pete for sending in the following report: I saw a post about the disrespectful crowd at the WWE Hall of Fame Saturday. I wanted to add my two cents from where I was sitting Saturday night. We were up in the 200s and my father and I never felt more disgusted than we did that night. From the never ending booing of Trish Stratus' husband (which went from. playful to uncomfortable) to the Maria Menounos catcalls, it was totally sickening. If Bruno Sammartino sat in that crowd, he would never return to the Garden again. Not to mention the three random fans minimum in my section who walked in late, hammered and caused several distractions throughout the show. A real failing grade by the NYC fans who made it about them and not about the Hall of Famers. – Cassandra, a fan in attendance from last night's RAW, sent out the following to WrestlingNewsMafia.com: I was at last night's RAW and have seen many people online are curious about what was chanted during commercials or what was not picked up by the mics. I tried to give explanations for some of the chants but some are impossible to explain. Here are the chants: RVD, X-Pac, Triple H (not actually during any recap about him), We Want Gold dust!, Sexual Chocolate, Cena Sucks, Same Old ****, Throw the Chair! (Big Show throwing almost all the chairs), STEAL HIS GIRL (trying to convince Jericho to steal Fandango's girl), Hallelujah (Sandow reference), Albert, FEED ME MORE, We Are Awesome!, Boring, YES, NO, Undertaker!, We Want Big Show!, Thank You Big Show!, ********! (The Rock not being there for even a promo), WE WANT ZIGGLER!!!! (during Big E's match and even during Cena vs. Henry), ICE CREAM MAN! (the vender, a fan even hugged him!, during Sheamus vs. Orton), Pretzel Guy! (vender), cotton candy! (vender), Randy Savage, The Soccer Chant Song, CM Punk (like Triple H, random), Fandango, Y2J, HBK (random), Best Crowd Ever, WE WANT PUPPIES!, You Just Said That! (Booker T repeating himself), Cody's Mustache, and last but not least… DUN NUH DUN NUH NUH also during Fandango's theme. – Shawn Valentino sent in this report to Pw.net: The audience at Raw was an ECW-type raucous crowd that completely made an otherwise dull program. We were doing ridiculous chants at the most inappropriate times. Fans were singing songs, doing the wave, etc. It was a surreal experience. This was the first three-hour Raw I have ever attended in person. It felt like I was in the arena for ten hours. It was such a painstaking experience that I had to wander the hallway for about 45 minutes to make it bearable. Dolph Ziggler got by far the biggest ovation of the night, and there was anticipation of his cashing in the briefcase throughout the night. John Cena was booed out of the building and he did not help matters with his usual dork antics. If this is the Cena that we will get as champ, it is going to be a long year! This show highlighted the creative deficiency of the last ten years as the current crop of dull, lifeless characters that WWE has stuffed down our throats received no reaction. Lame characters like Alberto Del Rio, Miz, Kofi Kingston, Jack Swagger, etc received little to no reaction. The audience's frustration of the dull quality of the show for the first hour or so finally boiled over when Sheamus and Randy Orton came out. The audience reaction to the miscast Orton and the goofy Irishman was one of the most amazing things I have ever seen. After being received by crickets, the match took on a transcendent atmosphere as we started random chants to entertain ourselves. Some of the better ones were when the crowd echoed the names of RVD, JBL, Michael Cole, Justin Roberts, Mike Kioto, etc. At one point, the wave even broke out. It was absolutely hilarious, and no matter how it came across on television, it could not have possibly captured the absurdity of being there. When Big Show came out, the chant of "Thank You Big Show" broke out and when he was unable to throw a chair into the ring, we screamed out, "One more chair!" Orton and Sheamus should have been embarrassed, but it was really a message to the WWE creative department that they have completely failed in creating compelling characters in the past decade. It was one of my highlights as a wrestling fan. The hilarity continued when Fandango entered the ring and the audience danced and hummed his music. By this point, the show had become a complete mockery and the most entertaining moments were provided by the fans. We left before the Cena-Henry match as we realized that you could not top ten thousand people dancing to Fandango's music. The hotel was not as exciting as it normally is, but when we got back we saw Ric Flair and Booker T drinking at the bar. Ric Flair had been there since about 2 p.m. until past midnight. Who can blame him? The mockery continued as I thanked "Diddy" for the photo after I got a picture with R-Truth. Sheamus looked really upset when he entered the hotel, but he still posed for pictures with various fans. We ended the night talking to Rocky Johnson, and he told us that Rock was done with wrestling. "He is making 30 million dollars a movie. Why would he need to deal with this nonsense?" You can take that for what it is worth. A few years ago, Johnson told my friend he was going to be made a General Manager and ride to WrestleMania on a horse so his track record for honesty is not great. I do not get a sense he is that close with his son, but it is still a noteworthy point. With all of these injuries, perhaps it is better for Rock to move on from this final chapter of his wrestling career. Another WrestleMania week is in the history books. This was my 11th trip to Mania, and every year it is an incredible experience. Hopefully all have you have enjoyed reading my daily reports, but to truly fully understand the festivities, you really need to be there. Hope to see you all at Wrestlemania 30!
Original Story:
http://www.wzronline.com/wrestling-ne...
THE BACKYARD
BEST OF MAXIM
RELATED ARTICLES
Thanks to Ryan Ennis for this video:
- Embedded in the video below the JBL & Cole World Tour hit Boston. - The Big Show appeared on Toucher & Rich earlier this week to promote Tuesday night's SmackDown taping in Boston. You can listen to his appearance at this link. - As noted earlier, Trish Stratus was on Top Chef Canada earlier this week. Readers in Canada can watch her appearance at here. - WWE announced...
- Embedded in the video below the JBL & Cole World Tour hit Boston. - The Big Show appeared on Toucher & Rich earlier this week to promote Tuesday night's SmackDown taping in Boston. You can listen to his appearance at this link. - As noted earlier, Trish Stratus was on Top Chef Canada earlier this week. Readers in Canada can watch her appearance at here. - WWE announced...
- The Boot released Mickie James' video for the first single of her new album entitled Somebody's Gonna Pay. The video features cameos from Trish Stratus and Magnus, who takes a guitar shot from James. Stratus also delivers a "chick kick" in the video. - A TNA personality told of one a correspondent that this year's TNA Bound For Glory pay-per-view will be...
Mickie James "Somebody's Gonna Pay" Music Video, Larry Zbyszko signs WWE Legend's deal, Sheamus welcomes Irish Diva
WWE News

Delivered to your inbox

You'll also receive Yardbarker's daily Top 10, featuring the best sports stories from around the web. Customize your newsletter to get articles on your favorite sports and teams. And the best part? It's free!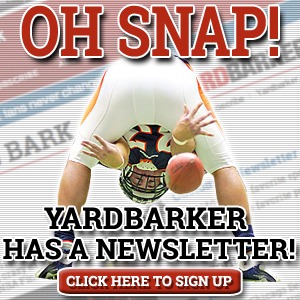 Latest Rumors
The Backyard

Today's Best Stuff

For Bloggers

Join the Yardbarker Network for more promotion, traffic, and money.

Company Info

Help

What is Yardbarker?

Yardbarker is the largest network of sports blogs and pro athlete blogs on the web. This site is the hub of the Yardbarker Network, where our editors and algorithms curate the best sports content from our network and beyond.