Found December 30, 2012 on Wrestling Truth:
Reid Flair signs with AJPW: Reid Flair, the youngest son of wrestling legend Ric Flair, has signed a three month deal with All Japan Pro Wrestling. The 24 year old school amateur star will debut on January 23rd. As well as getting in there with his father, Flair has received training from the likes of former World champ Harley Race and Terry Taylor. WWE are believed to be interested in signing the rookie but feel that because of certain attitude problems it would be better if he paid some dues outside of the company first. ___________________________________________________________ Michelle McCool discusses working with Torrie Wilson & Mae Young: As part of her ongoing shoot interview with MichelleMcCool.net the former WWE Diva discussed her realtionship with Torrie Wilson and Mae young… Torrie Wilson: "She's a legend as far as Divas go. I think she's always overlooked, some people just saw her more as the 'ultimate Diva,' but didn't see her much as a wrestler — and she fought that the whole time she was there. I think everybody will agree that 'Torrie Wilson' is a name that nobody — no true wrestling fan — will ever forget." [...] "I think she's a great in-ring talent. I don't think she got nearly enough as much credit as she should have." Torrie's Character: "I honest to goodness don't think that I can think of a single person in the entire world that is more genuine, nicer, funnier, kinder than she is. I love her absolutely to death. We hit it off from day one. I was able to ride with her a lot, get to know her, and we became dear, dear friends. She's somebody that I know I'll have in my life for the rest of my life." Forming A Friendship: "We were on different shows for a long time, and I can't remember which year — it was probably her last, when she got drafted to SmackDown. We never know what's going on behind the scenes on the night of the draft, so we're all sitting back there… waiting. They call five or six people up to the guerrilla position for the draft, so that they can get the natural reactions when they tell us who got drafted to RAW or SmackDown. So, they call Torrie up there, and they do the draft that SmackDown got someone. Sure enough, it was Torrie and she walked out there and I remember she was crying on screen. She didn't want to come to SmackDown! I remember Stephanie saying: "We got a natural reaction but we had to pan out because there were tears in her eyes and do a wide-shot. So I told her, once she got backstage: "Oh, I'm so sorry, Tor! I know this isn't what you wanted." She goes: "You're not sorry!" So I started laughing and I told her, "Yeah, I'm not sorry. I'm kinda glad you're on my show now!" Memories With Mae: "A couple of us were in one of those bikini contests, which yeah, could have been any given night. This particular night, they brought out Mae Young — and she is absolutely amazing. She comes out in this one-piece bathing suit and she's trying to strip down! We are literally trying to keep her from taking her clothes off in the ring, but we're about to wet ourselves from laughing so much! The referee is telling us: "Girls, contain her! Girls, contain her!" We're like… what in the world?! She's strong as can be! I don't care what age she is, she can probably beat my butt! Mae is just like, "move it, girls" and she's pushing us to the side. Finally, Torrie just gives up and tells Mae if she's going to flash somebody, turn towards JBL! We just started dying laughing. She was just ribbing us!" Girlfriends Forever: "So from driving to the wrong city, hair extensions falling out, teeth coming out… any and everything in between, she's just the kindest, most genuine person in the entire, entire world. I just mean that from the bottom of my heart. Love her to death and just wish that if anybody deserves ultimate happiness, it is definitely Torrie. She is one sweet girl… that I love." ___________________________________________________________ Sky crashes her truck: TNA Knockout Velvet Sky missed the Poughkeepsie, New York, TNA show on Saturday after she was involved in a car wreck. She wrote on Twitter: "As I write this I'm on the side of the highway where I was en route to Poughkeepsie's house show until my truck spun out and ended up in a ditch due to the blizzard that's going on right now. Sorry to the fans that were wanting to see me tonight, but I won't be at the Impact show. I'm ok, just really shaken up from the accident, and I'm sitting in wait for a tow truck to rescue me. All those traveling tonight in the CT/NY area and beyond, plz be careful. I have seen so many accidents today already and the roads are dangerous tonight. God Bless those traveling." ___________________________________________________________ DiBiase injures hand: Ted DiBiase sustained a hand injury during the December 26, WWE Smackdown house show in Chicago, Illinois in a match against Fandango. As previously reported it's believed he's on his way out of the company.
Original Story:
http://wrestlingtruth.com/news/flairs...
THE BACKYARD
BEST OF MAXIM
RELATED ARTICLES
- Ric Flair and Hulk Hogan were back together again on Saturday night. It looks like they got together wth friends and family at Hogan's new restaurant in Florida. Here they are plus a shot of Nick Hogan with Flair's daughter, WWE NXT Diva Charlotte:- WWE announced the following last night for Monday's RAW:"This Monday's Raw will air on New Year's Eve and what's New...
Ric Flair was seen with Hulk Hogan Saturday night, reportedly at Hulk Hogan's new restaurant in Florida. The restaurant opens to the public tomorrow. Hogan posted some pictures of him with Flair and his son Nick with Flair's daughter Ashley (who is currently a WWE developmental worker). If you're interested, you can click here to view the photos. UPDATE: Hulk Hogan has now...
- Ric Flair and Hulk Hogan were back together again on Saturday night. It looks like they got together wth friends and family at Hogan's new restaurant in Florida. Here they are plus a shot of Nick Hogan with Flair's daughter, WWE NXT Diva Charlotte: - WWE announced the following last night for Monday's RAW: "This Monday's Raw will air on New Year's Eve...
- Former WWE Superstar Edge has signed on to do a number of autograph signings at World of Wheels events in 2013.- According to PWInsider, WWE will be taping next week's SmackDown this Sunday in Richmond, VA, however of the local advertising for the show hasn't pushed that.Locally advertised for the event is Big Show vs. Sheamus and Randy Orton vs. Alberto Del Rio.- As noted...
– You can now follow me (Ryan Clark) on Facebook and Twitter. My Facebook account is located at http://facebook.com/RyanClarkWZR and my Twitter account is at http://twitter.com/RyanClarkWZR My Facebook page is "maxed out" for friend requests but you can still subscribe to get my updates. Hope to see you soon! – You can email me (Ryan Clark) at Webmaster@ProWrestlingSCOOPS...
WWE taped an episode of WWE Saturday Morning Slam from Richmond, Virginia at the Richmond Coliseum. Here are the full results. Saturday Morning Slam * Natalya defeated Alicia Fox. * Sheamus cut a promo. * Sheamus defeated Michael McGillicuty. New Photos of Ric Flair's Daughter – Ashley Flair…
– Ric Flair did an interview with Mark Madden on his show in Pittsburgh on 105.9 WXDX FM on Thursday. Flair talked about LeBron James' recent comments about Flair being the one who invented swag, returning to WWE and who he hangs out with these days. He also revealed that his son Reid signed a three month deal with All Japan Pro Wrestling, and he will go to Japan starting January...
Back on Wednesday, LeBron James got the opportunity to meet one of his idols in wrestler Ric Flair during Miami's game against the Charlotte Bobcats.For those of you that didn't know, LeBron was a huge wrestling fan growing up in Akron, Ohio and while speaking about the meeting, he bestowed Flair with the ultimate compliment by saying that he helped create "swag&quot...
Hulk Hogan confirmed on his Twitter that the pictures he posted with Ric Flair and his daughter Ashley were indeed taken at this new restaurant, Hogan's Beach, which opens to the public tomorrow night.Hogan said that attending the opening will be Ric Flair, Jimmy Hart, Al Perez, Matt Morgan, Jim Neidhart and Bushwhacker. Hogan noted that he hoped Ed "Brutus Beefcake" Leslie...
- Embedded below is this week's episode of Z! True Long Island Story featuring Zack Ryder. - Ric Flair was at the Miami Heat vs. Charlotte Bobcats, NBA game on Wednesday. - The Rock's film "Southland Tales" will be playing at the IFC Center in NYC from January 4th to January 5th.
"They call me Captain Rodriguez" is Alex Rodriguez posted on Facebook along with a photo of himself and Torrie Wilson on a boat in Miami. H/T Deadspin Rodriguez will miss the start of the baseball season but Yankee fans are not to worry their 'Captain' Derek Jeter is expected to be ready.
WWE News

Delivered to your inbox

You'll also receive Yardbarker's daily Top 10, featuring the best sports stories from around the web. Customize your newsletter to get articles on your favorite sports and teams. And the best part? It's free!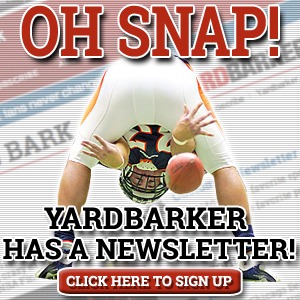 Latest Rumors
Best of Yardbarker

Today's Best Stuff

For Bloggers

Join the Yardbarker Network for more promotion, traffic, and money.

Company Info

Help

What is Yardbarker?

Yardbarker is the largest network of sports blogs and pro athlete blogs on the web. This site is the hub of the Yardbarker Network, where our editors and algorithms curate the best sports content from our network and beyond.