Found January 28, 2013 on Wrestling Truth:
Chris Jericho signs new WWE contract: Chris Jericho who made a surprise return in last night's Royal Rumble match, has signed a short-term WWE contract keeping him with the company until Wrestlemania. WWE kept Y2J's return secret by hiding him within a tour bus outside the arena until the very last minute. For those that missed the show Jericho entered number 2 behind Ziggler and lasted almost until the end, when Ziggler made him the 25th elimination. Y2J is only back in the short-term as he has a lot of outside projects and WWE are no longer very accommodating where that is concerned. It may be that he doesn't even work every Raw up till Mania. ___________________________________________________________ Brock Lesnar signs on for another year: According to PWInsider.com Brock Lesnar has also signed a new contract. The former UFC champ has agreed to a one year extension, which will see him work a limited schedule until Wrestlemania 30. ___________________________________________________________ Off air Royal Rumble news and notes: - The Royal Rumble was a legitimate 15,103 sell-out from the US Airways Center in Phoenix, Arizona. - While The Miz tweaked his leg in the US title match, he is not believed to be injured. WWE have already turned it in to a storyline. - After the PPV went off air the Rock continued to cut a promo and thank the fans. When referee Mike Chioda told him to stand in front of the Wrestlemania 29 sign for a photo-op Rock said, "excuse me but I'm talking to Phoenix." - Goldust and The Godfather's returns were a one off. Godfather dressed down and drove to the event so fans wouldn't spoil him at the airport and leak his appearance. The company reportedly had several former stars on hand for the match in hope that if some names leaked there would still be other surprises. - Mark Henry and Ted DiBiase were both backstage and cleared to wrestle but for whatever reason were not in the rumble match. As noted yesterday Henry is yet to sign a new contract and his current deal expires at Wrestlemania. - Shelton Benjamin and Carlito were both staying at the WWE hotel for an Indy appearance, which is why they were rumored to be in the rumble match. Hurricane and Chris Masters were also spotted at various points with WWE talent. - The Rock vs John Cena is a lock for Wrestlemania and it's not believed that any shenanigans or swerves will take place to alter the that match. With Punk losing the belt it may be that the planned 2013 program with Brock Lesnar will actually take place this year. ___________________________________________________________ Confirmed for tonight's Raw: Tonight is Raw Roulette, meaning matches will be chosen by the spin of the wheel. WWE.com confirms the following points… * Will Dr. Shelby's work come undone after Kane and Daniel Bryan eliminated each other in the Rumble? * Vince McMahon will be giving Paul Heyman a "performance review". * How will CM Punk react to the Shield's interference? * If Cena choose The Rock for Wrestlemania, how will this affect CM Punk's rematch clause?
Original Story:
http://wrestlingtruth.com/news/jerich...
THE BACKYARD
BEST OF MAXIM
RELATED ARTICLES
WWE still managed to surprise with this year's Royal Rumble. No, the Rumble didn't include long-rumored former stars John Morrison, Carlito, Hurricane Helms, Shelton Benjamin and Chris Masters. They were either just visiting friends or red herrings. The big surprise this year was Chris Jericho, who came in at No. 2 and lasted nearly 50 minutes. Also in the match: Goldust...
Chris Jericho's return at the Royal Rumble reportedly had some mixed reactions. Some were excited for his return heading into WrestleMania, but many felt that Jericho was there just to "take the spot" of other talents. WWE has always been known for bringing back some former superstars for the Road to WrestleMania. As noted earlier here on the website, Jericho will likely be...
- A Tamina Snuka vs. Kaitlyn match for the WWE Divas Title was planned for the Royal Rumble pay-per-view but was nixed when the final script for the show was laid out. - As seen at last night's WWE Royal Rumble pay-per-view, The Shield attacked The Rock in the main event. Seth Rollins, Roman Reigns and Dean Ambrose came from under the ring after the lights went out, hit the triple...
WWE Hall of Famer Jim Ross has published a new blog on Jrsbarbq.com. Here are some highlights.Chris Jericho's WWE return: Really enjoyed the Rumble match. Chris Jericho was arguably one of the MVP's of the PPV and Y2J coming out 2nd in the Rumble order of entry gave the crowd life and the match an early hit that seemed to be sustained throughout. Brilliant placement for the future...
- WWE has already released a new Chris Jericho t-shirt: - Jim Ross tweeted about last night's WWE Royal Rumble pay-per-view and says CM Punk restored importance to the WWE Title: "I enjoyed @WWE Royal Rumble on PPV. Road to WM will be revealing. Several talents stood out. I pd retail & have the flu & I'm happy. You?" "@steveaustinBSR used 2 preach about the importance...
- As noted earlier, Chris Jericho has signed a short-term deal with WWE that will see him work through WrestleMania 29. Jericho won't have to tour with his band Fozzy until late February when they head to Australia for 10 days. Their next dates aren't until April 11th, after WrestleMania 29. Jericho is free to work a full-time schedule between now and then, with the exception...
Partial Source: Pwinsider.com There has been a lot of speculation on Chris Jericho's WrestleMania opponent following his return to WWE last night at the Royal Rumble. Word is that Jericho may feud with Dolph Ziggler up to the Elimination Chamber pay-per-view, and then turn heel. Once Jericho turns heel, he may feud with Ryback, which will include a WrestleMania match. Keep in mind...
- WWE's website spoke to Chris Jericho following last night's surprise return at the Royal Rumble. Jericho talked about keeping his return a surprise but was interrupted by Dolph Ziggler. Jericho said Ziggler got him fired last year but now he's been re-hired. Jericho threatened to stay on Ziggler's case day in and day out for the next year. Jericho also tweeted...
- Kofi Kingston, The Miz, Darren Young and Epico will be featured on today's episode of WWE Saturday Morning Slam. - Matt Striker revealed that he will be moderating the "Straight Shooting" panel on WCW at today's Royal Rumble Fan Fest in Phoenix, Arizona. We're seeking fan reports from today's Fan Fest including match results and other notes. - Chris Jericho filmed his...
- WWE NXT producer/coach Joey Mercury is now on Twitter at @WWEMercury.- Ezekiel Jackson has been working with Diamond Dallas Page's DDPYOGA while being away from WWE with an injury. He continues to tell fans on Twitter that he will be back soon. He posted the following today:"Great workout today… Pumped and angry, not a good combo #soon"- As noted, Chris Jericho will be...
- Chris Jericho had the Superstar Spotlight on WWE's website earlier but it's since been changed to new WWE Champion The Rock.- WWE Superstar Sheamus turns 35 years old today.- Sin Cara tweeted the following about his performance at the WWE Royal Rumble:"For the ones that were talking, guess what!! just a month and a half after my knee surgery, I'm back!!! PPV Royal Rumble!!"
WWE News

Delivered to your inbox

You'll also receive Yardbarker's daily Top 10, featuring the best sports stories from around the web. Customize your newsletter to get articles on your favorite sports and teams. And the best part? It's free!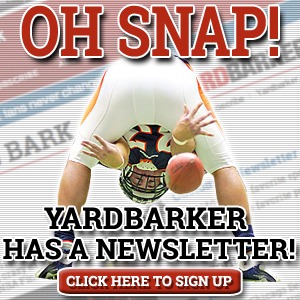 Latest Rumors
Best of Yardbarker

Today's Best Stuff

For Bloggers

Join the Yardbarker Network for more promotion, traffic, and money.

Company Info

Help

What is Yardbarker?

Yardbarker is the largest network of sports blogs and pro athlete blogs on the web. This site is the hub of the Yardbarker Network, where our editors and algorithms curate the best sports content from our network and beyond.